Kristina Marshall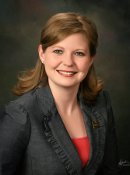 BS Business Administration 1998
President and CEO, Winning Futures
Since graduating in 1998, Kristina Marshall has been leading Winning Futures, a nonprofit organization that offers mentoring programs for middle school and high school students. Her "life's mission," Winning Futures promotes character, goal setting, career preparation, and strategic planning—all elements of student success.
In her 14 years with the organization, Kristina, president and CEO, has impacted over 22,000 youth; has personally mentored 42 teens; and has awarded more than $1.6 million in scholarships to high school students in metro Detroit.
"We want to reach as many children as possible," Kristina said. "Through the workbooks and training manuals we've developed, we've created a social entrepreneurship arm of our organization. We take our product and sell it to other nonprofits, schools, and parents. We then use those profits for our local fundraising missions."
For that work, Kristina has received numerous awards that recognize her as an "everyday hero," a proven leader, a person of stature in the community, an advocate for youth, successful business woman, and a role model for "alternatives for girls."
She earned her Bachelor of Science degree in Business Administration from Tech and a Master of Arts in Educational Leadership from Oakland University. She has coauthored two workbooks for youth and two training manuals for mentors and teachers.
Winning Futures began its work in southeast Michigan in 1994 with Sam Cupp, Kristina's mentor. She launched it nationally in 2009 and now other nonprofits and schools in 38 states are using the Winning Futures curriculum.
The initiative has received many accolades, including two from Michigan's governor for innovation and excellence.
A leader in her work, Kristina speaks nationally at conferences about networking among nonprofits, empowering youth, and developing a high-performing mentoring organization.
Kristina has numerous associations, including being a member of the Detroit chapter of the Entrepreneurs Organization, where she has implemented and leads an adult mentoring initiative.
In 2012, Kristina was recognized for her significant achievements with the Michigan Tech Alumni Association's Outstanding Young Alumni Award.
Excerpted from the 2012 Alumni Association Awards program.