Michelle Kovachich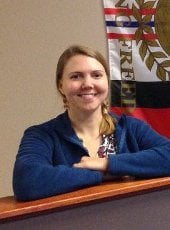 In July [2016], Michelle Kovachich began her duties as a readjustment counselor with the Veterans Health Administration (VHA). Her new job brought the Calumet native, a Michigan Tech alumna and US Army veteran, home after more than a decade that took her from Alaska to the Middle East and back again.
Kovachich says she loves to travel and when she graduated from high school she entertained opportunities to pursue her education far away from home. She chose Michigan Tech not necessarily because it was close to home, but because it had exactly what she wanted: a military education.
"I wanted a school with a strong ROTC program and a good relationship with the military. That's exactly what Tech had and why I chose to go there."
Her choice turned out to be a good one. Following graduation in 2005 with a degree in social sciences and completion of the ROTC program, Kovachich was commissioned as a second lieutenant in the Army.
She credits Tech's ROTC program for preparing her for life in the service. "It wasn't a surprise," she says of her transition from college student in Houghton to the 4th Brigade, 25th Infantry Division of the 725th Support Battalion at Fort Richardson, Alaska, near Anchorage.
"Tech's ROTC program provided the best training and structure. When I went into the military I had an idea of what to expect because of Tech's ROTC. It wasn't a surprise because they fed you the information you needed."
During her five-year service, she experienced the arctic cold of Alaska and war in the Middle East. In 2006 she was deployed to Iraq for 15 months as part of Operation Iraqi Freedom. In 2009 she served 13 months as part of Operation Enduring Freedom in Afghanistan.
In Iraq, Kovachich served as a maintenance control officer. She worked in supervision over maintenance of equipment. In Afghanistan she served as a deputy support operations officer. "We worked at getting supplies, such as food and water, to about 5,500 personnel," she says.
Following her five years of military service, Kovachich found her combination of military leadership—she left the Army as a captain—and Michigan Tech education was a good fit in the working world. She was contacted by a firm recruiting junior officers.
After working for private companies in Alaska and Minnesota, she returned to school, earning a master's in social work from Boise State, which led her to her current position, counseling veterans and their families in the western U.P.
Kovachich says as a combat vet herself, she has a bond with many of her clients.
"I think rapport is gained quicker. They find it cool to talk to someone who has been there. Of course often their stories bring me back to what I've experienced," she explains.
Many of those experiences were heartbreaking, perhaps none more than the loss of Michigan Tech classmate Ben Hall. A paratrooper and army ranger, Hall was deployed to Afghanistan with 503rd Parachute Infantry Regiment, 173rd Airborne Brigade. He was killed in action on July 31, 2007.
"I keep his picture on my desk," Kovachich says of her fallen comrade, classmate and friend.
Most combat vets have similar experiences and the readjustment counselors look to reach out and heal.
"What I hear is veterans are just trying to find someone to understand what they've been through," Kovachich says. "Whether its men in their 70s who served in Vietnam or those recently returned from combat."
While she does see those suffering from post traumatic stress disorder, she finds many recent vets are seeking counseling as a preventative measure.
"I'm seeing vets and their families who want to get a handle on things so they don't experience problems."
In addition to individual and family counseling, Kovachich offers group therapy.
Kovachich says Michigan Tech has been very supportive of the Vet Center and the work they do for local veterans. She calls Veterans Day a reminder that as most of us go about our daily lives, there are soldiers putting their lives on the line.
"We are free today because of those who fight and have fought. Many survived but still struggle. It's important that we are aware that there are those who are still fighting," she says. "Their wounds may not be visible, but they're there."
Excerpted from "Michigan Tech Veteran Returns to Help Struggling Vets," by Mark Wilcox, Michigan Tech News, November 10, 2016