David Kneisler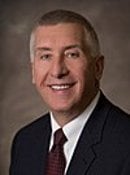 BS Business Administration 1983
David is a 1983 graduate of the School of Business and Economics. He received his masters from the University of Michigan – Flint. He began his career with General Motors, Central Foundry Division, in IT and then transferred to Saginaw Steering. While there, he moved into Finance. He left General Motors and went to TRW Vehicle Safety Systems for eight years and then moved to Dana Corporation, where he has been for the past twenty years. In 2006 he became the VP of Global Quality and has since taken on the responsibilities of Safety and Reliability.
Dana offers high-quality automotive product solutions in three core areas of the vehicle – drivetrain, sealing, and thermal-management systems. This lineup of technologies from one source is designed to offer flexibility to vehicle manufacturers around the world. Kneisler oversees the technical aspects of quality engineering for design and manufacturing.

In 1982 the Automotive Industry Action Group (AIAG) was founded by visionaries from the three largest North American automotive manufacturers – Chrysler, Ford, and General Motors. Membership has grown to include Japanese companies such as Toyota, Honda and Nissan, and many of their parts suppliers and services providers. It is one of the largest non-governmental agencies establishing industry standards. David has been Chairman of the Board of AIAG since 1983.
This profile was based upon information provided by the Michigan Tech School of Business and Economics in April, 2015.