Ashley Kern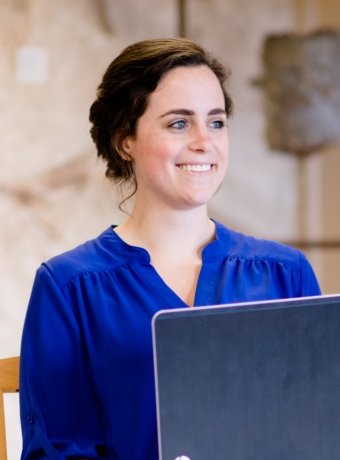 BS Mathematics 2015
MS Data Science 2017
Just one year after completing a master's degree in data science from Michigan Tech, Ashley Kern became the CEO of her own start-up data analytics company. Sightline, which was founded in 2018 and has grown to a team of seven, specializes in predictive analytics in higher education.
"We help universities enroll and retain students through predictive analytics. Our list of clients currently includes eight universities."
Kern earned her bachelor's degree in mathematics from Tech in 2015 and her master's two years later. In addition to working as a statistical consultant for her father while she was in school, she took advantage of several of Tech's entrepreneurial opportunities. She participated in both the Bob Mark Elevator Pitch Competition and the 14 Floors Pitch event.
"Michigan Tech is a school that if you have the drive to do something new and innovative, Tech provides the opportunities. Examples are the entrepreneurial courses and clubs and opportunities for undergraduate research. Michigan Tech gave me all the skills I needed for my career."
Kern had a scientific paper published in Mathematical Geosciences in 2017. She worked as a data scientist on several projects before striking out on her own. In 2018, Kern established Sightline by raising private funds in a climate where only two percent of the funding nationwide went to a female-only founding team.
Dealing with health issues and mounting medical bills as a student, Kern has combined her own personal experience with her background in data science to help universities find solutions for student enrollment and retention. Sightline's client list currently includes eight universities.
"I have been able to build a career and daily life that fits both my goals and realistic needs. I have spent many years working on my craft of data science combined with building a business. It truly takes grit to build the life and career that you want."
In addition to her work with Sightline, Kern serves as an adjunct professor for an online predictive analytics course at Bellevue University. "It is a relatively new and wide open field," she said. "I have learned so much from my relatively short career and I want to share what I have learned from both my successes and failures."
From Alumni Award Presentation - April 2020