Katerina Aifantis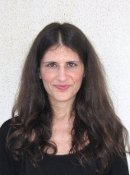 Katerina E. Aifantis enrolled at Michigan Tech in 1999 at age 16 and received her Bachelor of Science in Engineering in 2002 at age 19.
With a graduate research fellowship from the National Science Foundation, she earned her Master of Science in Engineering from the University of Cambridge and her Doctorate in Mathematics and Physics from the University of Groningen at the age of 21, becoming the youngest person ever to get a PhD in the Netherlands.
After spending time as a postdoc in various institutions, including Harvard, she was awarded, at age 24, a five-year European Research Council Grant ($1.5 million) to continue her work in Greece. She also is an adjunct assistant professor in the Department of Physics at Michigan Tech.
She has published over twenty scientific papers and coedited and coauthored the book, High Energy Density Li Batteries. Her research ranges from nanostructured anodes for Li-ion batteries to using nanoparticles to treat cancer.
Her work has been featured in Physics Today and Science Magazine as well as international news media, including the BBC.
Aifantis was selected as the 2011 recipient of the Outstanding Young Alumni Award by the Alumni Association. The award recognizes the achievement of a position or some distinction noteworthy for a recent graduate.