Joyce Ten Haken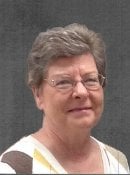 BS Business Administration 1970
Joyce Ten Haken Strikes a Proper Work/Life Balance
As Michigan Tech was suffering with below normal temperatures and above average snowfall, Joyce Ten Haken '70 was lamenting unseasonable January heat and historically dry conditions in northern California.
But, she'll adapt, just as she has all during her long, successful career in accounting.
A partner in the Ten Haken Hinz & Company firm, she's prided herself on helping clients adapt, too.
"I'm more than just a tax or financial advisor," she says. "I often help them with personal issues, too."
It's a reflection of how she operates in and out of the office, and it's a lesson learned from legendary accounting professor Sam Tidwell. "Sam taught us to do a good job but also be good to people."
Perseverance, too, helped her early in her career.
"Women really were not accepted in the public accounting filed," she said. "Even though in California it was a little more accepting, I still had to perform better. It was difficult for a woman to enter into the very much male dominated field in the 1970s"
That philosophy has worked since she and husband, Richard '70, moved out to California in 1975. He was a successful pilot for Continental Airlines for twenty years before retiring. In fact, his first forays into flight affected her Tech education.
"I had to finish in three years, because he was going to pilot training as a result of his Air Force ROTC commitment," she says. "I didn't want to be left behind at Tech in the winter."
Richard was on active duty in the Air Force for nine-plus years, before beginning his civilian aviation career.
Joyce's career began with an accounting firm within which she eventually became a partner, and it has morphed into her current business. There, she takes care of her employees, just as Sam would expect.
"We close at noon on Fridays in the summers, but the employees get paid for the afternoon," she says. "That way, they can better enjoy the weekends with their families. It helps make up for all the time they put in during tax season!"
They are also flexible with hours worked to accommodate family activities, she adds.
Her favorite Tech memories include Huskies hockey at Dee Stadium.
She and Richard have maintained their love of dogs. They raise and show AKC Champion Doberman Pinchers. It's their hobby ("and their our children"), in addition to traveling to Hawaii, Hilton Head, Palm Desert, and elsewhere.
As for words of wisdom for today's Tech students, she implores them to care about people as much as their jobs. "Adapt to change and the needs of clients in order to survive," she adds.
She was back on campus in fall 2013 and "very much liked" what she saw.
"I'm so glad the highway doesn't go through campus anymore," Ten Haken says.
She and Richard are remembering their alma mater now through annual scholarships in the School of Business Economics now and later through estate plans.
They seem to be still living according to Sam's rule: doing the right thing.
January 29, 2014 by Dennis Walikainen