John Rockwell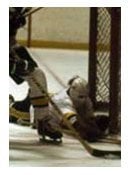 BS Business Administration 1979
John Rockwell '79 came to Michigan Tech to play hockey but also because he knew the University had a great engineering program.
It was the best hockey program in the country and was my first choice of school to play hockey," he says.
Rockwell says he has great memories of playing hockey, but also had many professors and classes who helped him prepare for the future. That influence led him to switch from chemical engineering to business, graduating with a bachelor's in business administration from Michigan Tech. He also earned a MBA from the Carlson School of Management at the University of Minnesota.
"I learned and developed all the traits, characteristics, and skills to succeed within my family, work, and community," he says. "I developed these in the classroom and out of the classroom."
After graduation, Rockwell played professional hockey and then moved into the business world where he continues to develop and build companies that bring technology innovations to market. He is a founder of a venture capital and private equity firm that manages $800 million in capital. He has invested in more than 30 privately held companies commercializing technology-based innovations. Rockwell has served as the leader of five technology companies and is CEO of Accelergy Corporation which has developed the lowest cost process for producing a range of specialty chemicals such as waxes, solvents, lubricants, and drilling fluids.
But Rockwell says his greatest achievement is his family and raising his three children.
Family comes first," Rockwell says. "Put the time and effort into making your family a great family. I spend my time on the things that are important to me; family first, then business, then community. I try to be the best in the world at what I choose to do and I choose to do things I love as that is a requirement to be able to be the best at something."
From the 2017 Alumni Awards Program