JoAnn Brinser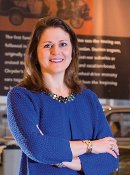 Contemporary automakers integrate wireless technology and fuel efficiency instead of fins and chrome. Knowing what to put into a car and how consumers will respond is JoAnn Heck's job. She is the director of Consumer and Market Insights for Chrysler Group LLC, and a 1985 graduate of Michigan Tech with a degree in economics.
"We try to understand their pain points," she says of consumers. "Then our findings go to the engineering product planning teams who identify ways to meet those needs. People know what they want and need to function in life, and we have to figure out what tangible things might fill that gap, like a rear backup camera when they tell us they want to back up without hitting anything."
While the look and feel of a car may get eyeballs, customers want to know what the vehicle can do for their lives. The minivan is a favorite example for JoAnn. "The minivan is all about interior space and flexibility and usability," she says. "We continue to hear about storage and loading flexibility. 'I want to be able to put 'x' in my minivan.' That's where stow-and-go seating came from, and consumers love it."
While necessity is frequently the mother of invention, weather can take a close second. It was a little over twenty-five years ago, a sunny, cold winter morning in Detroit. JoAnn, as a new employee at Chrysler working in the parts and service division, was just learning what it meant to be a good corporate employee.
"If you didn't drive a Chrysler brand vehicle, you had to park in this lot that was all the way on the other side of the campus," she says.
A few weeks later a major snowstorm hit, and the walk from the remote lot seemed a whole lot longer. "I bought a cherry red Dodge Shadow a few weeks later."
She pauses, remembering her first time behind the wheel. "That's when the fun began."
This profile is an excerpt from the Article "Imported from Houghton," which appeared in the Spring 2013 Issue of Impact Magazine, Volume 3, Issue 2