Jim Brodeur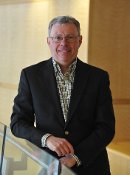 BS Biological Sciences 1968
Jim Brodeur, a retired physician and long-time financial supporter of Michigan Tech, figures he's got twenty-seven good reasons to help the institution. That's the number of people in his family who have attended Tech over five generations, beginning with one of his grandfathers in 1897.
 "Tech has been an important part of our lives, and we want to stay connected and help out," he says.
 He was active as a student and has remained so as an alumnus. He served on the Michigan Tech Fund Board of Trustees from 1983 to 1993 and also has served on the Alumni Association Board of Directors. Currently, he and his wife, Margaret, are members of the McNair Society and the Founders Society.
 A native of Hancock, Brodeur graduated with a bachelor's degree in biological sciences in 1968. After marrying, he went to medical school at the University of Michigan. His Tech education served him well. He had the same book on biochemistry in medical school that he had had at Tech as an undergraduate.
 He knew as a young boy that he wanted to be a doctor. His goal was both simple and grand. "I wanted to be an excellent physician."
 Brodeur graduated from medical school in 1972. He returned to the Keweenaw, eager to begin work that suited him: "I wanted a profession that involved service."
 It involved that as well as rigor. "I lived at the hospital some of the time. I'd camp out. My wife would bring clean clothes." He and Margaret met at Tech. He says he couldn't have done his job without her support. "I knew when I was at the hospital for all hours, I would come home and things were solid."
 There were two milestones in his career: Between 1973 to 2001 (when he retired), he delivered 1,000 babies. As well, he was fond of his role as the team physician for the hockey program during the John MacInnes era.
 The upside of being a doctor: "You save a person's life." The downside: "Sometimes there's nothing you can do." All of it gave him a visceral outlook on life and death. "Life is a terminal disease. We're not going to get out of it alive."
 He fixed people for a living. Were he to fix the world, he would start with education and nutrition. "Do a good job with that, and we'd be well on our way to fixing a lot of problems."