Jim Anttonen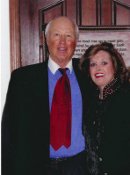 BS Business Administration 1965
Jim Anttonen '65 became a pioneer in environmentally sustainable construction long before the term "sustainable" became a household word.
In 1985, Anttonen launched ARS Denver Inc. with his partner, Kim Haarberg. The Colorado-based corporation has grown to become one of the top firms in the country specializing in soil stabilization and asphalt reclamation.
Using methods that are friendly to the environment, including the grinding and repurposing of existing asphalt, ARS Denver prepares roadways and other thoroughfares to be paved.
"We were one of the companies that pioneered full-depth asphalt reclamation in this part of the country," said Anttonen.
The green practices that helped cement ARS Denver's success don't just preserve the environment. Sustainable measures reduce costs and, therefore, make good business sense, as well.
"My philosophy has always been to leave something for the next guy," he said.
ARS Denver has tackled more than 3,000 projects during the last two decades, including a number of grand-scale endeavors: highways, state parks, and citywide bike paths. When Denver International Airport was being built in the 1990s, the company prepared all the parking areas, the major highway in and out of the airport, and all the runways, including the longest public-use runway in the United States.
Although Anttonen has found great success as the owner of a business, he didn't jump into entrepreneurship right out of college. He served in Vietnam after graduating from Michigan Tech, then sold construction and mining equipment for eighteen years before launching his first business.
"I went from selling a piece of equipment to telling clients, 'Why don't I just buy the equipment myself and do the work for you?'" he said.
As a Michigan Tech graduate, Anttonen had no trouble making industry contacts. Many of his fellow alumni worked in the mining and construction industries, and he had built a strong business network during his sales days, as well.
"I already had my foot in the door," he said. "Having a good reputation is very important in the construction business."
Anttonen said that his years of marketing and sales experience gave him an edge when he went into business for himself. The marketing principles he first discovered in his classes at Tech still come in handy when he's going after big government contracts.
"We know how to talk to cities and counties and states," Anttonen said. "In fact, most of our jobs have been with governmental agencies this year, since the home-building industry is struggling right now."
Anttonen stepped down as president of ARS Denver this year, but not so he could retire, he quickly added. He's now seeking out new opportunities to keep his company growing. ARS Denver, which employs about eighty people, continues to complete more than 100 projects per year throughout the western states. The firm recently launched a training division in partnership with several universities and has forged a partnership with a recycling company. Anttonen also is overseeing a new land development venture.
"The company's not slowing down, and I'm not, either," he said. "We're going to keep on going and going."