Jessica Turino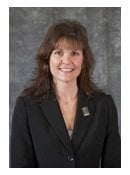 Jessica is from the local area and has always enjoyed the outdoors. She earned a bachelor's degree in forestry from Michigan Tech in 1994.
After graduating and getting married, she crossed the bridge to reside in the Lower Peninsula and began her career on the ground in procurement. Working in the private sector of forestry was an eye-opening experience with very little room for mistake. Her first job involved working with a local logger that had three logging crews. This was an opportunity to utilize the technical forestry skills she learned at Tech, as well as the communication and social skills she had acquired. This job was very challenging. Jessica had to meet both the logging company goals and the forest landowner's objectives.
With this procurement experience, in 1999 she started with Weyerhaeuser Company based out of Grayling. At Weyerhaeuser, Jessica also works in procurement and is responsible for supplying raw material to the Grayling OSB mill and hardwood sawmill located in Lewiston. Jessica has also been involved in Weyerhaeuser's Sustainable Forestry Initiative (SFI) program since its inception in 2000 when the Grayling site was chosen to lead as a pilot program for the eastern procurement system. Currently, she is the Coordinator for Eastern Wood Products Facilities SFI Group Certification. This role involves overseeing the SFI program at nine mills located in the eastern United States. She was also involved with coordinating the Integrated Fiber Planning Process for the Great Lakes Region. These roles have given her the opportunity to travel with Weyerhaeuser and to view different geographies, forest practices, mills, and systems, gathering common information from all. Her favorite thing about working for Weyerhaeuser is the diversity her job has to offer.
Jessica is active in Michigan's SFI State Implementation Committee and currently serves as the state chairperson. She is also a member of SAF and a certified forester.
As her career continues to grow she is reminded of the importance of the education she earned at Tech. Working in industry, her job is very diverse and change is guaranteed. Jessica commented, "Without the challenging curriculum offered at Tech, I would not have had the educational background or determination to do what I do today." She feels her strong educational foundation has been very important to her success.
Jessica resides in Manton, Michigan with her husband Westley Windover, daughter Elise and son Caden.
Jessica was named the School of Forest Resources and Environmental Science's Outstanding Young Alumnus 2008.
I have this also? This is what you're going to say when you accept your award 
Although procurement was one of the furthest things on her mind when she graduated, it has turned out to be a diverse and rewarding experience. Working in industry and with private landowners is challenging. Telling somebody you want to cut their trees that they have spent a lifetime nurturing is not an easy thing to do successfully. It reminds me of a class Peg Gale taught (Forest Resource Management?) She would ask the question, whose management objective is the most important? The answer clearly is the landowners. Seems simple now, but she had to tell us the answer. At that time, I never realized that I would live this procurement role so closely.