Jeanne Farnum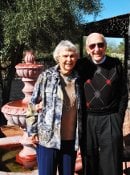 Jean Seaman Farnum was attending geology field classes with her professor father even before she began her undergraduate degree at Tech in 1939.
Jean grew up in a family of geologists with her grandfather A.E. Seaman who not only taught at Tech but became head of the Geology department, her father Wyllys and her older brother Bill also graduated from the program.
As a high school senior, she met Lawrence (Larry) Farnum who at the time was a freshman rooming next door to her family's home. According to Larry, he declared that he was going to marry Jeanne even before they had formally met. In spite of having an astronomy class project due, Larry accompanied her to her senior prom where Jeanne noted that he was, "a smooth dancer, real smooth"
Jeanne started with five other women in the freshman class of '39 which Jeanne was also the appointed treasurer. There were 959 men and fifteen women at Tech that fall and most women belonged to Theta Chi Epsilon – the only criterion for membership was being female. She fondly recalls learning archery and target shooting thanks to Sergeant Mount who felt the women needed more opportunities to have fun.
Most of the female students were from the local area as Tech was convenient as they could live at home making it financially easier which was an important consideration after the Depression. Of her initial impressions, Jeanne commented that because many of her Houghton High School graduating class, also came to Tech, it was not a big change to go to college but, "there were not a lot of program choices for women back then chemistry and geology primarily."
A favorite Tech professor was Tom Sermon who taught college algebra who upon seeing her in his class remarked, "little Jeanne Seaman, what are you doing here?"
Jeanne only attended Tech for her first year before transferring to the University of Illinois where she not only completed her degree but became captain of the Rifle team thanks to the excellent training at Tech by Sgt. Mount.
At Illinois, the male female ratio was 10 to 1 which to Jeanne's mind, was a big improvement on Tech's ratio of 90 to 1! While away at school, Jeanne continued to travel home to Houghton regularly and in her senior year, she became engaged to Larry who had graduated in 1941 and was on his way overseas with the United States Air Force.
After graduating in 1943 Jeanne joined the US Geological Survey based out of Marquette for the summer as one of the first female field geologist. Because there were so few women in the field, she was automatically paid the same as a male for that position which was an unusual practice for the times. That winter she returned to Tech to work as the assistant curator in the mineral museum established by her grandfather, A. E. Seaman.
In the spring of 1944 Jeanne was asked to become a recruiter in the UP and Northern Wisconsin area to find more women students to make up for the shortage of male students. That Fall and winter she moved to Indianapolis to work for the water department.
During 1945, Jeanne joined the American Red Cross and was sent to Naples, Italy. She had hoped to catch up with Larry there but he was posted to Australia. She was transferred to Baden Switzerland and was there for one year before getting a telegram from Larry stating was home from the war and waiting for her. After a stormy Atlantic crossing where she sang and played the organ (with the instrument and her seat held in place by members of the audience) to keep people's spirits up, Jeanne was sped through processing so she could be reunited with her "gorgeous Air Force Captain" Larry after three years apart.
Jeanne and Larry were married ten days later on January 12, 1946 and together they moved 28 times all over the world while raising their family of five daughters and one son. The couple proudly noted that there is a fifth generation from the Seaman/Farnum family attending Tech this year.
Since 2002 Jeanne and Larry have resided in Tucson, Arizona and until then were still active, acting as skiing ambassadors at Copper Mountain Ski Resort in Colorado. The couple also continues to travel and enjoyed a trip to South Korea hosted by the United Nations in October 2011.
After 66 years of marriage, Jeanne and Larry always make a point each summer of attending Alumni Reunion, returning to the Copper Country where it all started with Michigan Tech.
Based on an interview at the couple's Tucson, AZ home in February 2012