J.B. Hoyt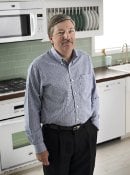 BS Business Administration 1974
Life is good for alumnus J.B. Hoyt. He feels gifted to be able to enjoy both professional and personal pursuits. He is an executive at Whirlpool Corp. in St. Joseph, Michigan; away from work, his passions are boating and photography. "I've always been a work-hard, play-hard kind of guy," he says. "You've got to have that balance."
Hoyt was raised in Grand Blanc, Michigan. His father, who ran a small business for 38 years, was the biggest influence in his life. "He taught me about patience, risk taking, and customer service," Hoyt says.
He came to Michigan Tech in 1970, starting out in electrical engineering. "It didn't hold the calling for me." Because he loved Tech and life in the Keweenaw, he ended up transferring to the business program—"a good landing place." He says, "I had the help and counsel of professors who truly cared about students." Tech, he adds, helped him understand the "interface of business and technology."
 Hoyt earned a bachelor's degree in business administration in 1974. He has spent his entire career at Whirlpool. Currently, he is director of regulatory affairs and state government relations.
 For his accomplishments, two years ago he was named "Home Appliance Industry Leader," the highest award of the Association of Home Appliance Manufacturers. He was gratified to be recognized by "peers and competitors."
 In 1978, Hoyt was Whirlpool's manager of forecasting and market analysis. He won an industry award for foreseeing the economic recovery of the early 1980s. (Subsequently, he also forecast the recession that followed.) These days, he looks ahead and worries: "We're passing on huge debt to the next generation. There's a real risk that they will be the first generation in the history of the nation to have their standard of living decline."
 Amid these troubles, he sees prospects—education. "I'm a big believer in education. It is one of the most important places where we can provide time and talent and treasure. Education is our future."
 Hoyt and his wife, Catherine, are members of the McNair Society and the Founders Society. He served on the Board of Trustees of the Fund from 1995 to 2005, rejoining in 2007. "I'm satisfied that we're helping make Michigan Tech succeed," he says. "We want to make a difference—change a small part of the world we deal with."