Amberlee Haselhuhn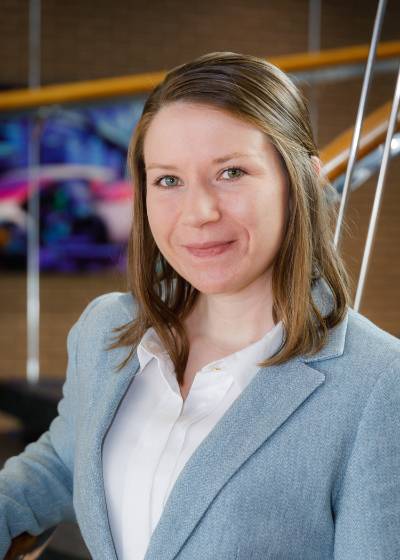 BS Materials Science and Engineering 2011
BS Biomedical Engineering 2011
MS Materials Science and Engineering 2016
Amberlee Haselhuhn '11, '16 was looking for a school that would provide balance between an excellent technical education and access to the outdoors. Michigan Tech did just that. She recalls the time spent in Michigan Tech's Foundry in the Materials Science and Engineering department as one of her most memorable experiences as both an undergraduate student and as a graduate student.
"I was able to design my own metal alloys, melt and pour them in the foundry, machine and process them into usable parts, and test my alloy properties all in one facility. What a great resource for students!"
When Amberlee was not in the foundry, she learned to mountain bike and could be found riding the Tech Trails or exploring the Keweenaw.
"I still remember the first time I made it down The Flow trail in Copper Harbor. You start near the top of Brockway Mountain and descend for what feels like an eternity. It's a fast and rocky ride."
Amberlee was very active on campus, beginning with being an Orientation Team Leader for first-year students and as the president of the Materials United chapter. She served in several roles on Graduate Student Government, eventually becoming the president in 2013-14.
After graduation, she joined General Motors' Manufacturing Systems Research lab as a researcher where she employed fundamentals of materials science and engineering to the welding and joining of dissimilar metals for automotive body light-weighting. Amberlee was later promoted to a senior researcher position at GM where she led projects to develop technical solutions for dissimilar metal joining.
In 2021, Amberlee transitioned to the American Lightweight Materials Manufacturing Innovation Institute (LIFT) as a Senior Engineer where she leads digital materials and manufacturing initiatives. As part of this role, she informs better manufacturing processes using knowledge of fundamental constraints in order to shrink the time to translate materials discovery to market availability.
When asked how well Michigan Tech prepared her for her career, Amberlee said that she was provided with an excellent hands-on, laboratory-based engineering curriculum that prepared her to hit the ground running in her first job.
"What I wasn't expecting was the continued support I would have from Michigan Tech alumni, which has helped to bolster my career," she said. "The Michigan Tech alumni network is huge, and I have found them particularly helpful with networking, mentoring, and outreach opportunities."
Amberlee's career success was recognized with GM's prestigious Boss Kettering Award in 2017 for outstanding innovation related to dissimilar metal joining work. In 2018, she was honored with the 30 Under 30 Award by Manufacturing Engineering magazine in part for her technical achievements and STEM outreach activities with local youth. Later that year, she led a multi-disciplinary team to victory in GM's SYNAPSE corporate-wide innovation challenge to improve the ownership experience for electric vehicle users.
In 2019, Amberlee was honored with Michigan Tech's Outstanding Young Alumni Award. Also that year, she was selected to participate in the Frontiers of Engineering program sponsored by the National Academy of Engineering. This program convenes a select group of emerging engineering leaders from across industry, academia, and government labs to discuss pioneering work, such as advanced manufacturing in the age of digital transformation, self-driving cars, and blockchain technology.
Amberlee has been elected to the Board of the American Welding Society – Detroit Chapter and is a member of the Michigan Tech Materials Science & Engineering External Advisory Board.
At this time, Amberlee has seven granted patents, seven additional patents under review by the USPTO, two recognized trade secrets with General Motors, two IP defensive publications, and 28 technical publications.
Amberlee feels it's important to give back to the community that made her education and career a possibility.
"The path to my career would have been much more difficult without scholarships and the support of my teachers and professors." In an effort to pay that forward, she enjoys mentoring students and volunteering in the community.
Updated August 2021