Josh Fogarty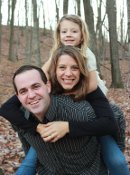 BS Materials Science and Engineering 2003
Why did you choose Michigan Tech?
1) The great engineering program
2) The more personal, smaller school feel
3) The location (and outdoor experience)
Tell us about a memorable experience you had with a class or about a favorite professor?

My favorite class memory was Senior Design. It felt more like the real world, with a multi-faceted project and multiple problems to be solved. The team was able to split up and each person played to their strengths instead of struggling individually like in so many classes.
Now, how about a memorable experience outside of class?
As an RA in Mama's Boys in East McNair hall, we won overall Winter Carnival first place in 2003, as well as first place in the games and second place for snow statue. Winter Carnival was, and is, a great event because it lasts so long and keeps everyone so engaged.
How well did Michigan Tech prepare you for your career?
Michigan Tech did a great job preparing me for my career by teaching me to learn. There are dozens of topics that I don't use on a regular basis, but I was able to create a foundation that I use every day to learn new things and keep progressing.
What was your first job after graduation and how has your career progressed?
While at Michigan Tech, I worked with the White House and got a co-op assignment from 2001–2002 with General Electric in Fort Wayne, IN. After graduation, GE Motors hired me on full time. In 2006, GE sold the motors business to Regal Beloit. I have progressed from a Metallurgist in the Materials Lab, to a Lean Six Sigma Black Belt, to a Master Black Belt, and am currently the Director of Quality."
Tell us about a few of your career highlights and notable achievements?
One of the biggest highlights was during my time as a Master Black Belt. I hosted the Lead Six Sigma training worldwide, and was known as one of the two experts regarding Lean Six Sigma in the company. I was able to travel to China, India, Australia, Thailand, Mexico, and all over the United States, training over 1500 employees in Lean Six Sigma Green Belt and Black Belt. Even though I've changed roles, I still get contact today from my former students.
What advice on being successful would you give to Tech students and young alumni?
When I graduated, I was told that it is rare to keep a job for more than a few years with a company. My experience is the opposite. Great companies do a lot to keep people engaged and part of their team. I have been lucky enough to work for the same company my entire career, and it's been a lot of fun working with people from different levels in many different locations.
Would you share your philosophy of life?
Be on the lookout to try new things; a different project, a different career, a different location, or even something as simple as a different food. Looking back and looking forward, it's all those different things that provide the best experiences.
This profile was created and submitted by Josh Fogarty on April 19, 2016. Josh and his wife, Jana, received the 2016 Michigan Tech Alumni Outstanding Service Award.