Jana and Josh Fogarty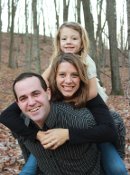 BS Materials Science and Engineering 2005
BS Materials Science and Engineering 2003
Josh '03 and Jana '05 Fogarty's story is pure Michigan Tech. They met at Resident Assistant orientation in McNair Hall. In addition to the same college major, Materials Science, they found common ground in their passion for the outdoor experiences that abound on the Keweenaw Peninsula, from hiking to winter camping—and especially broomball. Josh graduated in spring 2003, and began work as a metallurgist for General Electric in Fort Wayne, Indiana. He proposed to Jana at the 2004 Winter Carnival All-Nighter. He and some friends built a snow statue of the Vegas Strip complete with the Little White Wedding Chapel. They married after Jana's graduation in 2005. She was hired as a materials engineer for Kohler Co in Kohler, Wisconsin and Josh was able to transfer to a sister facility nearby, so they relocated to Random Lake, Wisconsin.
In Winter 2007, they decided it would be fun to gather a few Michigan Tech alumni to play broomball, but the weather didn't cooperate. The eight participants ended up playing in the snow on the beach. The next year there was ice on the lake, so about 20 friends gathered to play broomball for several hours before sharing chili and stories about their own times at Tech. Winter 2009 brought more friends and but less-than-ideal ice on the lake. So in 2010 a core group living nearby decided to work on a backyard rink. With more control over conditions the event took off. By 2013 more than 100 Michigan Tech Huskies and friends were arriving from seven states to enjoy broomball, chili and each other's company.
In 2015, Josh and Jana moved north to Crystal Lake, Wisconsin and so did the annual Broomball Tournament. Just as broomball on campus has grown, their event has expanded. In addition to the enthusiastic group of new and returning alumni, the tournament includes co-ops working with alumni, and current students who travel down from Houghton to play a few more games.
Josh, whose student co-op with General Electric turned into a full-time position, moved on to Regal Beloit when GE sold its motors business to that company. He attained a Master Black Belt in Lean Six Sigma, a methodology that helps organizations make Continuous improvement part of the culture using improved processes and unobstructed flow to lower costs and maintain a competitive advantage. He's traveled worldwide to host trainings for more than 1,500 employees. Currently Josh is Director of Quality for Regal's Climate Solutions business.
Jana started out as a materials engineer in the Kohler Co. cast iron foundry. After six years she transitioned to the sustainability field, where she works with design for environment and life cycle inventory.
Their best advice for Michigan Tech students and young alumni? "Hard work, networking, and don't forget to keep an open mind," says Jana. "Careers have a way of evolving and it's exciting to continue our learning experiences within the scope of an occupation."
Josh counters the notion that it's rare to stay with a company more than a few years. "My experience is the opposite. Great companies do a lot to keep people engaged and part of their team. I have been lucky to work for the same company my entire career, and it's been a lot of fun working with people from different cultures in various locations."
Any Huskies who are in the Sheboygan area on February 18, 2017 are welcome to get in on the action.
This profile is excerpted from the text of the 2016 Alumni Awards Dinner program.