Eva Szyszkoski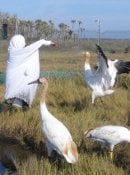 BS Biological Sciences 2006
April 26, 2010—
When she graduated from Michigan Technological University with a bachelor's degree in biological sciences, Eva Szyszkoski had never seen a whooping crane. Now, as tracking field manager for the International Crane Foundation (ICF), she migrates with the big white birds each year from southern Wisconsin to Florida and back to Wisconsin, monitoring and tracking the Eastern Migratory Population on its semi-annual trek. While the birds winter in Florida, Szyszkoski helps with winter management of the year's new crop of juvenile cranes.
An endangered species, the whooping crane is one of only two types of cranes found in the US. At a height of five feet, it is the tallest flying American bird.
There is only one completely wild population of whooping cranes, says Szyszkoski, and it only includes about 260 birds. They migrate from Wood Buffalo National Park in Canada's Northwest Territories to the Aransas National Wildlife Refuge on the Gulf Coast of Texas.
Her Eastern Migratory flock consists of cranes reintroduced to the Eastern US since 2001. It now numbers 103 birds, quite a change from the early 1940s, when whooping cranes numbered as few as 15, mostly due to hunting and habitat loss. After their breeding grounds were discovered in the mid-1950s, captive populations were established and bred, Szyszkoski explains, and now the wild population is slowly increasing.
There are two ways of reintroducing cranes. In one, the birds are raised in the breeding grounds and accustomed to the sound of an ultra-light plane. Then they follow their surrogate plane-parent south to Florida, thus learning the migration route. "The ultra-light plane method is expensive and creates a very unnatural situation for the birds, but it does enable us to introduce a large number of birds each year," Szyszkoski says.
The other approach is called Direct Autumn Release. Chicks are hatched and raised on the Necedah National Wildlife Refuge, about 45 minutes north of the Wisconsin Dells. "They hopefully follow older, more experienced birds south," the crane specialist explains. This method is more natural and less expensive, but it only enables the team to introduce up to about 10 birds a year. However, "it is showing increasing signs of success every year," she says.
Szyszkoski started working with the ICF as a Direct Autumn Release intern in 2007. She became Tracking Field Manager for the organization in 2008.
It takes more than a thorough knowledge of whooping crane physiology and ecology to do what Szyszkoski does. It takes a gentle hand and a big-white-bird costume. The costume, which she always wears when she is making direct contact with the cranes, doesn't make her look exactly like a whooping crane, "but it does help mask the human figure, which is important," she says. "We try to avoid as much contact with people as possible."
In addition to helping the juvenile cranes survive their first winter, Szyszkoski and her team color-band the birds with radio transmitters, so they can track them on their migration north in the spring and during their wandering and nesting once they get back to Wisconsin. Weighing 53 to 55 grams—less than two ounces—the VHF transmitters don't slow the big birds down much. Since an average whooping crane weighs 15 pounds, even a bird with two transmitters is coping with less than two percent additional body weight.
"Reproduction is currently the main obstacle to the success of the reintroduction of the whooping cranes," Szyszkoski says. "The birds pair, build nests, lay fertile eggs and incubate them normally for a while, until something drives almost all of them to abandon their nests over just a day or two."
One theory is that in warm weather, blackflies that feed on the birds get so bad that the cranes can't take it and leave their nests, the crane expert explains. "I have visited a couple of nests after abandonments have occurred, and the blackflies in the nesting marsh are horrendous," she says.
The ICF is working with blackfly researchers to analyze the problem and try to come up with solutions.
Why put so much effort into saving the whooping cranes? "Humans were the ones who destroyed the population in the first place," the Chassell native observes, "and since we do not own the cranes, nor have we created them, we have an obligation to restore them to nature."
Michigan Technological University (mtu.edu) is a leading public research university developing new technologies and preparing students to create the future for a prosperous and sustainable world. Michigan Tech offers more than 130 undergraduate and graduate degree programs in engineering; forest resources; computing; technology; business; economics; natural, physical and environmental sciences; arts; humanities; and social sciences.