Ellen Horsch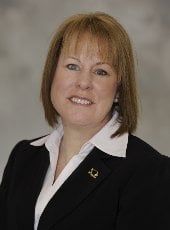 BS Business Administration 1978
Ellen S. Horsch served as vice president for administration at Michigan Technological University from 2004 to 2018. She was the first woman to serve Tech in a VP role and oversaw the A. E. Seaman Mineral Museum, Auxiliary Services, Business Operations, Facilities Management, and Human Resources.
From 1991 until 2004, she was director of the university's human resources department, directing the functions of payroll, employment, faculty personnel, labor relations, compensation, classification, and benefits. From 1989-1991, she was manager of employee relations operations.
She came to Michigan Tech in 1985 as a part-time instructor in the School of Business and Economics. She became a full-time instructor in 1986. Prior to her appointment at Michigan Tech, she taught at Ferris State University and Central Michigan University.
Horsch earned a bachelor's degree in business administration from Michigan Tech in 1978 and a master's in economics from Central Michigan University in 1983. She is active in the Houghton Rotary Club and as an advisor for Alpha Gamma Delta Women's Fraternity. She served on the board of the U.P. Labor Management Council and the Portage Governing Board. She was also active in associations related to University State Business Officers, and human resources including Academy for Academic Personnel Administration (AAPA) and a member of the Michigan American Council on Education (ACE) Network for Women Leaders in Higher Education. Horsch has presented at national and regional conferences in the areas of benefits, compensation, labor and lean principles.
Updated July 2018