Edwin Eiswerth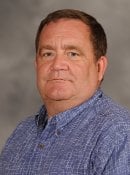 Why did you choose Michigan Tech?
Tech was far away from the turbulent times of the 1970s; the middle of nowhere.
Tell us about a memorable experience you had with a class or about a favorite professor?
Never Give Up; Dr. Ross Miller.
Now, how about a memorable experience outside of class?
Weekends.
How well did Michigan Tech prepare you for your career?
Education never stops.
What was your first job after graduation and how has your career progressed?
USAF-I retired after a very interesting career. I flew most of my career and spent most of it overseas. My second career in the Fire Service as firefighter/paramedic, and I retired as Fire Chief.
Why did you choose to become a member of the Board of Directors?
I want to try to give back to the university.
What advice on being successful would you give to Tech students and young alumni?
Work hard, never give up, expect failures but use them as challenges and lessons learned.
Would you share your philosophy of life?
Work Hard and Party Hard. Enjoy Family. Family First, Friends Second, and Work Third.
Provided by Ed Eiswerth, September 30, 2016.