Arick Davis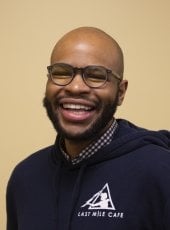 BS Electrical Engineering 2016
Arick Davis graduated from Michigan Tech in 2016 with his Bachelor's Degree in Electrical Engineering.
An active member of the Michigan Tech Alumni Board of Directors, Arick volunteers to help the next generation of students. "Michigan Tech provides opportunities to see the world while doing what I love," he said. "Each year, students find their way up to Houghton and I just want more of them to succeed and reach their full potential."
Arick chose Michigan Tech because it immediately felt like the home he always wanted. He remembers the feeling of seeing people building and creating everywhere he went on campus. Outside of the multitude of classes with great professors, looking back on his time at Michigan Tech, Arick remembers meeting Jack Dorsey in Boston at an NSBE convention and studying abroad in Portugal.
"Michigan Tech prepared me for my career much better than I expected," he shared. "I always tell people that Michigan TEch prepares you to solve problems. Yes, I learned a great deal about engineering, business, and leadership. But the thing that Michigan Tech really taught me was how to break down any problem and find a solution."
Arick's career started at We Inspire. Today, he is founder and CEO of Last Mile Cafe, a technology-intensive coffee experience headquartered in Grand Rapids, MI.
Updated October 2022