Dave Bernard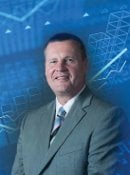 BS Business Administration 1974
After graduating from Michigan Tech in 1974, a fortunate incident altered the trajectory of Dave Bernard's career before it started. "I was set to interview with the accounting department at Kimberly-Clark," he says, "and just three days before, they called to say the position was filled, but they could offer me a spot as a tax analyst. I took the job and never looked back."
In the Kimberly-Clark tax department, Bernard found a surprisingly active professional environment. "Contrary to popular belief, taxes are an incredibly dynamic, fluid area," he says. "New laws are enacted every year, and interpretations vary depending on the administration in power, so you always have to be on your toes. My job required me to stay current with policy changes in Washington, DC, and across the world."
Bernard's thirty-six-year career illustrates an impressive level of commitment, dedication, and focus that impacted not only Kimberly-Clark but the larger world of corporate taxes. Bernard rose from the lowest position in the tax department of Kimberly-Clark to the highest, serving in roles including chief tax officer and vice president for taxes. He was responsible for tax management, tax strategies, risk management, and talent development, and was involved in the resolution of countless complex negotiations with the IRS Office of Appeals and the Department of Justice. In 2005, Bernard was named the vice president for taxes and real estate, and his responsibilities were expanded to include the management of all Kimberly-Clark office facilities, real-estate transactions, and tax-credit real estate investments.
Bernard applied the same work ethic to his longtime participation in the Tax Executives Institute (TEI), a worldwide organization that aims to improve the standards of practice for tax professionals. Starting from a local chapter membership, Bernard moved up through the ranks to eventually become a member of the board of directors and the TEI international president in 2006–07.
Now retired from TEI and Kimberly-Clark, Bernard is not satisfied to simply rely on past successes. He continues to make an impact, both in the tax world and at Michigan Tech.
He provides corporate tax consulting for a variety of large enterprises and holds a government-appointed position on the IRS Advisory Council, which advises the IRS commissioner about efficient tax administration.
Bernard is also an active member of the School of Business and Economics Dean's Advisory Council and welcomes the chance to give back. "As a Houghton native, Michigan Tech has a special place in my heart," he says. "The problem-solving skills I developed there have served me well throughout my career, and I am honored to help the University continue to provide quality education."