Darnishia Slade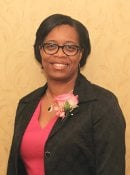 BS Business Administration 1998
Darnishia Slade graduated from Michigan Tech in 1998 with a bachelor's degree in Business Administration and a certificate in International Business. Upon leaving the University, she spent two years with the Up With People - Worldsmart International Leadership Program as a student and as the education and community service coordinator. She went on to work for the Boys and Girls Republic Treatment Facility in Farmington Hills, Michigan, and the Mosaic Youth Theater of Detroit as youth support director.
Darnishia returned to Michigan Tech in 2005 and continued her Michigan Tech legacy by accepting a position as regional admissions manager in southeast Michigan. In 2012, she put her International Business Certificate to good use moving to Tech's International Programs and Services Department. She currently serves as manager of global engagement programs for Tech's Pavlis Honors College.
"I was well equipped for my career in youth development and higher education administration," she said. "I often say that I didn't go through Michigan Tech, Michigan Tech went through me. I not only learned in the classroom, I learned a lot about myself and what I valued. Michigan Tech provided me with opportunities I never imagined possible and I am eternally grateful."
As a student, to say she was involved is an understatement. She belonged to the Society of Intellectual Sisters, the Black Student Association, the Echoes from Heaven Gospel Choir, the National Society of Black Engineers, the Women's Programming Committee, and the Racquetball Club. She also served as a Resident Assistant and was involved with WMTU radio on campus. As a student, she was a recipient of the Percy Julian Leadership Award and the Clair M. Donovan Award for Outstanding Service.
"Tech was the perfect fit for me," she said. "I wanted an in-state school that would offer small class sizes and the ability to take advantage of numerous opportunities such as leadership, studying abroad, and academic support."
As an alumna, Darnishia has remained very active with Michigan Tech serving on the Alumni Association's Board of Directors including a term as president. She also served on the committee which planned the first Women of Michigan Tech celebration event in 2012.
Darnishia makes her home in South Range, Michigan. She enjoys quality time with family and friends. Her favorite pastime is watching a good comedy and serving as a volunteer Minister at Lighthouse Faith Center in Calumet.
In 2014, in recognition of her significant achievements, Darnishia was inducted into the Presidential Council of Alumnae.
She also earned the inaugural Bayard Rustin Award presented by the National Society of Black Engineers at the Dr. Martin Luther King, Jr. banquet in January 2019.
Her advice on being successful: "Dream big and find something that you would enjoy doing (even if you weren't being paid). Advocate for yourselves (don't tell yourself no or let someone else tell you no), find a cause to support (social responsibility), and love others selflessly."
Updated Feb. 2019