Corey LaBissoniere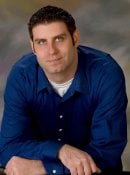 Sometimes all it takes is that one, good story idea and off goes your imagination. Faster than Corey LaBissoniere's fingers could type or his hand could write, his brain created the magical world of the "Land of Enchantas."
As a graduate of Houghton High School and a Michigan Tech Alum with a Psychology degree, LaBissoniere always wanted to become a published author. His first novel, "Land of Enchantas," took 12 total years and a major case of writers block to complete. Started and saved on a floppy disk for later, when the time came for LaBissoniere to revive the novel and finally finish it, he had to find a place that would read the floppy disk for him. 4 months later, "Land of Enchantas" was completed.
As described on the author's website, "Land of Enchantas" follows four young high school students, Ryan, Mel, Sally and John, who "know nothing about each other and are unaware of the secrets held beneath their small town." Making reference to his home's mining history, an old mine holds a "magical portal to a colorful world inhabited by taking animals, screaming vegetables, evil sorcerers and other mythical creatures." The strangers must embark on a journey to fulfill Fate's ancient prophecy, bring peace back to the Land of Enchantas and ultimately to get them home.
LaBissoniere is currently working on a sequel to "Land of Enchantas." He hopes to turn the series into a trilogy. "The plan is to first at least have a trilogy. The second book will be a little darker than the first. It will still be a fun read but the characters are going to be more drawn out," said LaBissoniere.
As a member of the Upper Peninsula Authors and Publishers Association as well as a brother of the Zeta Epsilon Chapter of Sigma Phi Fraternity International, LaBissoniere is currently working as an adoption worker at U.P. Kids in Houghton, which he loves.
When it comes to writing, for those who are interested in the art, LaBissoniere has advice to give about the power of your imagination. "As you write, let your imagination flow naturally because you never know where it'll take you… you'll be surprised."
"Land of Enchantas" by Corey M. LaBissoniere is published by Martin Sisters Publishing and is now available for purchase at the publisher's website, Amazon and other locations online.
For more information about the author, visit (coreylabissoniere.com). "Land of Enchantas" can also be found on Facebook
Katelyn Waara, Michigan Tech Lode, April 16 2013