Chris Moore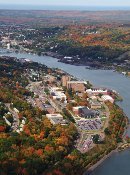 BS Business Administration 2001
Chris Moore has reached out pretty far himself. Instead of looking for a new position in his field when the economy took a downward turn, he took a risk and went back to school to get his degree in physical therapy. In 2007, he opened his own physical therapy practice. This was thanks in no small part to the practical education he gained in physical therapy wedded to the skill, insight, and discipline he learned from the School of Business and Economics.
"I got a head start on all of the other physical therapists because I understood the financial world, knew the banks, knew business," Moore says. "Compared to most physical therapists, I have an enormous business background: marketing, finance, banking, etc. Most PTs are biologically book smart with tons of medical background, but few of them knew how to write a business plan, market, or access credit."
Moore, a former basketball player at Tech, learned about physical therapy his final year here. He was out with a knee injury and spent a lot of time with the therapist. It planted a seed of interest, and later, when he decided a career in finance wasn't for him, he was able to pursue this sprouting opportunity armed with the business knowledge he gained from his degree.
"I was better at understanding the economics of a business, from maximizing profit to accounting" he said. "I have faculty like Dean Johnson to thank."
Moore understood early the importance of fusing these fields. His stepfather, a physician, struggled with some of the business elements of his practice. "He was a phenomenal doctor, but he didn't know how to do anything with money." Meanwhile, a friend of his was a stockbroker, for whom it was "just money, money and numbers." Back in Motion has brought together for Chris the care for patients and medical excellence of his stepfather together with a passion for proper business principles.
Now, with his practice established, he takes pride not only in his accomplishment, but also what his practice does for the local economy and in employing young talent in the area. "The opportunity to grow and create jobs for other people has been very rewarding. It's kind of cool that young people have moved back here to be involved."
Thinking of current students, Moore has a bit of advice to pass along. "Have a wide variety of experiences. Take an honest look at your strengths and play to them."
Still, even as a medical professional, Chris Moore realizes the value of having business acumen and the drive to be the best. He hasn't stopped reaching for success.
"The best apple is always at the end of the branch. You've got to take a little risk."
This profile appeared in the Spring 2013 issue of Impact Magazine Volume 3, Issue 2