Derek Chapel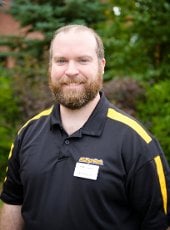 BS Electrical Engineering 2005
Why did you choose Michigan Tech?
Michigan Tech has a well-deserved reputation for being a great engineering school. I wanted to become an engineer, and growing up in Northern Michigan I am the type of person who is used to winter weather and likes to do things outdoors. I decided Tech was a great place for me to go and get away from home, yet still get in-state tuition, and be able to do lots of outdoor activities while earning my engineering degree. I also visited Tech before attending and found the Keweenaw to be a beautiful place!
Tell us about a memorable experience you had with a class or about a favorite professor?
I went to one of my optics professor's, Dr. Schulz, office hours one day to ask a question related to class that day. We started talking about hockey and I found out that the faculty was planning a students vs. faculty hockey game for the electrical and computer engineering students. I ended up helping plan and execute that game, and played in that game many more times over the years. I also got to know my professors better through that experience and started playing with them on a regular basis.
Now, how about a memorable experience outside of class?
My freshman year I lived in Wadsworth Hall and was in the First Year Experience program. I made a lot of friends in the hall. We formed a broomball team, and made a great month-long snow sculpture for winter carnival, which ended up getting first place. I will always remember all the fun nights spent out in the cold with friends working on the statue or playing broomball. I continued to play broomball and work on carnival statues throughout my time at Tech because of those experiences my freshman year.
Additionally, during my final year and a half at Tech I was the volunteer head coach for the Michigan Tech Women's Club Hockey Team. I conducted drills, ran weekly practices, put together lines, helped organize travel plans to various other colleges, and ran the bench. I also traveled with the team to games against many schools throughout Michigan, Wisconsin, and Minnesota. It was a great honor and privilege to get to know the players better, and help them have two successful seasons while I was coaching them.
How well did Michigan Tech prepare you for your career?
Tech really prepared me for my career in that I was a well-rounded engineer. Tech pushed me in my classes and taught me to work with other people to solve problems. I participated in a lot of activities around campus which helped me get involved in activities I enjoyed outside of work as well. My confidence in my skills, my ability to find solutions to problems, and my desire to form bonds outside of my job, helped me become a respected and valuable member of my team at work.
What was your first job after graduation and how has your career progressed?
I had an internship during my last summer at Tech with the U.S. Patent and Trademark Office. That was a great experience and led to a job offer after graduation if I was interested. I weighed a few other options around graduation time, but decided to head back to Washington D.C. and started full time as a patent examiner for the USPTO. I've been there for over 10 years now. I started as a junior examiner who needed to have everything reviewed and signed by superiors. Now I'm a primary patent examiner with full signatory authority for all of my work, and I train junior examiners who have been hired on to work in my technology.
Why did you choose to become a member of the Board of Directors?
I moved back to Northern Michigan to work from home and enjoy the outdoor activities that Michigan has to offer. In doing so, I began visiting Tech much more frequently for camping trips, visiting friends and faculty, and playing hockey up North. On one of those trips, for my 10 year reunion, I met and spoke with some people involved with the Board of Directors. I thought that would be a good way for me to stay involved with Tech and help reach out to past, current, and future alumni to help foster the relationships which can make Michigan Tech such a great experience for so many people.
Tell us about a few of your career highlights and notable achievements?
Before graduation from Tech in December 2005, I accepted a full-time position as a GS-7 junior patent examiner at the USPTO and started work January 2006. I examine patent applications in the optics field, including the areas of polarization, holography, image stabilization, microscopes, telescopes, infrared and ultraviolet systems, and optical computing.
Passing of the Patent Law and Evidence exam is required to demonstrate competency and knowledge of the Manual of Patent Examining Procedures (MPEP) before promotion to GS-13. I took the Patent Law and Evidence exam a year early, as a GS-11, and passed the exam.
As a GS-13 junior examiner I spent many hours working to complete a program called Master's Level Papers to show that I have master's level knowledge in the fields of microscopes, holography, and polarization. Though very few examiners have completed master's papers in my technology center, I successfully defended my master's level papers before a panel including my director, supervisor, and an expert in the art, thereby earning my GS-14 promotion early. Later in 2011, I completed the second portion of the signatory review program at the USPTO, and received a promotion and recognition as a primary patent examiner with full signatory authority to sign all of my own cases without a supervisor's signature.
Many times from 2006–2016 I have received ratings of outstanding and commendable performance. Additionally, I train and mentor junior patent examiners on proper examination procedures and interpretation of the law, as well as reviewing and signing the cases they prosecute.
What advice on being successful would you give to Tech students and young alumni?
Don't be afraid of asking for help with your classes or projects as I found it very beneficial to work with my fellow students to try and solve problems and further each others' understanding. However, don't be afraid of hard work as you will have to work hard and actively strive to achieve your goals both as a student and as a young alum starting a new career. Lastly, get involved in activities outside of classes and work. At Tech I was involved in various groups and activities and these helped me learn time management and get the most out of my Michigan Tech experience. The same is true for starting a career. Find a way to get involved in things that interest you outside of work as this will help you relieve stress, make new friends, and that assertiveness can carry over to opening doors at work.
Would you share your philosophy of life?
I would say my philosophy is to "have fun and don't be afraid to put yourself out there." Don't expect things to just happen for you because you need to put in the work and go after the things you desire. If you work hard, get involved, and form lasting relationships, then you will find success and fulfillment.
Provided by Derek Chapel, October 8, 2016.