Catherine Leslie, PE, CAE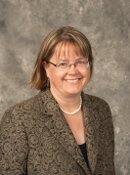 BS Civil Engineering 1983
Cathy graduated from Michigan Tech in 1983 with a bachelor's degree in Civil Engineering. Her father, Samuel William Kuchta ('48, Civil Engineering), and brother, Douglas Kuchta ('84, Mechanical Engineering), are also alumni of Michigan Tech.
After graduation, Cathy joined the Peace Corps where she served in Nepal as a Water/Sanitation Engineer. Upon returning to the United States, she worked in the private and public sectors as a project engineer/manager in the design and management of civil engineering projects. Her responsibilities routinely covered all facets of engineering to ensure successful and cost-efficient projects.
In 2003, Cathy began volunteering her time with Engineers Without Borders–USA, a non-profit organization devoted to improving the quality of life in developing communities while improving engineering education to include a global perspective. With EWB-USA, first as the volunteer Executive Director in 2003, and subsequently, as the full-time Executive Director in 2008, she brings her management and organizational skills to ensure that the volunteer organization can fulfill its mission and vision.
Cathy is a member of the American Society of Civil Engineers, American Society of Mechanical Engineers, and the Water Environment Federation. She received the William H. Wisely Civil Engineer Award in 2008 from the American Society of Civil Engineers for her contribution to the engineering profession.
Cathy lives in Broomfield, Colorado with her husband, Steve, and they have two children—Micah and Vanessa. She enjoys spending time in the mountains and on the river.
In 2010, in recognition of her significant achievements, Cathy was inducted into the Presidential Council of Alumnae.
This profile appeared in the 2010 Presidential Council of Alumnae induction program.