Joe Azzarello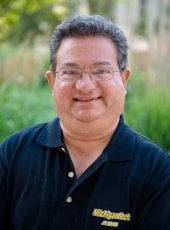 BS Mechanical Engineering 1978
MS Environmental Engineering 1980
Why did you choose Michigan Tech?
I wanted to study engineering and Michigan Tech was and still is the best University in Michigan to attend for an engineering degree.
Tell us about a memorable experience you had with a class or about a favorite professor
One of my favorite classes was taught by Dr. Kahn [back in the 70's] on machining. He was friendly, knowledgeable and very funny.
Now, how about a memorable experience outside of class?
Generally the friendships I made and continue to have with many of the people who attended MTU with me. Bonds that will never be broken.
How well did Michigan Tech prepare you for your career?
Very well. I have had a very successful and varied career and having attended MTU was a big plus with any place I was seeking employment or advancement.
What was your first job after graduation and how has your career progressed?
I started out in the electric power generation industry and ended up in the Environmental Sustainability field!
Tell us about a few of your career highlights and notable achievements
Developed a business sustainability program that received recognition from President Bush and the White House, am a founding member of the US Green Building Council, traveled the world facilitating and teaching Green Building and Sustainability courses.
Please tell us why you share your time, talent, and treasure to support Michigan Tech students and/or alumni or volunteer in your community.
I am at the stage of my life where it is time to give back to MTU and the community and am in the position to do so. Without a degree from MTU I am not sure how my life would have turned out and am very fortunate to be able to give back.
What advice on being successful would you give to Tech students and young alumni?
Stick with it. At times studies will be tough but you will end up with a world class degree from a world class university and you will reap the benefits the rest of your life!