Molli Andor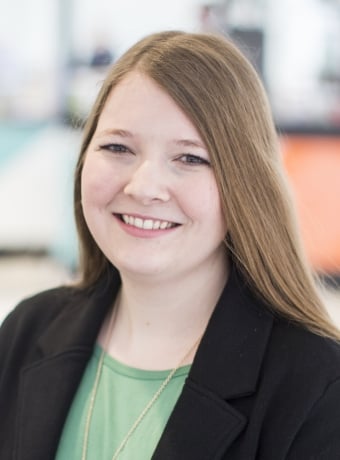 BS Mechanical Engineering 2015
Attending a Women in Engineering summer camp at Michigan Tech was the driving factor in Molli Andor enrolling as a student a year later.
"I fell in love with the Keweenaw's natural beauty," she said. "Campus is positioned near so many prime outdoor locations to explore. Plus, spending the week on campus opened up my eyes to the engineering opportunities available."
Molli earned a B.S. in Mechanical Engineering in 2015. She recalls her Introduction to Design & Manufacturing class helping shape her passion for learning how things are made and understanding how to better design them. She soon became a lab assistant for the course, teaching other students how to operate equipment.
"This was a great opportunity to get my hands dirty and to ignite a spark of passion for learning in other students."
Following graduation, Molli was hired as a Powertrain Manufacturing Engineering Department Ford College Graduate (FCG). The position is a three-year rotational program, cycling through many areas of Ford and various stages of the product development life cycle. She concurrently completed a master's degree in engineering management from the University of Michigan - Dearborn in 2018.
After completing FCG program at Ford, Molli transitioned to the role of Engine Assembly Process Engineer within Ford's Powertrain Manufacturing Engineering Department. She supports Nano engine (2.7/3.0L) assembly upgrades. Recently, she helped Ford launch the 2021 2.7L F150 and Bronco engines, which are built in Lima, Ohio.
Molli was part of a team that was voted "Best in Show" at Ford's 2017 Catalyst Innovation Challenge. The team researched bone conduction technologies and how to integrate them into manufacturing environments to increase safety and modernize connected system communications.
She was also selected as a Fellow of Ford's 2018 Thirty Under 30 Program, a forward-thinking philanthropic initiative where participants learn how to apply design thinking to help southeast Michigan non-profits solve their most challenging problems.
"Michigan Tech provides a solid base of fundamentals for all engineers, and lays the groundwork for creating passionate and driven problem solvers," she said. "In the midst of the Fourth Industrial Revolution, Tech is preparing students to be adaptable and curious to a future of unknowns and connected data systems."
In 2020, Molli volunteered to support Project Apollo, Ford's COVID-19 PPE & life saving efforts. She worked as an engineer to launch completely new surgical mask production equipment and lead process improvements to produce as many masks as possible.
She also volunteers with the Society of Women Engineers (SWE) Detroit Section. She was elected to the VP of Communications position for the 2022 fiscal year.
Molli has been active in recruiting Michigan Tech students to Ford and supporting students with resume reviews and career advice.
"I love Michigan Tech with every fiber of my being," she said. "Tech shaped who I am as a person. I want current and future students to have the same opportunities and more."
Molli was nominated for induction into the Presidential Council of Alumnae in 2020 and inducted in 2021.
Updated September 2021