Amy Storer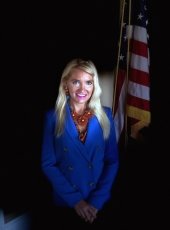 Amy Storer came to Michigan Tech to play basketball but her education and career took her from the court to a Homeland Security position.
Storer is an Intelligence Analyst for Homeland Security Investigations in Savannah, Georgia. Prior to that, she spent six years in Washington, DC where she worked in national security with the Department of Homeland Security, at the National Targeting Center, Tactical Intelligence Cell, National Intelligence Watch, Commissioner's Situation Room, Office of the White House Liaison, and The Office of the General Counsel. She also served as a Congressional Liaison on Capitol Hill for Homeland Security.
She earned a master's degree from Johns Hopkins University in global security studies and a master's degree at Harvard University in government and legal studies. She also is an adjunct college professor, teaching American government courses at Savannah State University and the College of Coastal Georgia, while continuing her Homeland Security career.
At Tech, Storer received an education of a lifetime and profound career guidance from her professors. "Dr. Mary Durfee and the Social Sciences department supported my goal of gaining experience through internships" she says. "I credit Michigan Tech for allowing me to become the first student to intern at The Washington Center under the Ford Motors Global Scholars program."
That experience led Storer to the White House as a Homeland Security intern. I made the decision to depart the basketball team and give up a full-ride scholarship at MTU to pursue my ambition with internships that swiftly led to a permanent position as an Intelligence Analyst with Homeland Security Investigations.
She says she wants to see her students exceed beyond the classroom.
"It is not what you want to be when you grow up; rather, what problems in the world do you hope to solve? Whatever goal you endeavor, be all in, and start today. Be open-minded and stay thirsty for knowledge. Try new things and passionately, but rationally, follow your dreams. Do not let inexperience or fear dictate your life. Build from every accomplishment and when you get to the finish line, find your next goal."
5 Under 35 Speaker, 2018