Jon Ahola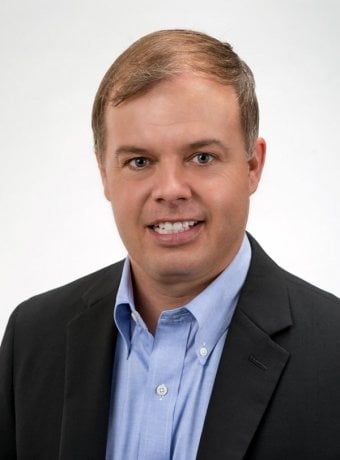 BS Mechanical Engineering 1995
Only at Michigan Tech can the start of a great engineering career begin with being a Zamboni driver. When Jon was growing up in Hancock, the decision to attend Michigan Tech was an easy one. "My dad worked at Michigan Tech, and I was interested in math and science, so it was the logical choice…it is right across the bridge!"
Being a long time hockey fan helped seal the deal, especially when he got the job to drive the Zamboni at the SDC to help put him through college. "I can remember when I was first starting out learning how to drive it, and I thought I had it down pretty well, but I forgot to lift the blade off the ice when I was coming off and I took out the undersurface boards. I sure was glad no one was around to see it!" Thinking he got away with it, he threw out the splintered wood but was surprised the next day when his SDC coworkers created a plaque with the broken wood with his name on it entitled "Worst Zamboni Driver" for the breakroom. "I still get a laugh about that one," he remembers.
Jon knew in college when he was pursing his BSME that he wanted to find a way to apply his engineering knowledge to healthcare. He reached out to Michigan Tech hockey player alumnus Doug Harris '86 '89 he knew from his Zamboni driving days. Harris, now retired, was an executive at Stryker, a multinational medical technologies corporation based in Kalamazoo, Michigan. Jon was hired and he began his career as a product/design engineer at Stryker, where he designed surgical saw attachments and cutting blades for bone grafting procedures. Currently, he is Vice President R&D, Trauma and Extremities at Stryker, after a career that has taken him to Europe and back. "Taking the position in Europe really pushed me out of my comfort zone. My wife had to give up her job here in the US, and I had to learn German. It was a great personal and professional experience." He encourages young alumni to take on stretch assignments that give you different experiences and travel.
Jon remembers the personal connection Michigan Tech faculty made with students. "Professor Peck Cho called me out by name in thermodynamics class by commenting in class that he knew he could do better than the score of 49 I got on my first exam," recalled Jon. It inspired him to work harder, and he eventually graduated Summa Cum Laude in 1995. He currently serves on the College of Engineering Advisory Board for Michigan Tech as co-chair. "I wanted to give back to the university that gave so much to my life."
Updated January 2022