Two Huskies channeled their love of jazz, funk, fusion and video game music into a 30-member student-run ensemble that arranges, rehearses and performs songs from video game franchises.
Every student at Michigan Tech is welcome to be part of visual and performing arts classes and extracurriculars — or start their own. Computer engineering major Ryan Briggs and mechanical engineering graduate Sean Hanson '21 formed the Video Game Music (VGM) Ensemble in 2019 when they discovered their mutual appreciation for the genre.
Watch The Rain Formerly Known as Purple- Playing With Power video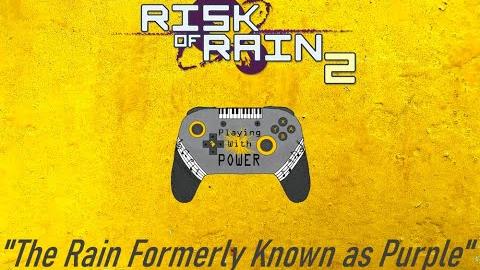 Listen to "The Rain Formerly Known as Purple" at VGM's Playing With Power! concert November 21 at Michigan Tech's Rozsa Center for the Performing Arts.
"I love the way music can manipulate emotions and make us feel. … It's just really fascinating to me," says Briggs, who compares video game music to film scores. "When you hear the initial 'Star Wars' theme music with the title screen, it elicits a very strong feeling of excitement, adventure and grandiosity. It's the same thing with video game music; the difference is that each piece from a video game isn't the theme of a story that you're watching unfold, it's the theme of your story as the player. It's a very impactful and personal medium."
In addition to the VGM Ensemble's 30 active members, there are another 70 following its evolution on Discord — especially impressive growth considering pandemic impacts that limited the size and scope of gatherings. Forming the ensemble happened spontaneously after a Research & Development (R&D) Jazz Band rehearsal when Briggs (R&D bass player) heard Hanson playing "Space Junk Galaxy" from Super Mario Galaxy on the piano. The conversation turned to favorite game soundtracks (Briggs named The Legend of Zelda and Hanson is partial to Pokémon) and moved on to forming a small group.
"It's a great intersection of interests, so when I found someone else with the same interests, it was only natural to want to make fun music with like-minded people," says Briggs. They sought the advice of Adam Meckler, assistant professor of music and director of jazz studies at Michigan Tech. He was all for it.
"The formation of the VGM Jazz Ensemble is a great example of how creative, resourceful and motivated our students are here at Tech," says Meckler. "All of the credit for VGM's success and growth goes to Ryan and Sean, who organize all of the rehearsals, arrange all of the music and rehearse the band in preparation for performances."
"I'm just glad that I have a platform to give them performance opportunities so they can show off all their hard work. Bravo, Ryan, Sean and band!"
The Logistics of Starting a Musical Ensemble
The group settled on Thursday nights for their main rehearsal day; a band room slot was usually open and practice didn't interfere with any other ensembles at MTU. "We asked Zane Smalley to play drums for us — and we've since learned that drummers are the ones who control the rehearsal schedule. If they can't make it, you're not having an ensemble," says Hanson. "A few more people joined in (trumpet, trombone, alto sax and tenor sax), and we mostly just played a few video game songs casually. VGLeadSheets is an extremely helpful database full of fan-arranged lead sheets of various VGM pieces, so we mostly played these for the first few months. We didn't really have any end goals or performances in mind. I was just happy to have a chance to play some of my favorite songs from games with other people. Unfortunately, in March 2020 — we all know what happened — and then COVID made us go on indefinite hiatus."
COVID restrictions eased by spring 2021. The VGM Ensemble got back in the band room. Word of mouth, including conversations on the MTU student Discord and subreddit, helped with recruitment. Briggs and Hanson began to create their own arrangements, which the ensemble rehearsed. VGM had its breakthrough moment in March 2021, when Meckler offered to let them perform between bands at the Don Keranen Memorial Jazz Concert (performance timestamps at 28:46 and 1:10:53). The band also opened the 2022 festival. And Hanson recorded a session in April 2021 for an album he plans to release soon.
By fall 2021, membership in the band had doubled thanks to interest from first-year Huskies. Briggs and Hanson took another big step, organizing their own concert, working with George Hommowun, Rozsa Performing Arts Center production manager, and in accordance with the current pandemic health and safety guidelines for audience capacity and protocols at indoor events. It all came together in November 2021.
"Hands down, our November concert 'Playing With Power!' was my favorite moment of the ensemble," Hanson says. "Doing something like this has been a dream of mine since my senior year of high school, and seeing it become a real thing actually made me tear up a bit. Seeing a full house surprised me, considering we only had our concert information finalized and advertising ready less than a week before the performance, on top of it being right before Thanksgiving break when people were heading home."
Hanson graduated that fall but continues to write arrangements for the ensemble. Briggs has taken on the primary leadership role.
Learning to Lead Is About More Than Music or Engineering
Leading the VGM Ensemble was challenging. For Briggs, playing his part while guiding the group brought multitasking to a whole new level. "I have no background in running and teaching an ensemble," says Briggs. "I always took this aspect of it for granted. Band directors made it seem easy, partly due to their experience. They always had a plan."
Hanson also has a new respect for coordination behind the scenes. "I've learned that there's a lot more that goes into organizing an ensemble than just the stuff we see on the surface," he says. "Even something as simple as organizing rehearsal schedules can be a lot of work — since we had to account for everyone's personal schedules, the times the band room is actually available and even times when parking restrictions are enforced."
He also learned how to be flexible and to work with the strengths of the team. "Since we're not a music school, we have to account for the different skill levels of musicians here. Since we wanted our ensemble to be available to everyone regardless of proficiency and instrument, writing arrangements that everyone can play while still having fun can sometimes be difficult," he says. "I found that out the hard way last year when I arranged 'Guile's Theme' from Street Fighter II in its original key (concert C-sharp Minor). Yeah, safe to say some of the wind players were not happy with me. But at the same time, this opens up creative possibilities for arrangements. One of the best examples I can use is our arrangement of 'Big Blue' from F-Zero. The original track is very obviously written and played for a computer/electronic instrument with triplet runs at 210 beats per minute. Since these are clearly not playable for most humans, we decided to slow things down into a funk arrangement instead — which everyone enjoyed and appreciated."
Many Ways to Make Music at Michigan Tech
Artists are drawn to Michigan's Keweenaw Peninsula and Michigan Tech's vibrant music scene is a major part of local culture. "Tech has a concentrated community of passionate people who are drawn to each other and want to help each other," says Briggs. "There is no music major here, which helps to reduce competition. We're all in it together and building each other up. It's a great environment for getting feedback, too." Invoking a line he hears from his mother, Briggs says he looks forward to a lifetime of making music. "While I am in engineering, I will be able to feed my family. But music will feed my soul."
With nine different bands and ensembles, two choirs, a symphony orchestra, practice facilities, a sound lab and a recording studio, the McArdle Theatre and the Rozsa Center for the Performing Arts, Michigan Tech has great facilities to let students exercise creative muscles and hone crafts. In addition to R&D, Briggs also plays in the Campus Concert Band and serves as a trumpet section leader for Huskies Pep Band. "Pep Band is so much fun! There is no band like it," he says, beaming. "Pep Band was my first group of friends on campus."
"Everyone is looking for a group to belong to when they step foot on campus. Some of my best friends are from Pep Band."
Hanson hated piano lessons as a kid until he discovered his first video game music arrangement. His interest in the genre developed in the YouTube VGM community, where he was especially impressed by influencer Carlos "insaneintherainmusic" Eiene.
Hanson has also found inspiration and collaboration with the Pixel Mixers community, which he describes as "a tight-knit group of musicians of all instruments, genres and countries of origin dedicated to making collaborative albums dedicated video games and franchises." He played in Tech's pep, concert and jazz bands and also appreciates the informal jam groups that pop up around campus. "There's also a surprisingly active local music scene for those who would rather play independent of the school — and several venues, such as the Orpheum in Hancock and Bonfire in Houghton," he says. "If you're an electronic musician/producer, there's a student Discord server full of electronic musicians who discuss ideas and share works. There's definitely more than you would expect from a small town like Houghton."
Music and Sound is Part of Their Future
Briggs, currently president of the Theme Park Engineering Group at Tech, dreams of a career in theme park entertainment, or as he puts it "to work on something that makes someone smile." His five-year goal: working on one of the coasts as a Disney Imagineer, combining his engineering and music skills.
Hanson discovered how much he enjoyed working with acoustics and sound during his time at Tech. "I took acoustics and noise control as a technical elective. It was hands down the coolest class I've ever taken in my college career, since I got to geek out STEM-wise and audio-wise at the same time," he said. "I'm especially interested in room acoustics and studio design. So when I interviewed for the company I'm currently at, I brought up my music background and how a healthy noise environment can enhance a building space (they liked it enough to give me a job, so there's that). I don't work with acoustic-related information very often, but I do occasionally use simulation programs to see how much noise an HVAC duct is making in a room and if there's any changes that need to be made accordingly."
Hanson continues to be involved in music as a side career. His personal VGM covers are available on commercial streaming services and stores (Spotify, Apple Music, etc.), which generates a small amount of revenue every month. "While it isn't nearly enough to sustain me as a career, it's nice to receive an extra $20 every now and then."
Michigan Technological University is a public research university founded in 1885 in Houghton, Michigan, and is home to more than 7,000 students from 55 countries around the world. Consistently ranked among the best universities in the country for return on investment, Michigan's flagship technological university offers more than 120 undergraduate and graduate degree programs in science and technology, engineering, computing, forestry, business and economics, health professions, humanities, mathematics, social sciences, and the arts. The rural campus is situated just miles from Lake Superior in Michigan's Upper Peninsula, offering year-round opportunities for outdoor adventure.