Michigan Technological University's Institute for Policy, Ethics, and Culture (IPEC) presents the virtual Justice in Transition series from Tuesday, March 23, to Thursday, April 15.
Campus researchers and leaders share in their own words what they look forward to when it's their turn to lead discussions — and why the community will want to be part of the conversation.
How to Sign Up, Join In
Check out speakers and topics. Register free for individual talks with the sign-up links included in this Unscripted or by visiting IPEC. Get free books for all ages that complement the series at Portage Lake District Library (no library card required).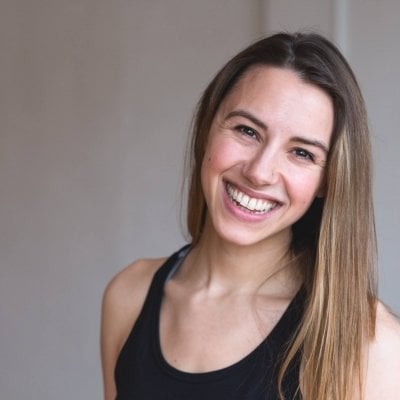 Tuesday, March 23: Arts Activism, Spoken Word Artist
"I met Marc in 2017 at the University of Southern California as a member of the Association for Performing Arts Professionals Leadership Fellows Program. Marc and renowned choreographer Liz Lerman worked with the cohort in two sessions that focused on integrating personal values, social accountability, aesthetic ideals and institutional systems into a holistic work practice.
"In hindsight, this was the perfect introduction to Marc and his work. An acclaimed professional artist, Marc knows how to mobilize ideas and resources to achieve an end and has leveraged his creative skills to innovate applied community development philosophies. He is a pioneer who has become a prominent voice not just in the performing arts sphere but as a civic leader on a national platform. It's an honor to have the opportunity to host him for a conversation with our campus and community."
Jennings is the director of programming at the Rozsa Center for the Performing Arts. Register to Join the conversation with Bamuthi Joseph.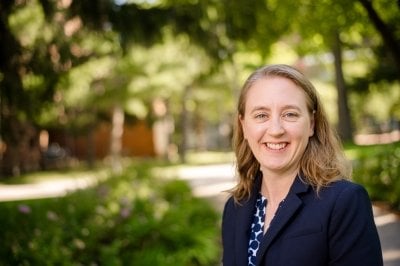 Thursday, March 25: Global Health, Human Rights Law, the Pandemic
Caryn Heldt
(Health Research Institute, Chemical Engineering) in Conversation with
Lawrence Gostin
"Professor Lawrence Gostin is deeply engaged on how to equitably deliver health care across the globe. The way the U.S. and other countries have reacted to the COVID-19 pandemic and previous epidemics has provided us a glimpse into our thinking. Do we believe that health is a right for everyone, or is it more important to help ourselves and not worry about others? The COVID-19 pandemic has amplified many of the us-versus-them failings of the U.S. health care system. Will we take this as a wake-up call or continue down the path of health care being a privilege for those who can afford it?
"I spend much of my time trying to improve vaccine manufacturing so there is enough vaccine available for those who need it. But without equitable distribution, my efforts may be in vain. I'm excited to talk to Professor Gostin to better understand the importance of global vaccination efforts and what we can do to advocate for more equitable distribution of the COVID-19 vaccines. I strongly feel that by advocating for others, we can all rise up and be stronger and healthier together. Professor Gostin will inspire us to think globally to ensure a better and healthier future for us all."
Heldt, a professor in chemical engineering, is the James and Lorna Mack Chair in bioengineering, director of the Health Research Institute and technical director of the MTU COVID-19 Testing Laboratory. Register to join the conversation with Gostin.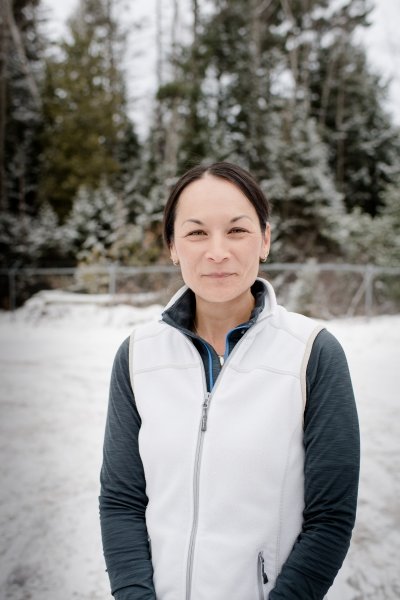 Tuesday, March 30: Traditional Knowledge and Restoration Ecology
Valoree Gagnon
(University Indigenous-Community Partnerships, Great Lakes Research Center, College of Forest Resources and Environmental Science) in Conversation with
Robin Wall Kimmerer
"About seven years ago, Robin Wall Kimmerer and I became fast friends. It was a hot summer week in Upper Michigan. Each evening, we'd spend hours together while my boys played in the yard. I listened to her stories about her research, her culture, her two daughters growing up, the kindness of her neighbors (and unkindness of others) and the pond, the rocks, and frogs, trees and plants near her home. We shared laughter, even tears, and she shared teachings from the plants and how I could learn from them, too. Her words inspired me to look into many shaded crevices for one of the most inconspicuous, plentiful and wisest teachers in the world — moss.
"That was the summer I read "Gathering Moss," when Robin Wall Kimmerer taught me how to see the world through moss-colored glasses. Since that time, I've learned how to add more lenses on top of my moss ones. I wanted my students to learn to see, too, so for years now it's been my textbook of choice at Michigan Tech and the Keweenaw Bay Ojibwa Community College. I've longed to reconnect with my dear friend Dr. Kimmerer and to continue our conversation that began years ago."
Gagnon is the director of University-Indigenous Community Partnerships at the Great Lakes Research Center and a College of Forest Resources and Environmental Science faculty member. Register to join the conversation with Kimmerer.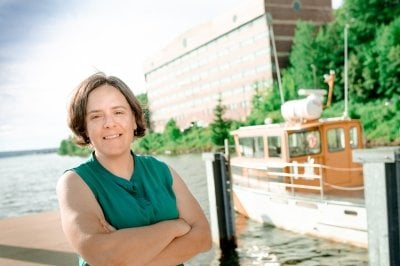 Thursday, April 1: Racial Equity and Environmentalism
"For our students who are interested in social and environmental justice, August Ball's visit will be an opportunity to learn about how communities are taking on systemic challenges through creative, empowering programs and the ways we must work together to create inclusive workplace environments for all. Ball is the founder of Cream City Conservation and Consulting, a social enterprise aimed at increasing representation of people of color in the environmental industry. The organization takes a novel, two-pronged approach to this challenge — first, by working with environmental organizations to address institutional cultures and practices that are barriers to diversity and inclusion, and second, by training and employing youth from traditionally underrepresented groups. The two activities work together, with proceeds from the consulting program providing fundings for training and activities. The youth corps, in turn, creates a pipeline of trainees ready to enter the environmental workforce.
"At Michigan Tech, we have much to learn from August Ball's visit about the structural and systemic factors that reinforce homogenization of students and professionals in environmental sciences and engineering, as well as how to break down these systems through institutional evaluation, employee engagement and student training."
Marcarelli is an associate professor of biological sciences whose teaching and research occurs at the interface of nutrient cycling and ecological communities, including humans. Register to join the conversation with Ball.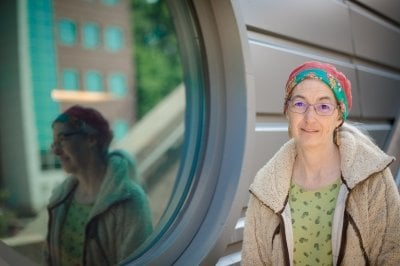 Tuesday, April 6: Connecting Local Climate Impacts to Global Policy Targets
"Dr. Katharine Hayhoe crosses divides.
"She is a climate scientist in a department of political science. She is a Canadian who lives in Texas. She is a Christian who links her faith and her science. She delivers dire warnings with upbeat positivity. She authors somber government reports and popular TED Talks. She has global influence and engages in local affairs. Somehow she straddles all these divides with no hint of conflict or contradiction. And with remarkable grace and humor.
"Many people know Katharine Hayhoe as a ubiquitous climate communicator who dispenses accurate and practical information through scientific papers, videos, talks, movies, policy reports, Facebook, Twitter, and probably other venues I've never heard of. They may not know that some of her earliest climate work was on the Great Lakes.
"A rapidly expanding circle of Michigan Tech students are focused on the technological, scientific, ethical and policy aspects of sustainability and climate action. They are engaged in changing the world through coursework, research and activism. Dr. Hayhoe provides an inspirational model of combining sound science with social action to build the best future we can."
Sarah Green, interim department chair and professor of chemistry, is a chemist and climate scientist committed to working on the science-policy interface. Register to join the conversation with Hayhoe.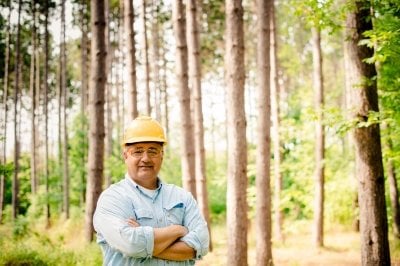 Thursday, April 8: Responsible Wood Sourcing the IKEA Way
Mark Rudnicki
(College of Forest Resources and Environmental Science) in Conversation with

Ulf Johansson

"The forest provides us with a wide variety of goods and services. Many, like clean water and carbon storage, we don't often think about and may take for granted, but wood is a top-of-mind forest product. Many of us would love a log cabin out in the wild. Wood is a part of our everyday lives, from flooring to cutting boards — but many dislike the idea of cutting down trees. We need to learn to appreciate the sustainable and responsible harvesting of trees because wood is increasingly being acknowledged as critical to a sustainable future and our well-being.

"Sustainable forestry strives to ensure that present and future generations have a forest that can meet their needs and values. When your company consumes a staggering 1% of the world's entire wood supply, the responsibility toward sustainable forest management is equally immense. Ulf Johansson, global wood supply and forestry manager at IKEA of Sweden, will share with us some of the implications of this responsibility and how IKEA's leadership has changed how we certify sustainable forests and forest products."

Mark Rudnicki is a professor of practice in forest biomaterials and coordinator of industrial research, innovation, and commercialization. Register to join the conversation with Johansson.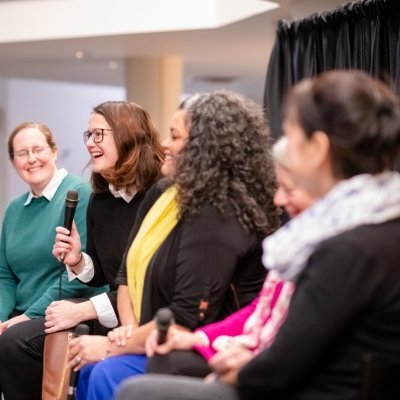 Tuesday, April 13: Race, Equity, and Technology
"We are extremely fortunate to have the opportunity to learn from Ruha Benjamin, professor of African American Studies at Princeton University. Her most recently published book, "Race After Technology: Abolitionist Tools for the New Jim Code," is an engaging and clear study of the ways in which racism and inequity are often unintentionally written into data and replicated in code. Her timely insights are essential for anyone whose life is touched by digital technology — namely, each and every one of us — but perhaps especially students interested in pursuing careers in engineering and computing.
"It is not simply explicit biases that undermine the freedom of others, and thus also our own, but rather the tacit biases embedded in and perpetuated through their patterning of our social relations. For decades, philosophers, social scientists and cultural theorists have known and articulated this insight that technologies are not neutral tools. Benjamin's voice is a unique and welcome addition to this urgent conversation. Not only does she help to clearly diagnose this deadly condition, but aims to provide us with additional critical and intellectual tools to begin to work together toward a cure."
Alexandra Morrison, shown here speaking into a microphone at the Institute's panel discussion following the performance of "1984" in fall 2019, is an assistant professor of philosophy in the Department of Humanities. Register to join the conversation with Benjamin.
Thursday, April 15: Civil Rights Activism
Wayne Gersie
(Vice President for Diversity and Inclusion) in Conversation with
DeRay McKesson
"I'm eager to engage with DeRay, who inspires me as he fights to bring equity and justice into the world. As someone who is dedicated to issues of diversity, inclusion and social justice not only in my role as Vice President for Diversity and Inclusion at MTU, but in my everyday life, I appreciate DeRay's focus on innovating solutions to the social problems with which our nation is faced.
"DeRay reminds us we all have the power to influence change and empowers folks to find their voice and imagine the future we all deserve. As a former educator, DeRay will bring valuable insight to our campus. I am consistently stunned and awed by the breadth and depth of his knowledge — a walking encyclopedia. He realizes the importance of driving outcomes with data and research. He reminds me that in this work that I care about, the outcomes are what matter — real systemic changes.
"I know those who join us for this conversation with DeRay will be invigorated and inspired. He has a way of helping us trust that if we fight for the future to which we aspire, it can be a reality. DeRay has the ability to motivate us to persevere and dream big."
Watch Gersie's video introduction to the Husky community. Register to join the conversation with McKesson.
Conversations are a Collaboration
Justice in Transition series partners are Portage Lake District Library and Michigan Tech's Rozsa Center for the Performing Arts. The series is funded in part by the Van Evera Distinguished Lecture Series and the Michigan Humanities Council, an affiliate of the National Endowment for the Humanities.
Michigan Technological University is a public research university founded in 1885 in Houghton, Michigan, and is home to more than 7,000 students from 55 countries around the world. Consistently ranked among the best universities in the country for return on investment, Michigan's flagship technological university offers more than 120 undergraduate and graduate degree programs in science and technology, engineering, computing, forestry, business and economics, health professions, humanities, mathematics, social sciences, and the arts. The rural campus is situated just miles from Lake Superior in Michigan's Upper Peninsula, offering year-round opportunities for outdoor adventure.