From the deep forest to data mines, a new virtual speaker series offers campus and community fresh approaches and possible solutions to move forward toward a better tomorrow.
The Lives in Transition series presented by Michigan Technological University's Institute for Policy, Ethics, and Culture (IPEC) runs Feb. 22 through March 17. Offered at 7 p.m. twice weekly, topics range from the heights of the cosmos to land stewardship.
"This series brings together leading voices on transformative change and asks them to address all of us: to teach us what they know, help us navigate the often confusing world around us and guide us toward making the kinds of wise choices that can help us all move forward," said IPEC Director Jennifer Slack, a distinguished professor of communication and cultural studies at MTU.
IPEC's 2021 series, Justice In Transition, looked at the challenges of social, racial and environmental injustices, acknowledging the hard work ahead, Slack said. This year's series focuses on models to move forward. "All these speakers propose proactive and creative ways of living and transforming the world amidst the disruption," she said. "They look at the world with fresh eyes, energy, and strategies for transformative policies and practices that enliven possibilities for us. Their optimistic visions are not naïve. Instead, they challenge us to rethink what is and what is not possible."
"These issues matter whether you are a teacher, student, scholar or member of the community. This series is for everyone. We invite everyone: local, regional, national, university and community, teachers and students. What these speakers have to say is for all of you."
The series opens at 7 p.m. Tuesday, Feb. 22 with Finding the Mother Tree author Suzanne Simard. Simard, a professor of forest ecology at the University of British Columbia, leads a research project focused on forest renewal practices that protect biodiversity against climate change.
Simard's presentation will be followed by a discussion led by MTU Interim Chemistry Department Chair Sarah Green. Green is also co-hosting a group book discussion at the library at 6 p.m. Tuesday March 22, said PLDL Program Coordinator (and book talk co-host) Michael Stanitis. Partnering with IPEC is an important way to bring the public at large and the university population together, he said.
"The mission of PLDL is to inspire our diverse community to discover, imagine and connect. Our continued partnership with IPEC demonstrates our commitment to engaging our patrons in the larger conversations about cultural change, for the good of all."
On Thursday, Feb. 24, theoretical physicist and feminist theorist Chanda Prescod-Weinstein focuses on how Black feminism illuminates our relationship with the night sky and what it means to take Black feminism into space. An assistant professor of physics and astronomy and core faculty in women's and gender studies at the University of New Hampshire, Prescod-Weinstein is one of the less than 100 Black American women to earn a Ph.D. from a department of physics. A monthly columnist for New Scientist, her research and advocacy for marginalized people in physics and astronomy have won multiple awards. Her first book, The Disordered Cosmos: A Journey into Dark Matter, Spacetime, and Dreams Deferred, is one of the series reading selections available at PLDL.
Prescod-Weinstein will be in discussion with Will Cantrell, associate provost and MTU Graduate School dean.
On Monday, Feb. 28, land stewardship and climate change comes to the forefront in a presentation and discussion featuring Mic Isham, tribal chair of the Lac Courte Oreilles Band of Lake Superior Indians. Valoree Gagnon, MTU's director of University-Indigenous Community Partnerships, facilitates the discussion. An enrolled Tribal Citizen of the Lac Courte Oreilles Band of Lake Superior Ojibwe, Isham currently serves as executive administrator of the Great Lakes Indian Fish & Wildlife Commission. Among numerous other awards, the long-time tribal governing board member known for his advocacy in protecting sovereign and treaty rights, has received the Native American Fish and Wildlife Society's Chief Sealth Award for his work in tribal natural resources management and the Glen Miller Tribal Leader Award.
More About IPEC
The mission of the Institute for Policy, Ethics, and Culture is to promote research, policy engagement, and teaching that address the ethical and cultural challenges, implications, and strategies unique to the emerging technocultural environment. Institute members from across campus collaborate on and support research, policy and teaching that responds to the changing technological environment.

On Wednesday, March 2, data artist Jer Thorp will be in conversation with IPEC Director Slack to shed light on the human stories within endless scrolls of raw information. The first ever Innovator-in-Residence at the Library of Congress expresses trends, movements and economics through graphics and public art.
Helping people understand the implications of big data and suggesting that we all have a say in making data more just and democratic, Thorp also known for tracking digital marketing insights that put consumer behavior in context. His first book, Living in Data, is available as a series selection at PLDL.
"What is the human experience of living in data? I'm going to talk about that using all kinds of examples that will hopefully give you some interesting ideas about how you can visualize data and how you can engage with data. But at the center of all that I want to consider this idea of what is it like to be a citizen of data."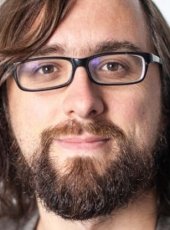 On Tuesday, March 15, Sara Hendren discusses adaptive and assistive technology with Kelly Steelman, department chair and associate professor of Michigan Tech's Department of Cognitive and Learning Sciences. Hendren, an artist, design researcher and writer, teaches design for disability at Olin College of Engineering.
Her widely exhibited work is held in the permanent collections of MoMA and the Cooper Hewitt design museum; her writing and design work have been featured in The New York Times and Fast Company and on NPR. Her book What Can a Body Do? was named a best book of the year by NPR and LitHub.
On Thursday, March 17, the series wraps up with Michael Lechuga in conversation with Gabriel Escobido, director of Michigan Tech's Center for Diversity and Inclusion.
A professor of culture and communication at the University of New Mexico, Lechuga investigates how settler colonial logics and white nationalist ideologies persist in migrant control discourses, border security mechanisms, and control technologies that subject Indigenous, Black, and, Mestiza/o/x communities to violence, imprisonment, and death. Lechuga's work also explores how mainstream film, television, and gaming technologies circulate settler narratives to normalize colonial logics.
All the presentations are at 7 p.m. Eastern Standard Time (EST).
Michigan Technological University is a public research university founded in 1885 in Houghton, Michigan, and is home to more than 7,000 students from 55 countries around the world. Consistently ranked among the best universities in the country for return on investment, Michigan's flagship technological university offers more than 120 undergraduate and graduate degree programs in science and technology, engineering, computing, forestry, business and economics, health professions, humanities, mathematics, social sciences, and the arts. The rural campus is situated just miles from Lake Superior in Michigan's Upper Peninsula, offering year-round opportunities for outdoor adventure.