Susan R. Martin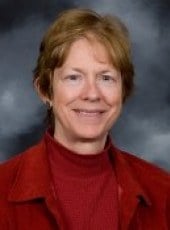 Contact
PhD, Michigan State University, 1985
MA, Michigan State University, 1977
AB, Miami University, 1970
Biography
The thing that I enjoy most about my job is involving undergraduates in research, and watching (and assisting) the graduate students as they become creative professionals. I also enjoy meeting the public and helping to interpret the archaeological record for them. For a number of years I have been working on prehistoric copper and its uses by the native people of the Lake Superior region. The prehistoric mining evidence in this region is one of its most unique characteristics. I am also interested in the history of anthropology as practiced in the Lake Superior Basin. In addition I take part in efforts to engage the public in local heritage issues and events.
Links of Interest
Areas of Expertise
Heritage Management and Studies
Prehistoric Archaeology
Native American Technologies
Ancient Copper
Food Systems
Curation of Archaeological Collections from the Hiawatha National Forest, Michigan
Curation of Archaeological Collections from the Ottawa National Forest, Michigan
"American Indian Uses of Copper and Minerals in Centuries Past." Upper Peninsula Environmental Coalition (UPEC) March 18-19, 2001, Hancock, Michigan.
"Investigating the Source(s) of Native Copper Found on Late Archaic Sites in the Ottawa Valley and Michigan Using Lead Isotopes." Florence Cattin, Adrian L. Burke, Gilles Gauthier, André Poirier, and Susan Martin. Ontario Archaeological Society Annual Symposium, Killarney, Ontario, Canada, September 25, 2010.
Native Copper in the Prehistory of Northeastern North America: Provenance Studies Using Lead Isotope Analysis, by Cattin, Florence
Burke, Adrian. 38th International Symposium on Archaeometallurgy (ISA 2010), Tampa, Florida, May 10-15, 2010.
Research into the anthropological careers of three women in the Midwest: Frances Densmore, Inez Hilger, and Ruth Landes.
SS 4100 – American Indian Political Issues
SS 4001 – History of Social Thought
SS 5900 – Heritage Management
SS 3250 – Human Origins and Evolution
SS 3110 – Food Systems
SS 2100 - World Peoples and Environments