Hairong Wei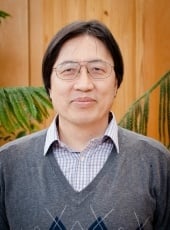 "We are doing excellent job in describing how an individual gene functions, but not how life functions. Systems biology is to fill this gap."
Contact
906-487-1473
Noblet Building 176
Professor
Editor-in-Chief, Forestry Research (ForRes): https://www.maxapress.com/journal/forres
Affiliated Professor, Department of Computer Science & Department of Mathematics
PhD, Plant Molecular Biology, University of Hawaii at Manoa
MS, Computer Science, University of Chicago
MS, Forest Genetics, Beijing Forestry University
BS, Agricultural Sciences, Beijing Forestry University
Research interests and areas
My research is focused on the following areas:
(1) Bioinformatics tool and software development;
(2) Algorithms for gene network construction;
(3) Large-scale biological data analysis;
(4) SARA-CoV-2 variant detection;
(5) Genome Assembly and annotation;
(6) Identification of key genes that govern various biological processes and complex traits using systems biology approaches;
(7) R-loops and gene regulation;
(8) Functional genomics.
Links of Interest
Areas of Expertise
Identification of genes regulating complex traits via systems biology approaches
Gene expression data analysis
Gene network construction and decomposition
Developing software for mining large-scale biological data
Genomics of wood formation
Niu, S*., J. Li, W. Bo, W. Yang, A. Zuccolo, S. Giacomello, J. Ma, F. Han, X. Chen, J. Yang, Y. Song,Y. Nie, B. Zhou, P. Wang, Q. Zuo, H. Zhang, J. Wang, L. Wang, Z. Liu, X. Zhang, T. Liu, S. Pei, Z. Li, Y. Hu, Y. Yang, W. Li, J. Lin, Y. Zan, L. Zhou, T. Yuan, W. Li, Y. Li, H. Wei* and Harry X. Wu*. 2022. The Chinese pine genome and methylome unveil key features of conifer evolution. Cell 185(1):204-217. (JIF =41.58).
Gao, J., P. Zhang, W. Wu, H. Wei* and W. Zhang*. 2021. Toward an understanding of the detection, and function of R-loops in plants (Review paper) Journal of Experimental Botany https://doi.org/10.1093/jxb/erab280. (JIF =5.9).
Lin, G, C. He, J. Zheng, D.H. Koo, H. Le, H. Zheng, T. M. Tamang, J. Lin, Y. Liu, M. Zhao, Y. Hao, F. McFraland, B. Wang, Y. Qin, H. Tang, D.R. McCarty, H. Wei, M.J. Cho, S. Park, H. Kaeppler, S. Kaeppler, N. Springer, Y/ Liu, P.S. Schnable, G. Wang, F. F. White, S. Liu. Chromosome-level genome assembly of a regenerable maize Inbred line A188. Genome Biology 22, 175 (2021). https://doi.org/1186/s13059-021-02396-x (JIF =10.8).
Wu, W., K. Du, X. Kang*, and Wei*. 2021. The diverse roles of cytokinins in regulating leaf development (Review paper). Horticulture Research 8:118 (JIF =6.67).
Wu, W., J. Li, Q. Wang, K. Lv, K. Du, W. Zhang, Q. Li, X. Kang* and H. Wei*. 2021. Growth-regulating factor 5 (GRF5)-mediated gene regulatory network promotes leaf growth and expansion in triploid poplar. New Phytologist (in press) (JIF =8.5)
Wei, H. 2021. Editorial message, Forestry Research. (in press)
Chen, S., G., Y. Wang, L. Yu, T. Zheng, S. Wang, Z. Yue, J. Jiang, S. Kumari, C. Zheng, H. Tang, J. Li, Y. Li, J. Chen, W. Zhang, H. Kuang, J. Robertson, P. Zhao, H. Li, S. Shu, Y. Yordanov, Ha. Huang, D. Goodstein, Y. Gai, Q. Qi, J. Min, C. Xu, S. Wang, G. Qu, A. Paterson, D. Sankoff, H. Wei, Liu, G,C. Yang,. 2021. Genome sequence and evolution of Betula platyphylla. Horticulture Research 8, 37(2021). (JIF =6.67).
Li, Y., H. Wei, J. Yang, L. K. Du, J.Li, Y. Zhang, T. Qiu,Z. Liu, Y. Ren, L. Song, X. Kang. 2020. High quality de novo assembly of the Eucommia ulmoides haploid genome provides new insights into the evolution and rubber biosynthesis. Horticulture Research. 7:183 (JIF =6.67) https://doi.org/10.1038/s41438-020-00406-w
He, C., G. Lin, H. Wei, H. Tang, F. F. White, B. Valent, and S. Liu. 2020. Factorial estimating assembly base errors using k-mr abundance difference (KAD) between short reads and genome assembled sequences. NAR Genomics and Bioinformatics Vol. 2, No. 3: 1-14. https://doi.org/10.1093/nargab/lqaa075
Wei, M., Q. Liu, Z. Wang, J. Yang, W. Li, Y. Chen, H. Lu, J. Nie, B. Liu, K. Lv, X. Mao, S. Chen, J. Sanders, H. Wei * and Chenghao Li*. 2020. PuHox52-mediated hierarchical multilayered gene regulatory network promotes adventitious root formation in Populus ussuriensis. New Phytologist. 228(4): 1369-1385. (IF =8.5) https://doi.org/10.1111/nph.16778
Wei, H. 2019. Construction of a hierarchical gene regulatory network centered around a transcription factor (Review). Briefing in Bioinformatics. (IF =9.3). DOI:https://doi.org/10.1093/bib/bbx152.
Fang, Y, L. Chen, K. Lin, Y. Feng, P. Zhang, J. Sanders, X. Pan, Y. Wu, X. Wang, Z. Su, C. Chen, H. Wei*, W. Zhang*. 2019. Characterization of functional relationships of R-loops with gene transcription and epigenetic modifications in rice. Genome Research 29(8):1287-1297 (IF =10.1) https://www.genome.org/cgi/doi/10.1101/gr.246009.118
Deng, W., K. Zhang, S. Liu, P. Zhao and S. Xu and H. Wei*. 2018. JRmGRN: Joint reconstruction of multiple gene regulatory networks with common hub genes using data from multiple tissues or conditions. Bioinformatics 34(20):3470-3478. (IF=7.3) https://doi.org/10.1093/bioinformatics/bty354.
Peng, T., M. Qiao, H. Liu, S. Teotia, Y. Zhao, D. Zhao, L. Shi, B. Le, K. Rogers, C. Gunasekara, H. Duan, Y. Gu, L. Tian, Z. Zhang, F. Meng, L. Huang, Q. Chen, Z. Wang, J. Tang, X. Tang, H. Wei*, X. Chen*, Q. Zhao* and G. Tang*. 2018. A resource for inactivation of microRNAs using short tandem target mimic technology in model and crop plants. Molecular Plant 11(11):1400-1417 (IF=8.8). https://doi.org/10.1016/j.molp.2018.09.003
Gunasekara, C, K. Zhang, W. Deng, L. Brown and H. Wei*. 2018. TGMI: an efficient algorithm for identifying pathway regulators through evaluation of triple-gene mutual interaction. Nucleic Acids Res Res. 46(11):e67. (IF=11.53) https://doi.org/10.1093/nar/gky210
Kumari, S., W. Deng, C. Gunasekara, V. Chiang, H.S. Chen, H. Ma, X. Davis, and H. Wei*. 2016. Bottom-up GGM algorithm for constructing multilayered hierarchical gene regulatory networks that govern biological pathways or processes. BMC Bioinformatics 2016, 17:132 https://doi.org/10.1186/s12859-016-0981-1
Yang, C and H. Wei*. 2014, Designing microarray and RNA-seq experiments for greater systems biology discovery in modern plant genomics. Molecular Plant 8, 196–206. (IF=8.8) https://doi.org/10.1016/j.molp.2014.11.012
Wei, H. Y. Yordan, T. Georgieva, X. Li, V. Busov. 2013. Nitrogen deprivation promotes Populus root growth via global transcriptomic reprogramming and activation of hierarchical genetic networks. New Phytologist 200 (2), 483-97 (IF=6.5) https://doi.org/10.1111/nph.12375
Kumari, S., J. Nie,, H.S. Chen, R. Stewart, H. Ma, X. Li, M. Lu, W.M. Taylor, and H. Wei. 2012. Evaluation of gene association methods for coexpression network construction and biological knowledge discovery. PLos ONE 7(11): e50411 https://www.ncbi.nlm.nih.gov/pmc/articles/PMC3511551/
Nie, J., R. Stewart, F. Ruan, J. Thomson, H. Zhang, X. Cui and H. Wei. 2011. TF-cluster: a pipeline for identifying functionally coordinated transcription factors via network decomposition of the shared coexpression connectivity matrix (SCCM). BMC Systems Biology, 5:53 https://doi.org/10.1186/1752-0509-5-53
Cui, X, T. Wang, H.S. Chen, V. Busov and H. Wei. 2010. TF-finder: A software package for identifying transcription factors involved in biological processes using microarray data and existing knowledge base. BMC Bioinformatics, 11:425 https://doi.org/10.1186/1471-2105-11-425
Genomic surveillance and epidemiology in the Upper Peninsula. $4,370,000. DMHHS. Caryn Heldt, Dukka, KC, and Hairong Wei. Oct 1, 2021- July 31, 2023.
ECA-PGR: Under the Hood: The Genetic Components of Maize Regeneration. Plant Genome Program, NSF Award No.(FAIN): 174109. $2,500,000. Sanzhen Liu, Frank White, Sunghun Park, Myeong-Je Cho and Hairong Wei. July 1, 2018 ~ June 30, 2022.
Inactivation of microRNAs in Crop Plants Using Short Tandem Target Mimic (STTM) Technology. Award Number:1340001; Principal Investigator:Guiliang Tang; Co-Principal Investigator:Xuemei Chen, Wenbo Ma, Harold Trick, Hairong Wei; $2,499,979.00. IOS NSF. 06/01/2014 ~ 0/31/2017;
Collaborative Research: ABI Innovation: Plant Genotype-Phenotype (G2P) Association Discovery via Integrative Genome-scale Biological Network & Genome-wide Association Analysis. Hairong Wei, Advances in Bioinformatics, NSF. $384,351.00, July 1, 2015 ~ June 30, 2018
Identifying genes controlling complex traits via gene network construction and decomposition
Bioinformatics tool and software development
Genome assembly and annotation
A system biology approach to elucidate root development in poplar un low nitrogen
FW5510 Experimental Design, Spring 2018

FW4099 Programming Skills for Bioinformatics, Fall 2009, 2011, 2013, 2015 and 2017

FW5082 Gene Expression Data Analysis, Fall 2010, 2012 and 2018

CS2321 Data Structure in Java, Spring 2011

FW5510 Informative graphics with R, Spring 2012

BMB6030 Advanced Molecular Biology Lab, Spring 2013, 2014 and 2015

FW3320 Fundamental of Genetics, Spring 2013

FW3200 Forest Biometrics and Data Analysis, Spring 2014,2015 and 2016