Benjamin W. Ong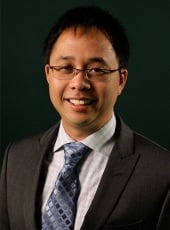 Associate Professor, Mathematical Sciences
PhD, Mathematics, Simon Fraser University
BSc, Mathematical Physics, Simon Fraser University
Biography
Ben received a PhD from the Mathematics Department at Simon Fraser. After his graduation, he worked as a research assistant professor in the Department of Mathematics at Michigan State University and a research consultant at the Institute for Cyber-Enabled Research at Michigan State University. He joined the faculty ranks in the Department of Mathematical Sciences at Michigan Technological University in 2015.
His research focuses on high-order, parallel numerical methods for solving partial differential equations, including tackling challenges in exascale scientific computing and the modeling and simulations of plasma.
He is a member of the Society for Industrial and Applied Mathematics and the Canadian Applied and Industrial Mathematical Society.
Links of Interest
Areas of Expertise
Scientific computing
Numerical PDEs
Parallel Computing
Randomized Numerical Linear Algebra
Dimension Reduction
(2019) NSF CBMS Workshop on Parallel Time Integration, $36,636
(2019), Ninth Parallel-In-Time Integration Workshop, $25,185
(2016) IMA Conference Grant, "Finite Element Methods for Eigenvalue Problems", $17,610
(2016) IAS Travel Grant, "The Mathematics of Data", $5,000
(2015), Jackson Learning Grant, "Introduction to Scientific Simulations", $1,000
(2015), IMA Travel Grant, $750
(2016-2017) XSEDE Resource Allocation "Agglomerative Data Analysis on large Networks", $6,500
(2012-2015) AFOSR Computational Math FA9550-12-1-0455, "Fault Tolerant Paradigms", $677,129
(2011-2012) NVIDIA Teaching Center Award, $12,000
(2011-2012) XSEDE Resource Allocation "Fault Tolerant Computing". $20,000
3/2021, Randomized Two-Sided Matrix Approximations, Department Colloquium, Florida State University
3/2021, Deferred Corrections Methods, SIAM CSE 2021
11/2020, Randomized Matrix Approximations, Department Colloquium, University of New Mexico
6/2019, A Relaxation Approach to Parallel-in-time, 8th Parallel-in-time workshop, Bielefeld Germany
3/2019, Fast Manifold Updates for Non-stationary Data Streams, MTU Undergraduate Research Symposium, Houghton, MI
3/2019, Accelerated Boundary Integral Treecodes, MTU Undergraduate Research Symposium, Houghton, MI
2/2019, Kernel Regularization, MTU Applied Math Seminar, Houghton, MI
2/2019, Fast Manifold Updates for Non-stationary Data Streams, SIAM CSE 2019, Spokane, WA
2/2019, Randomized Sub-Sampled Methods for Matrix Approximations, SIAM CSE 2019, Spokane, WA
2/2019, Accelerated Boundary Integral Treecodes, SIAM CSE 2019, Spokane, WA
2/2019, A relaxation approach to parallel-in-time, SIAM CSE 2019, Spokane, WA
10/2018, Waveform Relaxation with Adaptive Pipelining, AMS Fall Central Section Meeting, Ann Arbor, MI
10/2018, Randomized Sub-Sampled Methods for Matrix Approximations, AMS Fall Central Section Meeting, Ann Arbor, MI
7/2018, Waveform Relaxation with Adaptive Pipelining, Domain Decomposition XXVI, St Johns, Newfoundland
2/2018, Fast Summation Methods, MTU Applied Math Seminar, Houghton MI
7/2017, A Distributed and Incremental SVD Algorithm for Agglomerative Data Analysis on Large Networks, SIAM Annual Meeting, Pittsburgh, PA
7/2017, Waveform Relaxation with Adaptive Pipelining, SIAm Annual Meeting, Pittsburgh, PA
12/2016, Pipeline Waveform Relaxation, Banff International Research Station, Banff, AB
12/2016, Revisionist Integral Deferred Correction: Software for Parallel Time Integration, Banff International Research Station, Banff, AB
8/2016, An Incremental SVD for Distributed Data, International Conference on Computational Mathematics and Inverse Problems, Houghton, MI
7/2016, An Incremental SVD for Distributed Data, The Mathematics of Data, PCMI Workshop, Park City, Utah
7/2016, Pipeline Waveform Relaxation Methods, SIAM Annual Meeting, Boston MA
10/2015, Speeding up your computations – an Introduction to high performance computing & mathematical libraries, MTU Applied Math Seminar, Houghton MI
8/2015, Towards Exascale Computations, AFOSR Computational Math Meeting, Arlington VA
6/2015, RIDC Methods with step size control, Parallel–In–Time Workshop, Dresden, DE
Spring 2022, MA 1160 - Calculus with Technology I
Spring 2022, MA 1600 - Introduction to Scientific Simulations
Fall 2021, MA 1160 - Calculus with Technology 1
Fall 2021, MA 2600 - Scientific Computing
Spring 2021, MA 4610 - Numerical Linear Algebra
Fall 2020, MA 2600 - Scientific Computing
Fall 2020, MA 1160 - Calculus with Technology I
Spring 2020, MA 5580 - Topics in Applied Mathematics (Parallel Time Integration)
Fall 2019, MA 1160 - Calculus with Technology I
Fall 2019, MA 2600 - Scientific Computing
Summer 2019, MA 5980 - Natural Language Processing of Streaming Data
Spring 2019, MA 1600 - Scientific Simulations
Fall 2018, MA 5980 -- Data Science Enterprise
Fall 2018, UN 5550 - Introduction to Data Science
Fall 2018, MA 2600 - Scientific Computing
Spring 2018, MA 1600 -- Introduction to Scientific Simulations
Spring 2018, MA 3521 -- Differential Equations
Spring 2018, MA 4900 -- Finding Structure in Data
Spring 2018, MA 5580 -- Computational Methods for Plasma Simulations
Fall 2017, MA 2600 -- Scientific Computing
Spring 2017, MA 1600 -- Introduction to Scientific Simulations
Fall 2016, MA 3520 -- Elementary Differential Equations
Fall 2016, MA 5629 -- Numerical PDEs (Course Website)
Spring 2016, MA 1600 -- Introduction to Scientific Simulations
Spring 2015, MA 1600 -- Introduction to Scientific Simulations (Course Website)
@ Michigan State University: Calculus, Linear Algebra, Numerical Analysis
@ Simon Fraser University: Pre-calculus, Optimization