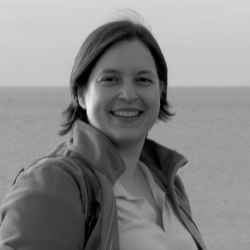 BS, Mathematical Sciences, 1999
Current job/field: Senior Business Planner
Employer: New York Power Authority


"I've always liked math," says Christine (Goering) Lally, "except for those timed multiplication tests in elementary school."
"One of my high school friends really hooked me when he showed me that you don't just have to believe mathematical theorems, they can be proven," Lally says. "Deciding to major in math at college just seemed to be the obvious choice for me."
Lally chose to attend Michigan Tech for several reasons, not the least of which was the combination of the quality of the education and the natural beauty of the Keweenaw. As she puts it, "Where else can you see a bear cross the road on the way from the airport to the campus?"
Community involvement is also important to Lally, and the opportunities to get involved in the University community outside of her department were also a draw. "I played the clarinet in the Michigan Tech Pep Band and in a local band, went on an archaeological dig, and worked in the archaeology lab on campus," Lally says. When asked what advice she would give to students, she says, "Join the Pep Band! You'll have fun and make some great friends."
After completing her bachelor's degree in mathematics in 1999, Lally went on to earn a Master of Science in Mathematics from Rensselaer Polytechnic Institute in 2000. Following completion of her master's degree, Lally began working at the New York Independent System Operator, the administrator of New York's wholesale electric markets.
"It was amazing to me to learn how much complexity is behind the electric outlets that I used to take for granted," Lally says. She then moved to the New York Power Authority, the state agency that, among many things, operates the hydroelectric power plant at Niagara Falls. Lally is currently employed as a senior business planner for the New York Power Authority, maintaining the company's financial forecasting model and creating forecasts that are used by management to analyze business strategies.
"To some extent my job involves mathematical calculations," Lally says. "But the most important skill I developed is the ability to be logical and organized. Those traits are an asset in almost any career."
Lally lives with her husband, Adam, and their Scottish terrier, Maggie, in Cold Spring, New York. In addition to spending time outdoors, Lally enjoys scrapbooking and swimming. Lally was even able to combine her enjoyment of swimming with her interest in community involvement. "This past summer I swam across the Hudson River in support of the Hudson River Pool, a free public swimming area in the river," she says.
When asked about her goals, she says, "My goal is to continue learning and to always work in a job where I can make a positive impact."
Christine (Goering) Lally