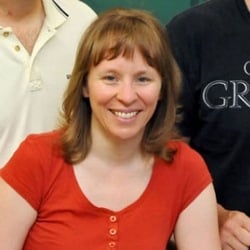 BS, Mathematics, 1993
Current job/field: Teacher
Employer: Munising High School


Mandy Frantti has traveled the country and won national awards for teaching, but she keeps coming back to Munising, Michigan.
"I have completed sixteen years of teaching in the same classroom overlooking Munising Bay and the Pictured Rocks National Lakeshore," says the 1993 Tech graduate. "I've taught various mathematics classes, physics, applied physics, astronomy, and integrated science."
While maintaining a full teaching schedule, she serves as head of the science department at Munising High and has created professional development programs for elementary school teachers. She also has been active nationally, including working as a NASA astrophysics educator ambassador. "[I have been] traveling the country doing workshops and presentations for educators and students sharing exciting new discoveries and developments in space as well as here on Earth," she says. She has also received the Presidential Award for Excellence in Science Education.
The Laurium, Michigan, native knew she wanted to teach from the get-go. "I knew I definitely wanted to teach physics," she says. "In physics, the applications and fun are obvious. In math, some teachers obscure the applications and fun by falling into a rut and presenting ideas as algorithms. I wanted to be one of the teachers who make math interesting."
After earning a BS in Mathematics and a minor in physics, plus an education certification, from Tech, she did graduate work at Tech and Northern Michigan University.
"I had an absolutely fantastic education from Michigan Tech," she says. She is particularly pleased with Tech's approach to teacher education, requiring students to earn a degree in the field in which they will teach—not just an education degree. "I have worked with many teachers and found that one of the major weaknesses is not having a strong background in the subject area," she says. "This is not true of Tech graduates. My degree allows me to approach teaching from a deeper level, even though it doesn't mean that I'm teaching calculus to eighth graders. I also appreciate that Tech's course requirements make for a well-rounded person and better problem solver."
Frantti takes well-roundedness to heart.
"I love music, and I give piano lessons in the evenings," she says. "I am an artist, doing watercolor and portrait drawing. I take joy in photography, sitting by Lake Superior, writing, reading, giving gifts, and travel. My sister and I have traveled to Europe, China, Thailand, Malaysia, Singapore, and many places on this continent. These are some of the things that are near and dear to me."
After a decade-and-a-half in the classroom, Frantti says she still comes back to the reason she went into teaching in the first place—working with young people. "Every year I have students who make it clear that I have influenced their lives for the better. The awards I've gotten as a result of a student nominating me as their 'most influential educator' have meant more than any award I've received from anywhere else. I absolutely love teaching, and I love my students."
Mandy Frantti