Research with impact needs to extend into clinics, classrooms, factories, companies, and beyond.
The Forest Bioeconomy
"Biomaterials are any organic materials that can be cultivated or extracted from nature's ecosystems; any organic material extracted from the forest is considered a forest biomaterial."
Considering the nearly 20 million acres of forested landscape in Michigan, it makes sense that a forest biomaterials industry would flourish here.
A forest bioeconomy builds strength and prosperity across industries by wisely using renewable forest biomaterials. The use of renewable materials and the conversion of these biological resources and waste streams can be made into value-added products such as bio-based products, biofuels, and food. Like the global circular economy, the bioeconomy is economic activity driven by research and innovation in the life sciences and biotechnology, and enabled by technological advances in engineering, computing, and information sciences. Although circular economies and bioeconomies are not the same, both are needed to address the climate crisis and create a truly sustainable future. Both movements are young and still being defined, so a single comprehensive term and movement might yet emerge, especially as the pandemic has made us all more aware of supply chains and market disruptions.
"We're looking to support existing industries while facilitating the next generation of forest biomaterials," says Mark Rudnicki, professor of practice in forest biomaterials and one of the researchers involved with the Tech Forward: Advanced Manufacturing initiative. "For instance, we are developing a couple of new bio-based materials for Ford Motor Company that are intended to make vehicles lighter and displace the use of nonrenewable materials while maintaining performance criteria and cost requirements."
These new materials are derived from wood and Rudnicki says it's exciting to link the Michigan forest back to the auto industry. "I say 'back' to the auto industry since Henry Ford started this connection over a century ago," Rudnicki explains. Michigan is well positioned to supply not only the technological development but many of the needed renewable bio-based feedstocks, with a strong agricultural sector and a forest ranked fifth in the US for productive timberland.
Michigan is in good company with Maine and Finland. Last fall, Michigan Tech faculty presented alongside experts and economic developers to discuss collaborative bioeconomic opportunities including co-creation funding with Finnish companies. Governor Gretchen Whitmer of Michigan noted in her opening remarks at the talk, "Last March, the State of Michigan signed a memorandum of understanding with the Ministry of Economic Affairs and Employment of Finland. Today, Michigan is excited to work alongside Finland to identify sustainable growth opportunities in the automotive, maritime, and sustainable forest bioeconomy industries."
Watch Michigan's Emerging Bioeconomy: The Promise and Potential of our Forests video
An important part of Michigan's emerging bioeconomy is built on the promise and potential of our forests. Finland, Maine, and Michigan have agreed to collaborate in forest-based industries.
Rudnicki says these kinds of opportunities should also be available to students. Tech has a new major in sustainable bioproducts and an Enterprise program called HotForest. Students in HotForest are currently tackling a wood waste project, looking at how to improve products and processes with furniture maker Steelcase and particle board supplier ARAUCO. The HotForest Enterprise is the first student design team to compete in the Wege Prize, an annual student design competition that encourages international and interdisciplinary collaboration.
Biomaterials researchers are happy to lay out the welcome mat for industry partners. What the Tech Forward initiative plans to do is make sure there is a front door.
Undergraduate Research
Position the feet on the pedals. Lower until the knees reach a 90-degree angle, press to full extension. Repeat.
The leg press is one of 10 stops on the Chassell Fitness Trail about seven miles southeast of the Michigan Tech campus. Thomas Basala, a biological sciences student, is part of a team of student researchers and community volunteers who help install the outdoor equipment, create video tutorials, and will assess the loop's workout intensity. Basala's presentation on the benefits for undergrads and locals earned an honorable mention at the Michigan Physiological Society's meeting last summer.
In true transdisciplinary form, the Chassell trails research is community-driven and seeks to help residents, who say that access to year-round and affordable facilities is a major barrier to getting enough exercise. The trail club worked with the Chassell High School shop class to build a new bridge for the trail system, and Basala helped implement and disseminate the project, then led the team that created video demos and all-weather instruction sheets for the outdoor equipment. It's a project that Basala says has even more importance now because of the gaps and vulnerabilities the pandemic has revealed in health care and community well-being.
"I try to be a little cautious with heaping praise on any given student because I have had so many outstanding students. With that said, Thomas has certainly been one of the best students I have had in the past 12-plus years as a faculty member. … Thomas is one of the most conscientious, reliable, and appreciative students I have met."
"At the end of the day, medicine is about helping people be healthy," Basala says, reflecting that he's grateful he grew up with a healthy lifestyle, an experience he recognizes not everyone gets to have. He also reminds us that preventive care is not a one-and-done treatment; it's a lifestyle and takes conscious intention.
Goldwater Award Winner: Kaylee Meyers
Kaylee Meyers, a biomedical engineering student, has received one of the nation's highest accolades for college undergraduates and is the 12th Michigan Tech student to receive the prestigious Barry M. Goldwater Scholarship.
"Every day during the pandemic, I have set aside time for at least one phone call," Basala says, adding that eating well, getting outside, and exercising in fresh air can help a lot. "I haven't heard many people say that this last semester was smooth sailing. It's tough. I'm grateful that our research helps to show that there are things we can do make it a little easier on ourselves."
Basala adds that he hopes to go to medical school and continue doing research. "Research and quantifying the impacts of specific activities is important and the work I've been fortunate enough to be a part of also shows how important social aspects are. It's important to engage with the big picture of public health."
This isn't Basala's only research project. In the Clinical and Applied Human Physiology Laboratory overseen by John Durocher, adjunct associate professor of biological sciences, Basala studies the effects of meditation on sleep and ambulatory blood pressure patterns, work that started through the Undergraduate Research Internship Program (URIP) in the Pavlis Honors College and the Summer Undergraduate Research Fellowship (SURF) program.
The end goal of health science is to directly help people.
Graduate Research: Angela Walczyk
There's more to goldenrod than meets the eye. Angela Walczyk is a biological sciences doctoral student studying the unseen variability of the giant goldenrod genome, specifically its polyploidal nature.
"Usually in human genetics we think of getting one set of chromosomes from mom and one set from dad, but species with polyploidy may end up with two, four, or even six sets of chromosomes," Walczyk says, explaining the variability makes for some interesting evolutionary traits but that "a big genome has some big caveats."
Extra genetic material demands extra nutrients. So, while having a spare walk-in closet of genes may help some plants adapt quickly to different environments, it stands to reason that those plants also have higher energy demands. With the guidance of her adviser, plant evolutionary ecologist and NSF CAREER Award winner Erika Hersch-Green, Walczyk examines how polyploidy affects photosynthesis, nutrient uptake, growth rate, and resource allocation. "It's tricky to keep both the big picture and all the precise details in mind while doing this kind of research with emerging techniques," she says. The work takes her from the field to the lab, using new tools in genomics, transcriptomics, and phenotype plasticity to better understand how plants interact with the soil, herbivores, pollinators, and predators.
"Angela's passionate and holistic approaches to testing cutting-edge theories in her discipline and mentoring/teaching students in the sciences is refreshing, engaging, and exciting. Angela has the potential to be an outstanding researcher and teacher—she is inquisitive, hardworking, and thoughtful."
Walczyk is the DeVlieg Foundation 2020 Fellow and that funded some of her research into why giant goldenrod, Solidago gigantea, which is native to North America, is invasive in Europe and Asia—but only in its tetraploid (four chromosomes) form.
Now that we have these tools, opening up avenues in plant science and across the biological sciences, we can answer some interesting and integral questions.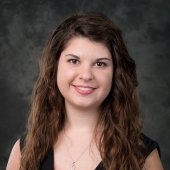 Three Minute Thesis
Jordan Ewing, a doctoral student studying computational science and engineering, wants to help find buried treasure. Using the tools of terramechanics and remote sensing, he explains—in less than three minutes—why the buried treasure he's seeking is more precious than gold. X marks Ewing's spot at 31:35 in the Graduate Student Government's video of the Michigan Tech competition.
"I always keep the overall goal and my community in mind when doing research," Walczyk says.
"My end goal is to be a teacher; I want to be an undergraduate mentor at a small liberal arts college like my alma mater Albion College. I want to help more students get undergraduate research experience."
Her advice for graduate school is to "treat it like a job" and consider how it helps with professional development. For undergraduates, she says "your college experience takes you in many directions—keep an open mind, you're not locked into anything." Walczyk hopes that being a teacher with a strong research background will help her future students explore those options.
Michigan Technological University is a public research university founded in 1885 in Houghton, Michigan, and is home to more than 7,000 students from 55 countries around the world. Consistently ranked among the best universities in the country for return on investment, Michigan's flagship technological university offers more than 120 undergraduate and graduate degree programs in science and technology, engineering, computing, forestry, business and economics, health professions, humanities, mathematics, social sciences, and the arts. The rural campus is situated just miles from Lake Superior in Michigan's Upper Peninsula, offering year-round opportunities for outdoor adventure.