Research with impact needs to extend into clinics, classrooms, factories, companies, and beyond.
$100 Answer to a $100,000 Problem
More than two years ago, Blue Marble Security, born out of Tech's Enterprise program, was given a daunting, albeit straightforward challenge—make something old, new again. Ford Motor Company had a problem: An important piece of analytical equipment, an older-model JEOL 6300 scanning electron microscope (SEM), uses monitors with cathode ray tubes (CRT), essentially old-school TV tubes. CRTs are expensive, becoming hard to find, and environmentally hazardous to dispose. Because JEOL was running out of spare monitors for its 6300, Ford's 6300 SEM would become useless without new displays. A problem that would cost the company more than $100,000 to remedy.
Blue Marble took up the challenge, find a way to replace the CRT monitors with off-the-shelf LED displays, similar to what you would find in most office computers. Success didn't come early or easily.
The group's first efforts involved examining the CRT's video signals. This was ruled unsafe because of the high voltage involved. Using printed schematics and manuals from a similar SEM at Michigan Tech, Blue Marble found what they were looking for—a low voltage signal in an early video display protocol pioneered by IBM called monochrome display adapter.
"In the end, the video signal was available and adaptable to modern display protocols with a low-cost, commercial off-the-shelf adaptor," says Glen Archer, Blue Marble's faculty advisor and interim chair of the Department of Electrical and Computer Engineering. After taking their final exams in April, members of Blue Marble drove to the Ford lab in Dearborn, Michigan, and in about two hours had installed their new system on the JEOL 6300. The total system cost less than $100.
The team members on this project were Dayton Aardema. Alex Newman, Zarek Pirkola, Phillips Munter, John Hughes and Jonathan Boik.
When researchers have the next big idea, we want to make sure they have every opportunity to carry out their project. So, we created a pretty big idea: crowdfunding research, using a University-operated platform. Since October 2012, we bring together donors and researchers, ideas and innovation.
projects

donations

more than $347,060 raised

more than 78,562 unique users to the site
Student Research
Featured student research.
Undergraduate Student
Tessa Steenwinkel is Michigan Tech's 11th recipient of the prestigious Barry M. Goldwater Scholarship. This national scholarship is awarded to college sophomores and juniors based on academic excellence, research experience, and an intent to pursue a STEM career. Besides this, she also became the Departmental Scholar in Biological Sciences and won the Provost's Award for Scholarship, a Summer Undergraduate Research Fellowship (SURF), and a Songer Research Award—all in 2019.
Steenwinkel met her advisor Thomas Werner while on a tour of his lab during the University's annual Preview Day. She immediately knew that she wanted to come to Michigan Tech and work in his lab. In her first two years on campus, she became lead researcher of her own independent project. She uses tiny fruit flies in her research, which are important model organisms used in human health research because they share about 70 percent of disease-causing genes with humans. "My current research looks at how different qualities and quantities of food affect fertility, fecundity, and longevity," she says.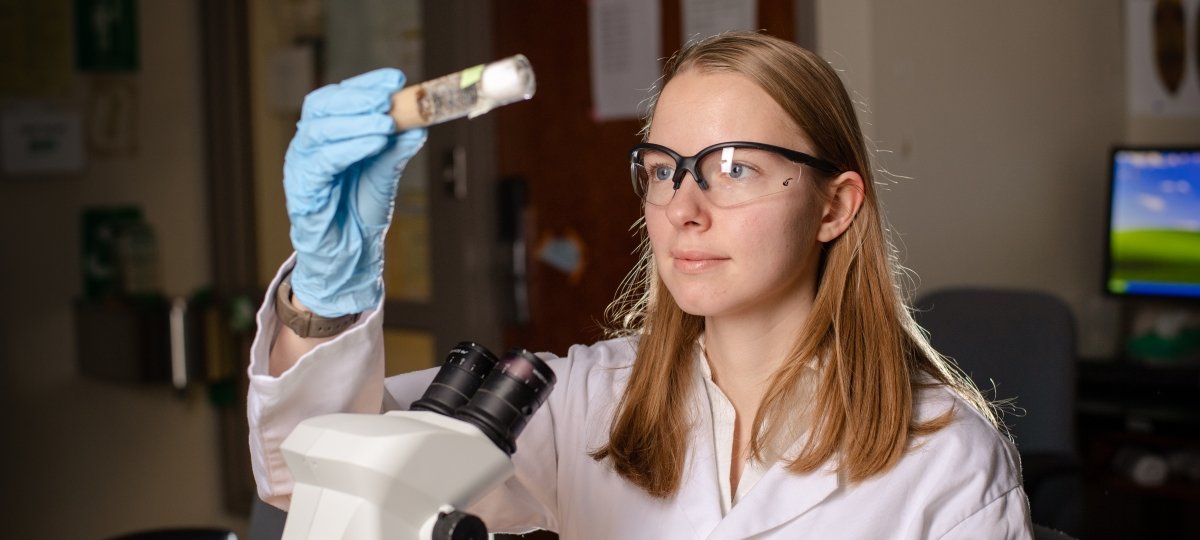 Steenwinkel is already co-author on a book and two research articles, and more of her papers are expected to be published before she graduates. Her time at Michigan Tech is, perhaps, best summed up by Werner: "I'm very, very proud of Tessa, and a bit sad because I'm pretty sure I will never get a student like her again. She is the best student I have ever witnessed in my entire career."
---
Graduate Student
"There's no place like home," could be Rose Turner's motto. Turner graduated from Michigan Tech in December of 2018, where she was the student commencement speaker.
After exploring options in the renewable energy industry and making the difficult decision to turn down a scholarship opportunity at the esteemed Iceland School of Energy at Reykjavik University the environmental engineering alumna returned to Michigan Tech. This time she's back as the recipient of a National Science Foundation Graduate Research Fellowship (NSF-GRFP).
Turner is back in the lab with her undergraduate advisor Daisuke Minakata, associate professor of civil and environmental engineering. She even has her old address back—the Sustainability Demonstration House, where she serves as project manager.
She says other opportunities she looked at were intriguing but Tech had its advantages. "You can't guarantee anywhere else has the resources or would support my research interests like Tech does here," she says. There was another resource she couldn't find elsewhere—Minakata. "At another school, I would have to work with a new advisor. It is really an advantage to continue my undergraduate research with Dr. Minakata."
Her research involves perfluoroalkyl and polyfluoroalkyl substances, commonly known as PFAS, more than 4,000 classes and categories of durable chemicals used in virtually every aspect of life that have found their way into the world's water supply.
Turner says conventional water treatment doesn't degrade PFAS. "The carbon fluorine bond is very strong. It's up to researchers to find a way to degrade these compounds."
Michigan Technological University is a public research university founded in 1885 in Houghton, Michigan, and is home to more than 7,000 students from 55 countries around the world. Consistently ranked among the best universities in the country for return on investment, Michigan's flagship technological university offers more than 120 undergraduate and graduate degree programs in science and technology, engineering, computing, forestry, business and economics, health professions, humanities, mathematics, social sciences, and the arts. The rural campus is situated just miles from Lake Superior in Michigan's Upper Peninsula, offering year-round opportunities for outdoor adventure.