Michigan Tech has been a leader in marine autonomy for more than a decade. Take a closer look at the research vessels that keep us on the map.
Security, supply chains, and blue economies that support both commerce and recreation are dependent on healthy, sustainable waterways. Autonomous and intelligent tools give us the means to document what's previously been uncharted and to leverage that data to make informed predictions. At Michigan Tech's Great Lakes Research Center, researchers utilize a fleet of autonomous marine applications to understand and protect our freshwater resources. Here's a closer look at some of the equipment you'll find in Tech's boathouse.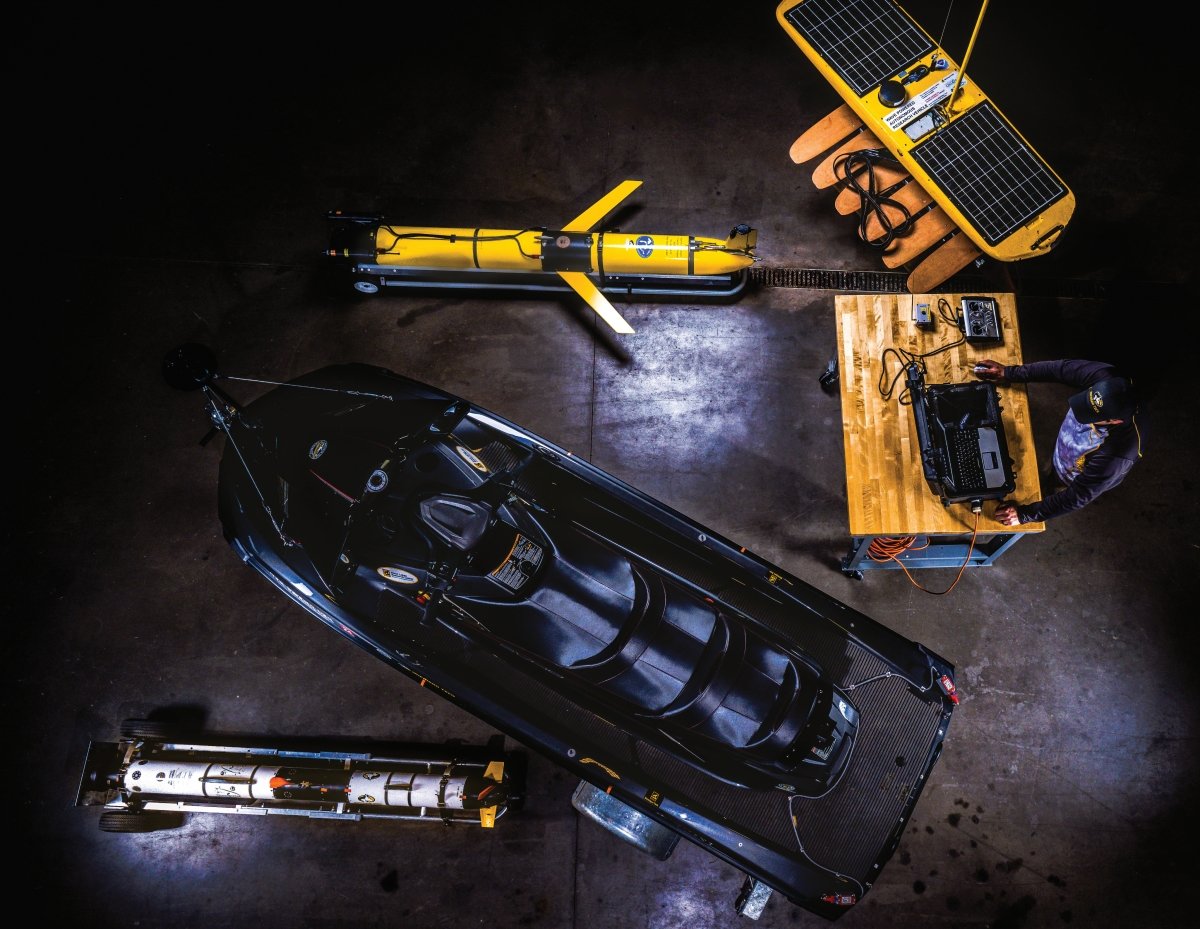 ---
Autonomous WaveRunner
What it Does: The Yamaha Waverunner FX SVHO Cruiser was modified at the GLRC to perform as a remote-controlled autonomous surface vehicle (ASV) with a side-scan sonar and GPS mapping capabilities. It houses a waterproofed computer/navigation system and is equipped with instrument masts that can carry a variety of sensors.
Watch See the WaveRunner in Action video
See the WaveRunner in Action
Attracting Attention: What CNET described as a "tricked-out water scooter" made waves at the 2019 Detroit Auto Show and more recently at the Lakebed 2030 Conference, which focused on collaboration and technology to complete high-resolution mapping of the Great Lakes.
Fun Facts: No chance to go rogue; a secondary steering cable allows for manual operation. Damage control is aided by a friction breakaway system that protects the stern mast in the event of a rollover—but the GLRC crew doesn't take chances. In heavy traffic conditions, you'll likely see a rider on the ASV.
Project Partner: Defense Advances Research Projects Agency (DARPA).
---
The Wave Glider
What it Does: The unpiloted craft named Camaro resembles a toy sailboat but is propelled by wave energy and solar power rather than wind. Solar recharges batteries and powers sensors. Programmable, with real-time command-control and data access, it can be out to sea for long periods of time (up to a year, depending on conditions) gathering and reporting data, including validating satellite information.
Fun Fact: Camaro has a twin named Mustang.
Special Talents: Rides out a storm like nobody's business. Holds a steady course, waypoint to waypoint, in high winds and huge waves.
Claim to Fame: Has seen rougher seas and more nautical miles than most, having made its way to the equator and back by way of San Diego. Not surprising, considering a Glider like Camaro set the Guinness World Record for the longest single mission by an uncrewed ASV.
Recent Notable Mission: Collected chemical and biological data about Lake Superior's food web in a path out the Keweenaw Waterway's south entry up to Bete Grise near Keweenaw Point and back around Stannard Rock.
Project Partners: NOAA Great Lakes Environmental Research Lab, Environmental Protection Agency Cooperative Science and Monitoring Initiative.
---
The IVER 3
What it Does: This gatherer of biological, geological, and physiological data and images that can be analyzed in the lab has multiple applications. Equipped with an advanced EdgeTech 2205 sonar system capable of taking high-resolution acoustic images.
Diving Depth: More than 300 feet.
Operating Time: Up to 8 hours.
Speed: About 3 mph.
Recent Notable Mission: Teamed up with remotely operated vehicles Dory and Nemo, from Louisiana State University (LSA), in Lake Huron's Thunder Bay National Marine Sanctuary (TBNMS), working on methods to process data and detect shipwrecks and other archaeological sites faster.
Fun Fact: If IVER 3 doesn't come home on its own, it's outfitted with a pinger that gives the GLRC up to a year to track it down with a hydrophone.
Project Partners: National Oceanic and Atmospheric Administration (NOAA), University of Michigan Robotics Institute and Department of Naval Architecture and Marine Engineering, LSA, and TBNMS.
---
SimpleScan
What it Does: Three feet long, SimpleScan is a remote-controlled, electric-powered, non-polluting water-depth mapping tool that includes a high-resolution GPS, precision depth sounder, water temperature sensor, sonar package, and data recording and storage capabilities.
Special Talents: Prized for its ability to maneuver in restricted and hard-to-get-to water bodies. Because it weighs less than 20 pounds (including remote control and computer) it can be deployed from helicopters or ships.
Notable Missions: Recently measured bathymetry (water depth relative to sea level and the depths and shapes of land that lies underwater) around submerged bridge piers at Schoharie Creek, New York, for the Federal Highway Administration (FHWA). This project focuses on providing near real-time measurements and assessment of storm flow-induced scour of bridge supports. Data is sent from the field to FHWA labs to support creation of computational fluid dynamics models.
Next Mission: Will deploy in Michigan near Lansing and Bay City in 2023.
Project Partners: FHWA, US Department of Transportation.
---
The Slocum Glider
What it Does: The buoyancy-driven glider moves horizontally and vertically to specific locations and depths, operated remotely or by using preprogrammed web-based piloting tools. Capable of carrying numerous customized sensors and outfitted with a communications system, the unit, manufactured by Teledyne-Webb Research, can be used for academic, commercial and defense missions, withstanding extreme conditions including rough seas and under-ice.
Cruising Range: 1,000+ miles on a single charge.
Maximum Depth: 300 feet.
Dimensions: Six feet long with a nine-inch diameter, weighs about 120 pounds.
Most Recent Mission: Completed a 200-mile remotely controlled mission over 18+ days to detect tagged lake trout and cisco in northern Lake Huron in summer '22.
Namesake: Joshua Slocum, the first man to sail solo around the world.
Project Partners: University of Windsor Real-time Aquatic Ecosystem Observation Network (RAEON), Great Lakes Acoustic Telemetry Observation System (GLATOS), Great Lakes Observing System (GLOS), Cooperative Institute for Great Lakes Research (CIGLR).
---
The Great Lakes Research Center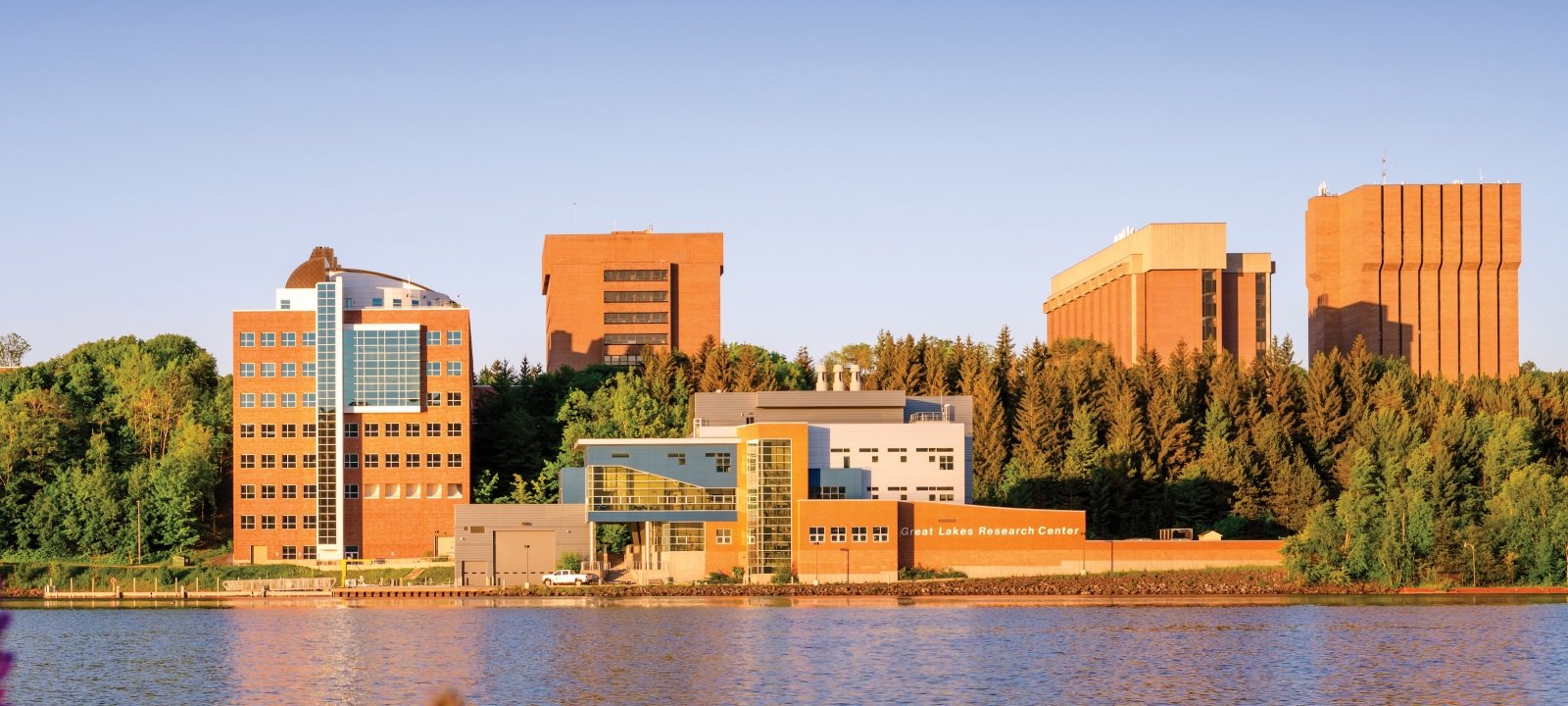 The Great Lakes Research Center (GLRC) on Michigan Tech's waterfront was completed in 2012 and includes docks and a boathouse to accommodate the University's fleet of research vessels, along with surface and underwater autonomous vehicles.
Michigan Technological University is a public research university founded in 1885 in Houghton, Michigan, and is home to more than 7,000 students from 55 countries around the world. Consistently ranked among the best universities in the country for return on investment, Michigan's flagship technological university offers more than 120 undergraduate and graduate degree programs in science and technology, engineering, computing, forestry, business and economics, health professions, humanities, mathematics, social sciences, and the arts. The rural campus is situated just miles from Lake Superior in Michigan's Upper Peninsula, offering year-round opportunities for outdoor adventure.