Get a closer look at Oculus-ASR. Find out why mechatronics engineers are like symphony conductors. Learn more about our new research institutes, alumni adventures, and more in this edition of 1400 Townsend.
Anatomy of . . . Oculus-ASR
January 2011. Albuquerque, New Mexico.
A team of 25 Michigan Tech undergraduate students, advised by mechanical engineering professor L. Brad King, took first place in the University Nanosat 6 competition, earning the rare privilege of having the US Department of Defense (DoD) launch their custom-built satellite into orbit.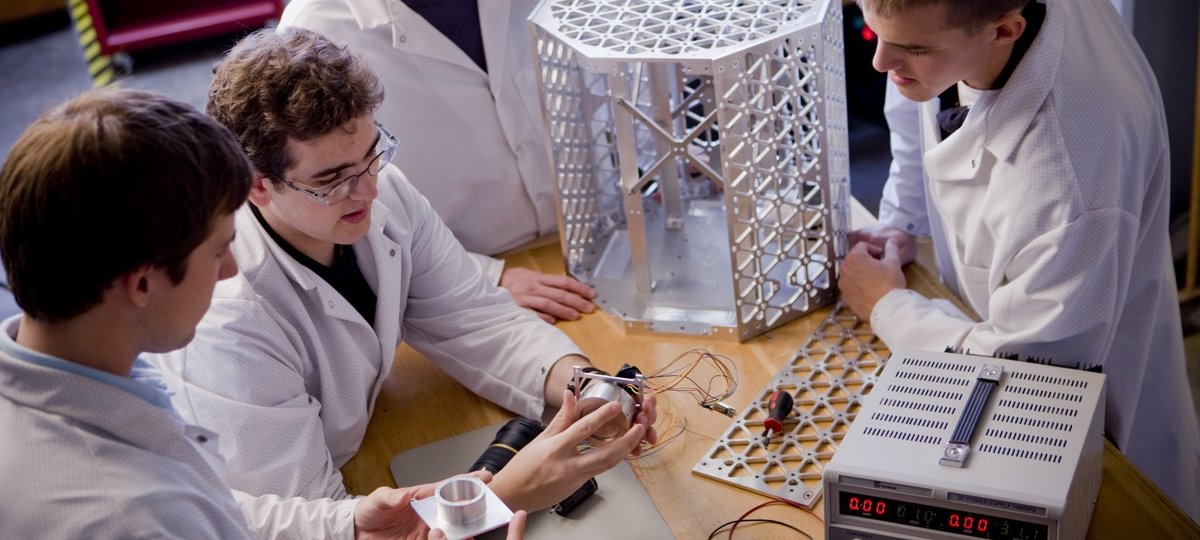 The competition earned the team a two-year contract from the Air Force Office of Scientific Research to prepare the satellite and construct a ground control station on campus. Repeated delays postponed the launch, however, and what was supposed to take two years stretched into more than eight.
But just before 3 a.m. on June 25, 2019, the Husky-built nanosatellite launched into orbit. Aptly named for its role as an orbiting eye, Oculus-ASR rode the SpaceX Falcon Heavy rocket into a nine-month mission to assist the DoD with more efficient and accurate monitoring of the myriad of objects circling the globe.
"Over the past 10 years, more than a hundred students in the Aerospace Enterprise at Michigan Tech have worked on the Oculus-ASR and are now Michigan Tech alumni from a wide variety of majors. I am extremely proud of the team, as well as the team's advisor, Professor Brad King. He taught them, among many other things, the great value of perseverance."
100+
Tech students involved
315 km
approximate altitude at launch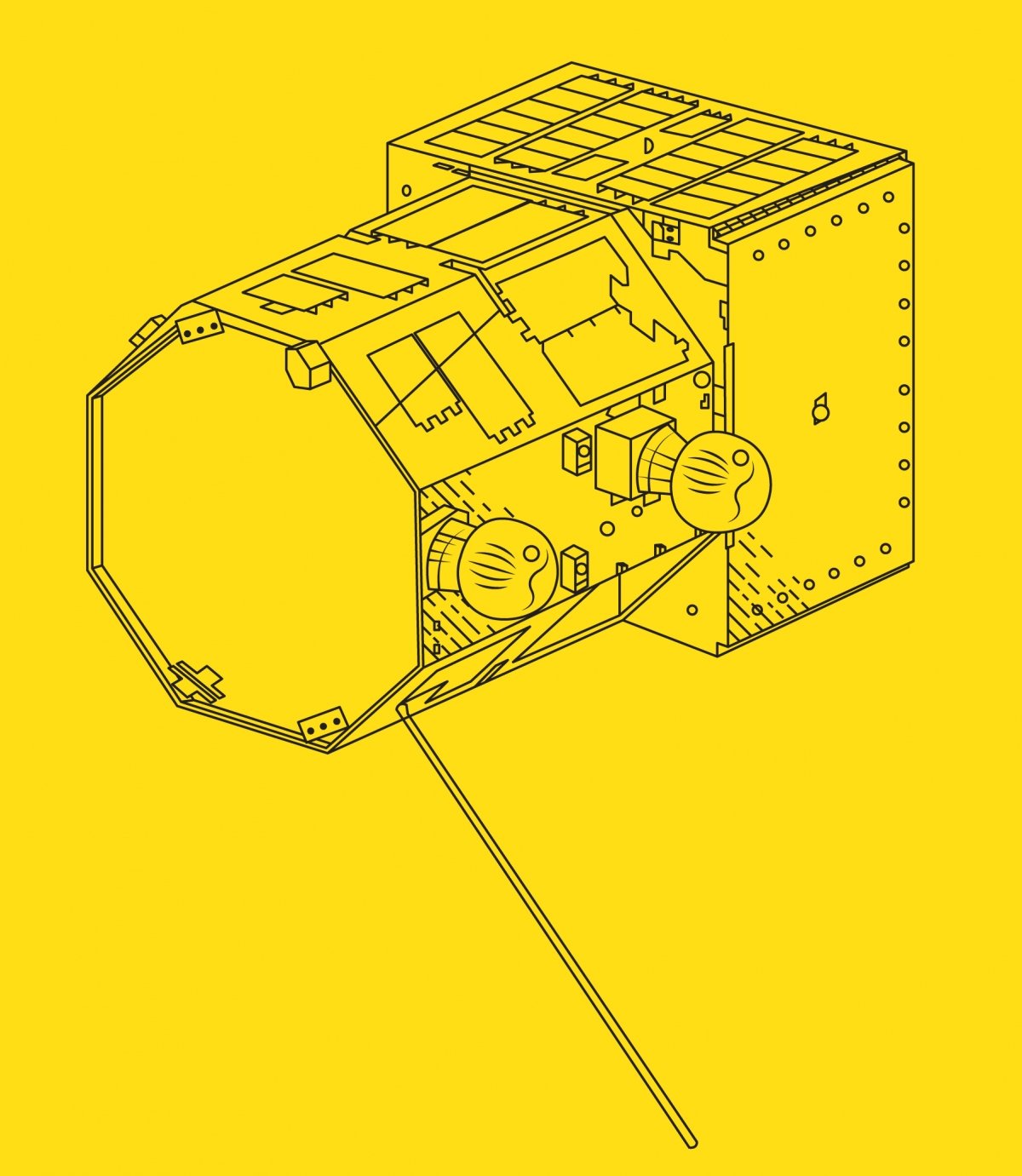 Pad 39A
launch site at NASA's Kennedy Space Center
Fun Fact: Pad 39A was also the launch site for the historic Apollo missions.
Releasable Spheres
10 cm in diameter and made of 6061-T6 aluminum
They'll be discharged one at a time to change the shape of the satellite.
1
wedding attended
Aerospace Enterprise alumni took Oculus to the 2013 wedding of fellow alumnus Jeff Katalenich in Boise, Idaho.
2
quarter-wavelength monopole whip antennas
Located on either side of the releasable spheres, oriented 90 degrees from each other and orthogonal from the vertical axis of the satellite.
Watch Facebook Live: Oculus Send Off video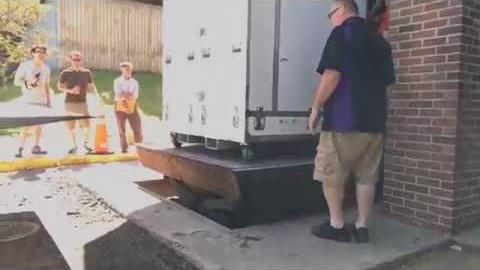 Facebook Live: Oculus Send Off
Master Minds Build the Future
Mechatronics: More Than Meets the Eye
Master Minds spotlights one of Michigan Tech's 43 master's degree programs.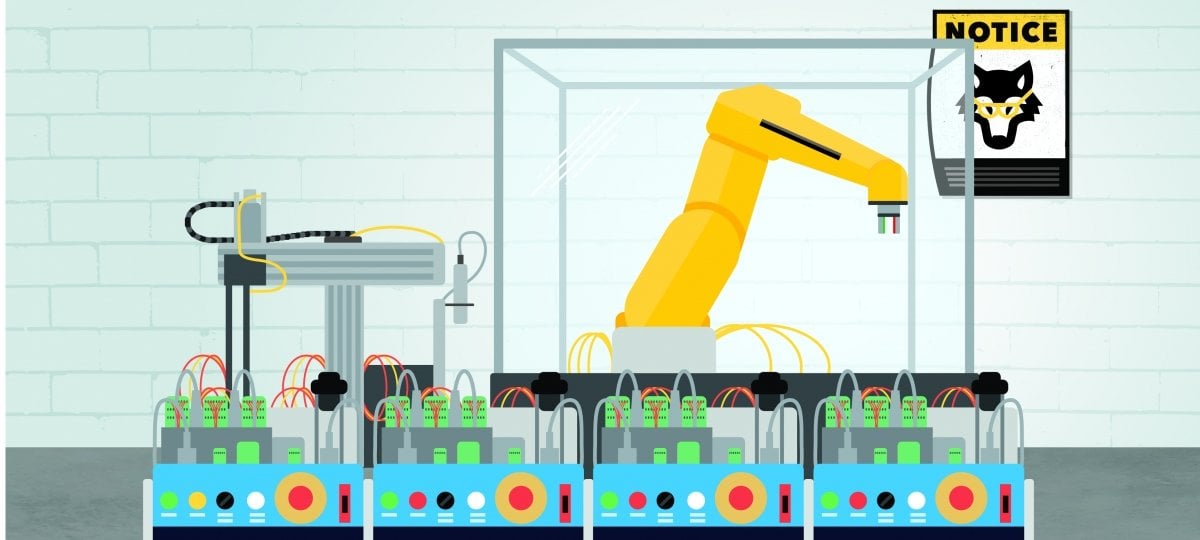 While the discipline of mechatronics is quite complex, the name is extremely straightforward. Mecha- is borrowed from mechanical and -tronics from electronics to create a supremely accurate moniker that still leaves people perplexed. Mechatronics? What is that?
Mechatronics is the engineering of sophisticated, automated mechanical and electrical processes delivered sequentially—with or without active human participation—using an approach that unites multiple branches of engineering in order to solve a particular problem or simplify a process.
Think of an automated teller machine (ATM). There are mechanical, electrical, and software components that must sync up precisely. It seems like such a simple exchange, but countless, carefully orchestrated maneuvers are taking place inside. And someone had to design that. Someone had to design, code, build, test, and improve each iteration from the mid-1960s to today's convenience-store staple, making all-hours banking a simple and secure process.
Mechatronics engineers have been compared to conductors leading large orchestras through highly complicated pieces of music. Like the conductor, the engineer may not personally touch each instrument, but they must understand and unite each part of the process.
Michigan Tech's master of science in mechatronics program is preparing the next wave of highly skilled, imaginative, creative, and capable mechatronics engineers. They're going to keep pulling tech forward, uniting the array of advanced engineering capability under the same (possibly autonomous, flying, climate-controlled, bluetooth-enabled) umbrella. But, whatever the future holds for automated tech, mechatronic engineers will be pushing at the edges of the next frontier.
Watch STEM Student Specialize in Mechatronics video
STEM Student Specialize in Mechatronics
Tomorrow needs prodigious synthesizers, tinkerers, and thinkers. Tomorrow needs Michigan Tech.
Alum Attempts Everest
Earlier this year, Michigan Tech alumnus Sirak Seyoum '93, an electrical engineer living in San Francisco, took time off from his position at Cargill to climb Mount Everest. His goal: become the first Ethiopian to conquer the highest mountain in the world.
Seyoum started climbing in 2008 while living in Las Vegas, Nevada; to date, he's climbed 21 mountains, some more than once. In his bid to conquer Everest, Seyoum and his rope team began their trek from Lukla to Everest Base Camp on April 5. Their bid for the summit took place 41 days later.
Starting at Camp 4 at 9 p.m. on May 15, the team climbed throughout the night. By 9:54 a.m. the next morning, Seyoum was less than 300 meters from the summit at 28,210 feet. "I could literally feel the summit and how beautiful it was," Seyoum says, "but I obeyed the order from my Sherpa, telling me to go back down."
The number of deaths on Everest were high during the 2019 climbing season, and numerous news reports highlighted overcrowding. Seyoum says overcrowding has been a constant issue over the years, but 2019 was a stand out due to the number of inexperienced climbers and Sherpas.
"The combination of both together is deadly," Seyoum says. "This year there were only a few days to plan the summit bid due to bad weather. Our team went for the summit during the coldest period of the 2019 season, which didn't attract most climbers; hence, traffic was minimal."
Now back home in the Bay Area, Seyoum is already preparing for next year. He's planning to climb Everest once again, but this time via the north face in Tibet—a more challenging and difficult route.
Tech Pays Off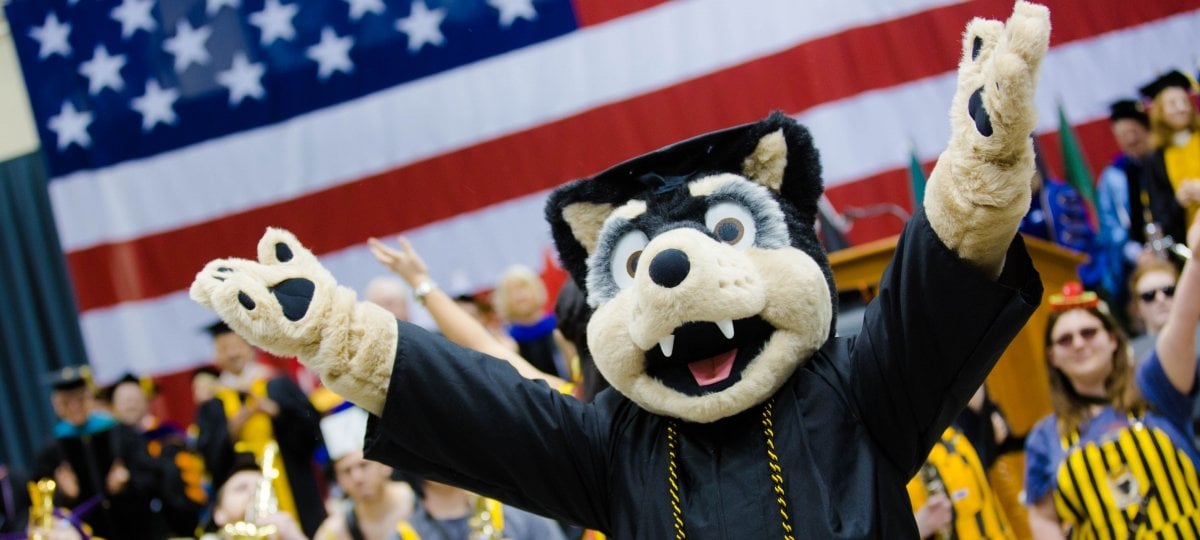 CNBC recently ranked Michigan Tech the number 8 public university on its list of "The Top 50 US Colleges That Pay Off the Most." The list spotlighted 50 schools—25 public and 25 private—that provide students the highest average salaries for their tuition dollars. According to CNBC, the median salary for Michigan Tech alumni with up to five years of experience is $64,600 and the median salary for alumni with 10-plus years of experience is $110,200.
Huskies in the Crowd: Matt Roy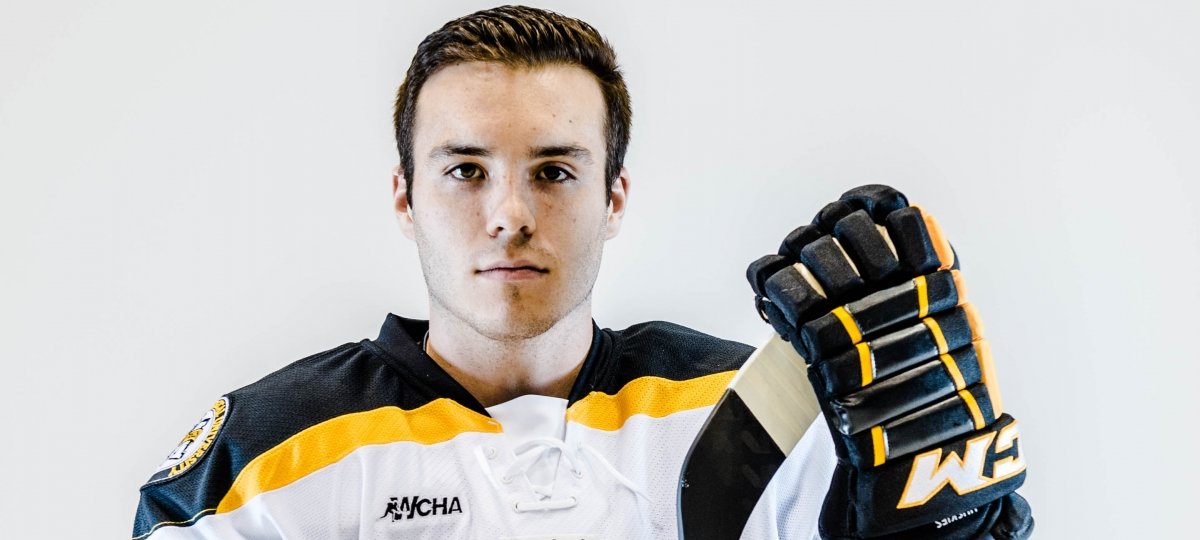 Matt Roy left Michigan Tech during his junior year in 2017 to play professional hockey for the Los Angeles Kings. Despite the demands of his career, Roy continued to pursue his undergraduate degree in sports and fitness management. This fall, he received his diploma.
Kearly Stadium Dedication
On September 28, 2019, the Michigan Tech Department of Athletics dedicated the renovated football facility as Kearly Stadium at Sherman Field, in honor of the Kearly family. Ted and Tom Kearly (father and son, respectively) have been instrumental in the success of the Tech football program for decades.
Combined, the Kearlys produced an NCAA Playoff Appearance, three Northern Intercollegiate Conference championships, two Great Lakes Intercollegiate Athletic Conference titles, and 13 NCAA All-American players. In the history of MTU football, there have been 15 teams that have won seven or more games, and nine of those teams were coached by the Kearlys.
"It is a privilege to name our football facility in honor of the Kearly family," says Suzanne Sanregret '93 '06, Michigan Tech's director of athletics. "Ted and Tom are two of the greatest coaches in the history of Tech football and have made a tremendous impact in the lives of our student athletes, both on and off the field. We are grateful for their dedication to Michigan Tech and the many contributions they have made to Athletics and the University as a whole."
Fundraising is underway for Phase Two of the football stadium renovation project. Offer your support.
New Research Institutes
In fall 2019, Michigan Tech launched two new research institutes. The Institute for Policy, Ethics, and Culture (IPEC) promotes research, policy engagement, and teaching that address the ethical and cultural challenges, implications, and strategies unique to the emerging technocultural environment. IPEC kicked off its inaugural year with its Algorithmic Culture speaker series in fall 2019. In the spring, IPEC will host a series of events focused on the topic Designing the Anthropocene.
Michigan Tech researchers tackle a variety of health-related challenges. They develop innovative materials for better wound care, create vaccines, study alcohol's effects on the nervous system, and grow stronger heart muscle cells faster with less chance of rejection. Their research is translational, interdisciplinary, and increasingly convergent. The Health Research Institute strives to maintain this thriving environment for health- related research and inspire education and outreach activities.
Bend in the Road
While road rash would lead us to believe otherwise, roads are indeed made of flexible materials that change shape over time. Hot days, cold snaps, and heavy trucks wear and tear roads.
Old transportation material models approximate the elasticity of an asphalt mix— its flex, how bendy it is. Zhanping You uses newer models, material testing, and highway- sized construction projects to show that a road is not all it's cracked up to be. You is the 2019 Michigan Tech Research Award winner and a professor of transportation engineering; he studies asphalt, as well as more sustainable options, for ensuring that roads do not crack in the first place. One solution: recycled rubber tires.
Read more about how to make sweaty, freezing, and versatile bituminous materials on Unscripted.
Husky Investment Tournament
Debt levels of young Americans are rising, and financial literacy is an important life skill for all Huskies. Universities across the country— including Michigan Tech—are now teaching basic financial life skills to undergraduates.
In fall 2019, the College of Business launched a new outreach initiative—Husky Investment Tournament—to expose high school students to the basics and excitement of trading, saving, and growth.
Here's how it works: Teams of three to four students receive $1 million in virtual US dollars to build a portfolio over a two-month period. The team with the top-performing portfolio is invited to campus to pitch to a panel of current Michigan Tech students and experts. The team also receives $1,000 in prize money, and all team members who actively participated are awarded scholarships to attend Michigan Tech.
Most importantly, all pre-college students who participate in Husky Investment Tournament learn about the world of investing and business in a fun, dynamic way. Know a high school business educator who may be interested in enrolling students in future investment competitions?
Michigan Technological University is a public research university founded in 1885 in Houghton, Michigan, and is home to more than 7,000 students from 55 countries around the world. Consistently ranked among the best universities in the country for return on investment, Michigan's flagship technological university offers more than 120 undergraduate and graduate degree programs in science and technology, engineering, computing, forestry, business and economics, health professions, humanities, mathematics, social sciences, and the arts. The rural campus is situated just miles from Lake Superior in Michigan's Upper Peninsula, offering year-round opportunities for outdoor adventure.