Earn an Online Master's in Mechanical Engineering From One of the Nation's Top Engineering Schools.
Mechanical engineering is a massive, important field with many sub-disciplines, several of which must brace for the transformations of Industry 4.0. For instance, mechanical engineers must strive to develop high-performance, strong, efficient materials that can meet the needs of a wide range of industries. And as the world moves towards more sustainable solutions, mechanical engineers, too, must keep pace by perfecting electric vehicles and designing cleaner, more efficient power and energy systems. Then there is the need to respond to and advance developments in automation, robotics, digitization, and smarter systems, which are rapidly changing the face of manufacturing.
In other words, as the world, its technologies, and the priorities of global citizens evolve, mechanical engineers must also evolve with them.
Michigan Tech offers a 30-credit online master's in mechanical engineering that can help you develop future-forward skills.
Why Pursue Your Mechanical Engineering Degree at MTU?
When you earn your online master's from Michigan Tech, you'll get a quality, accredited education. In fact, Michigan Tech was ranked #20 in the best engineering colleges in the US as well as the #3 best accredited online college in Michigan. Also, our online graduate program was ranked #30 in the United States by the Master's Programs Guide. So, you can rest assured that Michigan Tech's distance-learning master's degree maintains the same high standards as those of our in-person graduate program.
Other Benefits of Earning Your Mechanical Master's From MTU
Charting Your Own Course
And this online master's degree in mechanical engineering is customizable. That is, students can personalize their curriculum so that it builds on their undergraduate degree and unique interests; and aligns with their future employment goals. Alternatively, students can work with their employers to design a program that helps them develop skills and competencies for progressing in their current careers.
Getting a Rigorous Online Experience
You'll take the same, robust classes as do students in our in-person programs. These classes are taught directly by highly regarded, industry-connected faculty, who have both practical and theoretical knowledge. You'll learn from respected professors who have spent years developing specialized expertise in several mechanical engineering areas. Whether the field is active noise-control systems, internal combustion engines, power electronics systems, polymers and polymer composites, and more, faculty members in the Mechanical Engineering-Engineering Mechanics Department have researched and advanced it.
Joining One of MTU's Strongest Departments
By earning this online mechanical engineering degree, you will be joining the largest department and the biggest academic community at Michigan Tech. Comprising nearly one-fourth of the entire university student population, MTU's ME-EM department is home to the 6th largest MSME program in the United states and the 23 largest Mechanical PhD program.
Customize Your Master's Degree for Your Chosen Career.
Choose a focused area of study to get the most out of your accredited master's degree in mechanical engineering. Personalize your MS program so that it aligns with your current career or prepares you for a future one. Whether your interests and career goals lie in design, simulation, manufacturing, and testing, you can choose from a broad spectrum of mechanical engineering applications.
Popular Focus Areas
Design and Dynamic Systems
Autonomous Systems
Intelligent Systems
Noise, Vibration, Harshness
Alternative Fuels and Renewable Energy
Advanced Power Systems
Fluid Dynamics including CFD
Fuel Cells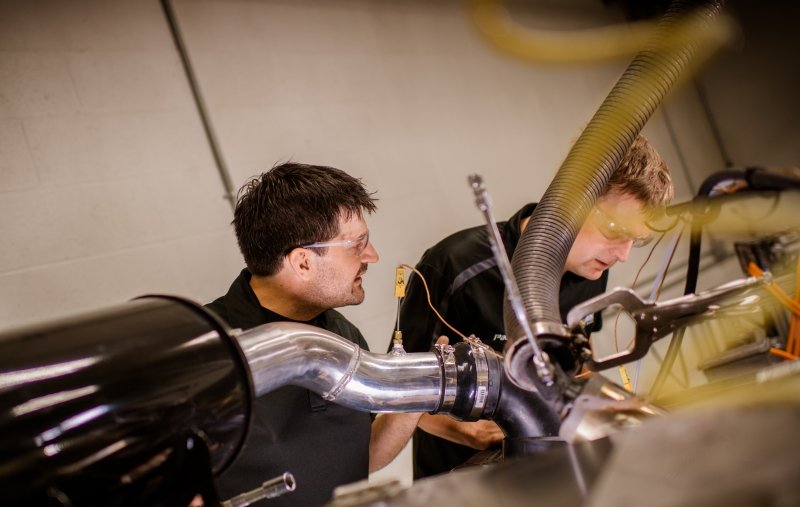 What Can You Do With an MS in Mechanical Engineering?
Depending on their specialty, mechanical engineers are employed in several workplaces. Those with master's degrees often take on more responsibilities and are typically found in higher-level, professional, or project management roles.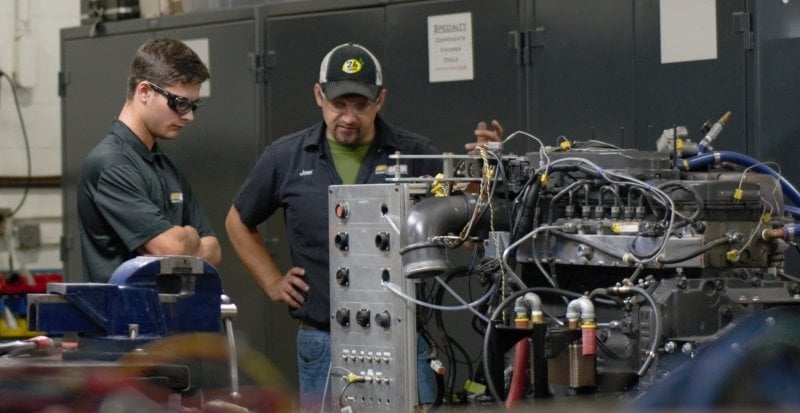 Possible Career Paths
Aerospace Engineer
Automation Engineer
Automotive Engineer
Design Engineer
Engineering Manager
Manufacturing Engineer
Robotics Engineer
Test Engineer
mean annual salary for mechanical engineers

top 10% salary for mechanical engineers

explore 2023 engineering salary statistics
Get Started on Your Online Master's in Mechanical Engineering.
Take the next steps on your educational journey at Michigan Tech. We are here to answer your questions and to help you succeed in your online program.
---
"Online courses at Michigan Tech are much more than content uploaded on a learning management system. Students from the beginning are expected to not only interact with the instructor and course content, but also with other students enrolled in the course."