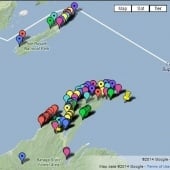 This website is aimed at communicating the strong Geoheritage of the western UP, including the Keweenaw Peninsula and Isle Royale.
---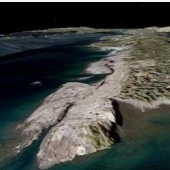 Join a field trip to Isle Royale National Park, May 25-31, 2013; Middle Proterozoic Continental Tholeiitic Flood Basalts of the 1.1 Ba Keweenaw Rift (Rodinia); Trip Leaders: Bill Rose and Justin Olson. Click for more information, Background, a Video Lecture, Logistics, Cost and Trip Schedule, Reservations and Course Credit.
---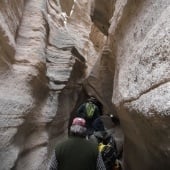 Join a 10 day field trip to see the active Rio Grande Rift, the Valles Caldera and associated geologic features of Northern New Mexico. The trip will be led by Bill Rose, who knows the area well and can explain the physical volcanology. The trip will take place from about May 10 to May 20, 2011.
---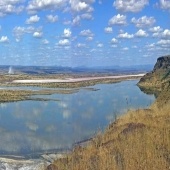 East Africa Field Camp
2012 Dates
South Africa Camp: May 4 - May 31
South Africa/Kenya Camp: May 14 - June 10
---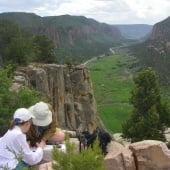 Geology of Utah's National Parks - GE 5130 June 14–July 1, 2011
Fourteen days of field-based activities in and around the national parks and monuments of eastern Utah – areas internationally recognized for their outstanding geology. Teachers learn to use maps, compasses, GPS, rock and mineral identification, geomorphology, subsurface geology, fossils, and basic engineering principles; learn how climate, sea level, and mountain building change the earth's landscape, and how to recognize the record of change in rocks.
---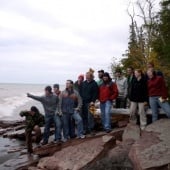 Trips from GE 3100 Fall 2009. Gratiot River Park, W.C. Veale Park, Breakers, Tobacco River Park, Maasto Hiito Trails and Tobacco River Park. to Horseshoe Harbor to see the stromatolites and Copper Harbor Conglomerate, Nonesuch shale along the beach at Gratiot River Park, Weekend camping trip to Pictured Rocks, by Munising. Jacobsville Sandstone found at Tobacco River Park, outside of Gay, Mi and more.
---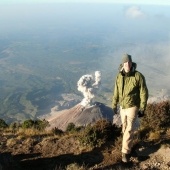 Volcanic Research Field Trip to Guatemala
Dr. Gregg Bluth, Jeremy Shannon, Lizzette Rodriguez, and John Lyons traveled to Guatemala primarily to look at gas (SO2) emissions from Volcan Santiaguito, Volcan Fuego, and Volcan Pacaya but they did other research also.
---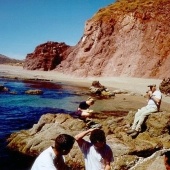 Sonora Mexico Field Course
AQUA3 Field Courses
North American Alliance for Sustainable Water Resources
U.S. Institutions Funded by the US Dept. of Education
Program for North American Mobility in Higher Education
Fund for the Improvement of Postsecondary Education (FIPSE)
---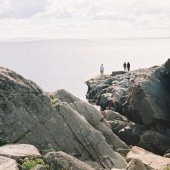 Labrador and Newfoundland Field Trip
To the Mantle and back!
Geologic and Cultural Field Excursion to Labrador and Newfoundland, Canada July-August 2004
---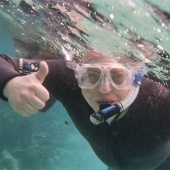 Florida Coral Reef and Carbonates Field Trip
Joint Michigan Technological University and Western Michigan University: Recent Coral Reef Snorkeling and Carbonate Geology Field Trip to the Florida Keys, March 2004. Lead by Drs. Bill Harrison and Mike Grammer, WMU, Photos by Buddy Wylie.
---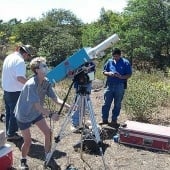 Field Studies of Active Guatemalan Volcanoes
Student at left is using a Correlation Spectrometer to measure sulfur dioxide gas fluxes emitted from Santiaguito volcano, Guatemala.
---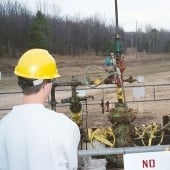 Heavy Oil Prospecting in Montana
A heavy oil deposit with estimated recoverable reserves in excess of one billion barrels of oil is believed to exist in the Jurassic Swift sandstone in north central Montana, these are photos of a field trip to visit the operation.
---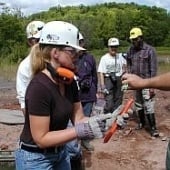 Earth Science Teachers Institute
The Teachers Earth Science Institute utilizes mineral science and mineral processing to enhance the teaching of science in middle and high schools. Teachers will be involved in hands-on, discovery-based activities that integrate concepts in math, physics and chemistry with elements of social science.
---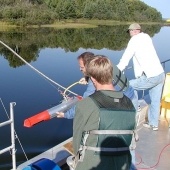 Side Scan Sonar
Side scan sonar is used to produce images of underwater geology and sunken objects. Common targets are shipwrecks, snowmobiles that have fallen through the ice, and drowning victims.
---