Chad Deering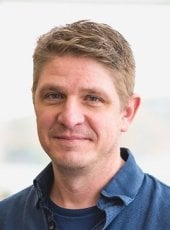 Associate Professor, Geological and Mining Engineering and Sciences
Ph.D., Igneous Petrology and Geochemistry, University of Canterbury, New Zealand, Christchurch
Biography
Chad Deering joins the Department of Geological and Mining Engineering and Sciences as an assistant professor. Deering comes to Michigan Tech from the University of Wisconsin-Oshkosh.
He has a PhD in Geological Sciences, Igneous Petrology, Geochemistry and Volcanology from the University of Canterbury in New Zealand. His master's in geological sciences, igneous petrology and geochemistry is from Michigan State University.
Deering has been published in numerous journals, including Geology, Earth and Planetary Science Letters, American Mineralogist, the Journal of Petrology and Contributions to Mineralogy and Petrology. He belongs to the International Geothermal Association, Geochemical Society, American Geophysical Union, Geological Society of America, and Mineralogical Society of America.
Links of Interest
Faculty Webpage (temporarily disabled)
Specialties
Source to surface transport of magmatic volatiles and fluid evolution in geothermal systems
Evolution of the upper continental crust: generation and maintenance of large, silicic magma reservoirs
Magma reservoir dynamics by quantifying textural fabrics and intracrystalline deformation formed during hindered settling and compaction
Relationship between resurgent plutons and large, silicic ignimbrites in exhumed caldera-forming eruptive sequences
Excess or cryptic degassing in volcanic systems
Quantification of CO2 from diffuse degassing at large, caldera-forming volcanoes