Snehamoy Chatterjee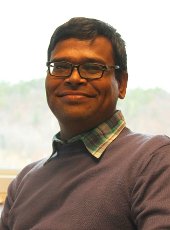 Associate Professor, Geological and Mining Engineering and Sciences
Witte Family Endowed Faculty Fellow in Mining Engineering
PhD, Mining Engineering, Indian Institute of Technology Kharagpur, India
Biography
Snehamoy Chatterjee is an Associate Professor of Department of Geological and Mining Engineering and Sciences, Michigan Tech. Before joining Michigan Tech, Chatterjee was working as an Assistant Professor at National Institute of Technology, India. Chatterjee specializes in ore reserve estimation, short- and long-range mine planning, mining machine reliability analysis, mine safety evaluation, and the application of image analysis and artificial intelligence in mining problems. He received his PhD in Mining Engineering from Indian Institute of Technology Kharagpur, India.
During his PhD research, Chatterjee solved quality control-related problems using image analysis and geostatistical methods for the National Mineral Development Corporation (NMDC), India's largest iron ore producer and exporter. Chatterjee then worked as a Post-Doctoral Fellow at the University of Alaska Fairbanks where he worked primarily on ore reserve estimation of gold and platinum resources off the coast of Alaska for the US Minerals Management Service (MMS). Thereafter, he joined the COSMO Stochastic Mine Planning Laboratory at McGill University, Canada, where he focused on mine planning optimization and ore-body modeling under uncertainty. He completed ore body and rock-type modeling projects of several other mining operations in India, Australia and Canada.
Presently, Chatterjee is actively involved in research work in the field of resource modeling, production planning, and online quality monitoring integrating multiple data types. He is teaching courses and advising students on topics related to mine planning, mineral resource modeling, mining machine reliability, and vision-based online quality monitoring. He has completed a number of sponsored research and industry projects in these fields for different government organizations and mining companies in India, including the largest public sector coal company, Coal India Limited.
Chatterjee is an active member of the International Associate of Mathematical Geosciences (IAMG), the Society for Mining, Metallurgy and Exploration, Inc. (SME), the Society of Mining Professors (SOMP). He has served as a co-convener and a technical committee member for several international mining conferences. He is also a reviewer for more than twenty journals and has received The Editor's Best Reviewer Awards 2014 from Mathematical Geosciences Journal. He is the recipient of the 2015 APCOM Young Professional Award at the 37th APCOM in Fairbanks, Alaska.
Links of Interest
Research Interests
Mine Planning and Design under Uncertainties
Production monitoring and automated control using image sensors
Multi-point and multi-scale geostatistics
Mine safety, reliability, and occupational risk modeling
Statistical and artificial intelligence modeling
Teaching Interests
Mine Planning and Design
Geostatistics and Mineral Resource Estimation
Systems Engineering
Reliability and Safety Engineering
Blasting and Fragmentation
Paulsen, T., Deering, C., Sliwinski, J., Chatterjee, S., Bachmann, O. and Guillong, M. (2020), Crustal thickness, rift‐drift, and potential links to key global events. Terra Nova. doi:10.1111/ter.12485
Palei, S., Das, K., Chatterjee, S. (2020) Reliability-Centered Maintenance of Rapier Dragline for Optimizing Replacement Interval of Dragline Components. Mining, Metallurgy & Exploration, https://doi.org/10.1007/s42461-020-00226-5.
Yadav, A., Chatterjee, S., Equeenuddin, S. M. (2020). Suspended sediment yield modeling in Mahanadi River, India by multi-objective optimization hybridizing artificial intelligence algorithms. International Journal of Sediment Research, https://doi.org/10.1016/j.ijsrc.2020.03.018.
Paithankar, A., Chatterjee, S., Goodfellow, R., Asad, M. W. A. (2020). Simultaneous stochastic optimization of production sequence and dynamic cut-off grades in an open pit mining operation. Resources Policy, 66, 101634.
Jeng, J. Y., Askari, R., Chatterjee, S. (2020). Correlation of near surface fractures with seismic radial anisotropy: An approach for near surface fracture identification. Journal of Applied Geophysics, 173, 103925.
Guha, A., Mondal, S., Chatterjee, S., Kumar, K. V. (2020). Airborne imaging spectroscopy of igneous layered complex and their mapping using different spectral enhancement conjugated support vector machine models. Geocarto International, 1-17.
Kring, K., Chatterjee, S. (2020) Uncertainty quantification of structural and geotechnical parameter by geostatistical simulations applied to a stability analysis case study with limited exploration data, International Journal of Rock Mechanics and Mining Sciences, 125, 104157, https://doi.org/10.1016/j.ijrmms.2019.104157.
Kumar, C., Chatterjee, S., Oommen, T., Guha, A. (2020) Automated lithological mapping by integrating spectral enhancement techniques and machine learning algorithms using AVIRIS-NG hyperspectral data in Gold-bearing granite-greenstone rocks in Hutti, India, International Journal of Applied Earth Observation and Geoinformation, 86, 102006, https://doi.org/10.1016/j.jag.2019.102006.
Kumar, C., Chatterjee, S., Oommen, T. (2020). Mapping hydrothermal alteration minerals using high-resolution AVIRIS-NG hyperspectral data in the Hutti-Maski gold deposit area, India. International Journal of Remote Sensing, 41(2): 794-812.
Han, F., Zhang, H., Chatterjee, S., Guo, Q., Wan, S. (2019) A Modified Generative Adversarial Nets Integrated With Stochastic Approach for Realizing Super-Resolution Reservoir Simulation, IEEE Trans. on Geos. and Remote Sensing. DOI: 10.1109/TGRS.2019.2945946
Mondal, S., Guha, A., Pal, S. K., Porwal, A., Chatterjee, S., Rani, K., Beiranvand Pour, A., Vinod Kumar, K. (2019) Conjugate utilization of Landsat-8 OLI, ground gravity and magnetic data for targeting mafic cumulates within anorthositic-layered complex of Sittampundi, India. Geocarto International, 1--18. DOI: 10.1080/10106049.2019.1669726.
Chatterjee, S., Deering, C. D., Waite, G. P., Prandi, C., Lin, P. (2019). An adaptive sampling strategy developed for studies of diffuse volcanic soil gas emissions. Journal of Volcanology and Geothermal Research, 381, 246-261.
Paithankar, A., Chatterjee, S. (2019). Open pit mine production schedule optimization using a hybrid of maximum-flow and genetic algorithms. Applied Soft Computing, 81, 105507.
Chatterjee, S., Dimitrakopoulos, R. (2019). Production scheduling under uncertainty of an open-pit mine using Lagrangian relaxation and branch-and-cut algorithm. International Journal of Mining, Reclamation and Environment, 1-19.
Patel AK, Chatterjee S, Gorai AK. (2019) Effect on the performance of a Support Vector Machine (SVM)-based machine vision system with dry and wet ore sample images in classification and grade Prediction, Pattern Recognition and Image Analysis, 29 (1): 114– 129.
Guha, A., Yamaguchi, Y., Chatterjee, S., Rani, K., & Vinod Kumar, K. (2019). Emittance Spectroscopy and Broadband Thermal Remote Sensing Applied to Phosphorite and Its Utility in Geoexploration: A Study in the Parts of Rajasthan, India. Remote Sensing, 11(9), 1003.
Patel, AK., Chatterjee, S., Gorai, AK. (2019) Development of a machine vision system using the support vector machine regression (SVR) algorithm for the online prediction of iron ore grades, Earth Science Informatics, https://doi.org/10.1007/s12145-018-0370-6
Bhattacharya, S., Kumar, H., Guha, A., Dagar, A.K., Pathak, S., Rani, K., Mondal, S., Kumar, K.V., Farrand, W., Chatterjee, S., Ravi, S. (2019) Potential of airborne hyperspectral data for geo-exploration over parts of different geological/metallogenic provinces in India based on AVIRIS-NG observations. Current Science, 116 (7),1143-1156.
Paithankar, A., Chatterjee, S. (2018) Grade and Tonnage Uncertainty Analysis of an African Copper Deposit Using Multiple-Point Geostatistics and Sequential Gaussian Simulation, Natural Resources Research, 27(4):419-436.
Paithankar, A., Chatterjee, S. (2018) Forecasting time-to-failure of machine using hybrid Neuro-genetic algorithm–a case study in mining machinery,International Journal of Mining, Reclamation and Environment, 32 (3), 182-195
Yadav, A., Chatterjee, S., Equeenuddin, SM. (2018) Suspended sediment yield estimation using genetic algorithm-based artificial intelligence models: case study of Mahanadi River, India, Hydrological Sciences Journal, , 63(8): 1162-1182
Patel, AK., Chatterjee, S., Gorai, AK. (2018) Development of an expert system for iron ore classification, Arabian Journal of Geosciences 11: 401.
Yadav, A., Chatterjee, S., Equeenuddin, SM. (2018) Prediction of suspended sediment yield by artificial neural network and traditional mathematical model in Mahanadi river basin, India, Sustainable Water Resources Management 4 (4), 745-759
Patel, AK., Chatterjee, S., Gorai, AK. (2017) Development of machine vision-based ore classification model using support vector machine (SVM) algorithm, Arabian Journal of Geosciences 10 (5), 107, https://doi.org/10.1007/s12517-017-2909-0
Kumar, A., Chatterjee, S. (2017) Open-pit coal mine production sequencing incorporating grade blending and stockpiling options: An application from an Indian mine, Engineering Optimization, 49 (5), 762-776
Chatterjee S, Sethi M, and Asad, MWA. (2016) Production phase and ultimate pit limit design under commodity price uncertainty, European Journal of Operational Research 248(2): 658–667. doi:10.1016/j.ejor.2015.07.012
Karak S, Chatterjee S, Bandopadhyay S, (2015) Mathematical Modelling of the Physical and Mechanical Properties of Nano-Y2O3 Dispersed Ferritic Alloys using Evolutionary Algorithm-based Neural Network, Powder Technology 274: 217-226.
Chatterjee S, Mohanty MM (2015) Automatic cluster selection using gap statistics for pattern-based multi-point geostatistical simulation, Arabian Journal of Geosciences 8(9):7691-7704
Patel A. K, Chatterjee S, (2015) Computer vision-based limestone rock-type classification using probabilistic neural network, Geoscience Frontiers. doi:10.1016/j.gsf.2014.10.005
Chatterjee S, Dimitrakopoulos R, and Mustafa H. (2015) Fast wavelet-based conditional simulation using training images. Computational Geosciences. doi: 10.1007/s10596-015-9482-y
Chatterjee S, Dash A, Bandopadhyay S, (2014) Ensemble Support Vector Machine Algorithm for Reliability Estimation of a Mining Machine, Quality and Reliability Engineering International (DOI: 10.1002/qre.1686)
Mustafa, H., Chatterjee, S., and Dimitrakopoulos, R., (2014) CDFSIM: Efficient Stochastic Simulation Through Decomposition of Cumulative Distribution Functions of Transformed Spatial Patterns, Mathematical Geosciences, 46 (1): 95-123
Dr. Chatterjee teaches mine planning and design, geostatistics and data analysis, advanced geomechanics, and resource and reserve estimation.