Jimmy F. Diehl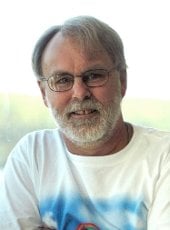 Professor Emeritus, Geological and Mining Engineering and Sciences
PhD, University of Wyoming, 1977
MS, Western Washington University, 1972
BS, Western Washington University
Links of Interest
Research Interests
Late cretaceous/early tertiary apparent polar wander for North America
Environmental magnetism and paleoclimate records from cave and lake deposits
Paleomagnetism of keweenawan rocks and their geomagnetic and tectonic implications
Paleosecular variation of Plio-Pleistocene volcanic rocks
Application of seismic, resistivity, gravity, and magnetic methods to geological engineering problems
Escobar-Wolf, R. P., J. F. Diehl, B. S. Singer, W. I. Rose, Jr., 40Ar/39Ar and paleomagnetic constraints on the evolution of Volcán de Santa María, Guatemala, Geol. Soc. Am. Bull., 122. 757-771, 2010, doi: 10.1130/B26569.1.
Kadlec, J., T. Grygar, I. Svetlík, V. Ettler, M. Mihaljevic, J. F. Diehl, S. Beske-Diehl, H. Svitavská-Svobodová, Morava River flood plain development during the last millennium (Strážnické Pomoraví, Czech Republic), The Holocene, 19, 499-509, 2009.
Sroubek, P., J. F. Diehl,and J. Kadlec, Historical Climatic Record from Flood Sediments Deposited in the Interior of Spirálka Cave, Czech Republic, Palaeogeography, Palaeoclimatology, Palaeoecology, 251, 547-562, 2007.
Mayer, A.S., May, W., Lukkarila, C., and J. Diehl, Estimation of Fault Zone Conductance by Calibration of a Regional Groundwater Flow Model - Desert Hot Springs, California, Hydrogeology Journal,DOI 10.1007/s10040-007-0158-0, 2007.
Kadlec, J., H. Hercman, V. Benes, P. Sroubek, J. F. Diehl, and D. Granger, Cenozoic history of the Moravian Karst (northern segment): Cave sediments and karst morphology, Acta Mus. Moraviae Sci. geol., LXXXVI, 111-160, 2001.
Sroubek, P., J. F. Diehl, J. Kadlec, and K. Valoch, A Late Pleistocene palaeoclimate record based on mineral magnetic properties of the entrance facies sediments of Kulna Cave, Czech Republic, Geophys. J. Int., 147, 247-262, 2001.
Riley, C. M., J. F. Diehl, J. L. Kirschvink, R. L. Ripperdan, Paleomagnetic constraints on fault motion in the Hilina Fault System, south flank of Kilauea Volcano, Hawaii, J. Volcanol. Geotherm. Res., 94, 233-249, 1999.