Congratulations Huskies—you did it! The pride you have now grows stronger with time. Every Husky remembers their MTU graduation. Your Michigan Tech family joins you and your loved ones to celebrate completion of this journey!
Spring 2023 Ceremonies
Graduate
Friday, April 28, 2023 at 3 p.m.
Undergraduate
Saturday, April 29, 2023 at 10:30 a.m.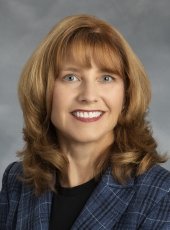 Commencement Speaker, Julie A. Fream
Julie A. Fream is the president and CEO of MEMA Original Equipment Suppliers. The association represents the voice of automotive suppliers and champions their business interests. Named to the role in 2013, Julie has four decades in automotive, including roles for both OE manufacturers and suppliers in manufacturing, engineering, program management, sales, marketing, and communications. She is a member of the Ford Supplier Council, the Stellantis Supplier Council and the Nissan North America Supplier Advisory Board representing the interests of the automotive supplier community.
In 2016 and 2021, Fream was recognized by Crain's Detroit Business as one of "Michigan's Most Influential Women." In 2015 and 2020, she was listed as one of the "100 Leading Women in the Automotive Industry" by the Automotive News. Fream is the chair of the Board of Directors at Corewell Health and is on the Board of Directors of the Automotive Hall of Fame.
Fream holds a bachelor of science in chemical engineering from Michigan Technological University and an MBA from the Harvard Business School.
---
PhD/Masters Student Speaker, Tinuade Ololade Folayan
In making the decision about which Grad school to attend, Tinu had no specific sentimental reason, like proximity to loved ones or friends, familiarity with an alumnus, or even a reference from a faculty or student. From Nigeria, she relied on her filtered Google search results, as she often says, "Google brought me here." Her Google search indicated that Michigan Tech would offer all she wanted from a graduate program, and she did not think too deeply about anything else.
Upon her acceptance into Michigan Tech, a few family members shared their concerns about the cold weather in Houghton, and she, however, did not know what to expect since she had no reference to compare with, having lived all her life in Nigeria. She was not bothered much as she planned to finish her Master's program quickly. Get in and get out; that was the plan. Tinu ended up staying longer than planned. She decided to get a Ph.D. after starting research on the Direct recycling of Lithium-ion batteries in Lei Pan's lab in the Department of Chemical Engineering.
Since she moved here in 2018, Tinu has had the opportunity to get involved in many things, including being President and Vice president of the National Organization for Black Chemists and Chemical Engineers (NOBCChE), Social Chair of the African Student Organization (ASO) and most recently she worked as the facilitator for the Write-D program in the department of Chemical engineering. Tinu has fond memories of participating in outdoor activities all seasons of the year.
During her time at Michigan Tech, Tinu earned several awards, including the Dean's Award for Outstanding Scholarship, 2nd Place winner 2022 NOBCChE DuPont Gold competition, NOBCChE Green Chemistry and STEM Education Oral Presentation Award 2021, and SME MPD Student Poster Contest 2022.
Graduating with a Ph.D. in Chemical Engineering and having her Grad school experience at Michigan Tech, she feels that taking that leap; leaving Nigeria, and coming to Michigan Tech is one of the best decisions she has ever made. After graduation, Tinu plans to start a new role as an R&D Senior Engineer with DuPont.
---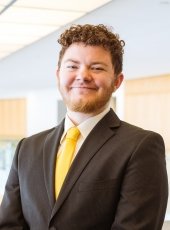 Undergraduate Student Speaker, Anderson Piercey
Anderson Piercey is graduating with a bachelor's degree in management and a minor in psychology. He's been a resident assistant (RA) for four years, serving as a senior resident assistant for two years. During his first year as an RA, he won the University's Student Leadership Award for Exceptional Enthusiasm as a Student Leader and a regional Residential Community of the Month award from the Great Lakes Association of College and University Residence Halls (GLACURH). He also helped Michigan Tech host the 2020 GLACURH Regional Leadership Conference.
Anderson's extracurricular activities include being involved in the Pavlis Honors College, Mitch's Misfits, the Society of African American Men, and the Sexual Assault and Violence Education club. He volunteered with the Equipment Loan Closet of the Keweenaw for the inaugural season of its sled hockey team. Anderson has also volunteered at Little Brothers – Friends of the Elderly, Friends of the Library, and Copper Country Humane Society.
Anderson, who has made the Dean's List every semester, has been a research assistant for College of Business faculty member Jonathan Leinonen, participated in the Advanced Project Management competition, and served in the Volunteer Income Tax Assistance (VITA) program. Post-graduation, Anderson will be working in Lansing as an associate business analyst for Auto-Owners Insurance Company.
Anderson's speech at the Undergraduate Spring Commencement will focus on the importance of kindness and recognizing the importance of community.
---