If you are interested in understanding people – how they think, behave, and interact with people, technology, or the world around them – to improve people's personal and professional well-being, then a Bachelor of Science in Psychology from Michigan Tech is for you. Choose to study psychology in general, or focus in a particular area. Our program is broad, allowing students to later pursue graduate degrees across the spectrum of specialties. Many of our faculty specialize in the human-factors specialty area. Thus, students are able to focus on human-factors if they chose, which is a combination of psychology and technology, to support design, systems development, and engineering.
A sampling of the benefits of a psychology education include:
Appreciation for the various influences on human behavior
Strong critical-thinking skills
The ability to apply psychological research
Enhanced interpersonal skills, including cross-cultural understanding
Insight into human reasoning and decision making
One way or program is unique – several of our faculty specialize in applied cognitive science and human factors, which is a combination of psychology and technology, to support design, systems development, and engineering. Unlike many schools, Michigan Tech students can focus on human-factors if they choose.
Our bachelor's degree offers a great deal of flexibility, both in terms of coursework and career options. For example, all psychology majors have the opportunity for internships and students can earn course credit while interning with local nonprofit organizations, schools or companies or by doing research in Michigan Tech research labs. Our program is cutting-edge and provides a hands-on education based on curriculum guidelines established by the American Psychological Association.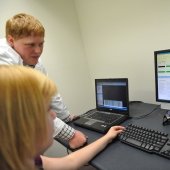 Virtually every profession relies on effective social interaction, whether it happens in person or digitally. A psychology minor benefits any student to give them an extra edge in their field, regardless of major.
Advance Your Education
Forty percent of our undergraduate majors go on to graduate school. Compared to the national average of approximately 20% acceptance rate of psychology students, Michigan Tech psychology students are accepted into graduate school at a rate of 90 percent!
We also offer Accelerated MS, MS, and PhD degrees in Applied Cognitive Science and Human Factors. Our PhD program is research-intensive and focuses on optimizing performance, health, and safety at the interface of humans and technology.