Karen A. Swager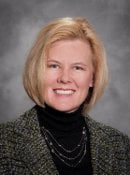 BS Metallurgical and Materials Engineering 1992
Karen A. Swager is Vice President, Mining Operations for the phosphates business unit of The Mosaic Company, the world's leading producer and marketer of concentrated phosphate and potash, two of the primary crop nutrients required to grow the food the world needs. In this capacity, she provides overall direction, guidance and day-to-day support for all mining operations in the phosphates business unit.
Previously, Karen held various roles of progressive leadership responsibility with the company's mining and manufacturing operations, including serving as General Manager of Four Corners Mine, General Manager of Wingate Mine, and leading the Phosphates Business Unit's Mine Planning and Strategy group. Karen has also led an array of special business initiatives for the company, including development of offshore mining projects.
Karen is a licensed professional engineer and has held numerous leadership roles with the Society for Mining, Metallurgy & Exploration (SME), including Chapter Chairman and Director. She is also a member of the American Institute of Chemical Engineers and was appointed by then-Governor Charlie Crist to serve a three-year term on the Board of Directors for the Florida Institute for Phosphate Research. In 2007, she was recognized by the Florida Chapter of the SME with the "Hero of the Industry" award. Karen currently serves on the board of the United Way of Central Florida.
Karen earned a Bachelor of Science degree in metallurgical engineering and a Master of Science in metallurgical engineering from Michigan Technological University in Houghton, Mich. She is currently pursuing her MBA from the Kellogg School of Management at Northwestern University.
Updated November 14, 2014